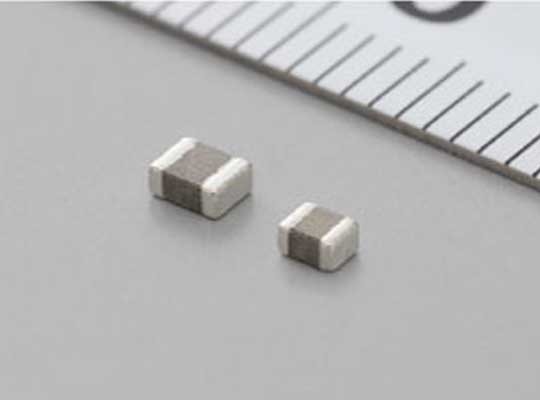 22 Nov 2018, Kyoto: Murata has developed a new lineup of power inductors with ESD withstand voltage characteristics that are the highest level in the industry for use in automotive power supplies, and has begun shipping samples.
Background of Development
These products are designed to improve in-vehicle specifications centered on ESD countermeasures while maintaining the high power inductor performance of the Company's consumer-use devices. They will realize high performance and reliability for a wide variety of in-vehicle applications including ADAS, in-vehicle infotainment, power trains and in-vehicle networks.
Features of the New Products
Among Murata Manufacturing's flagship DFEC Series power inductors, which command a large market share for use in consumer products such as smartphones, the 1008 and 0806 sizes are being commercialized for in-vehicle use with improved quality specifications as the DFE2HCAH and DFE2MCAH Series, respectively.
Features of the DFE2HCAH and DFE2MCAH Series
The products in the lineup:
Conform to the AEC-Q200 standard for in-vehicle passive components;
Provide a significant improvement over conventional metal inductors, guaranteeing a 1kV ESD withstand voltage, which is the industry's highest HBM level among ESD models (The DFE2MCAH Series' withstand voltage is 500V.);
Realize high insulation and a high ESD withstand voltage while being compact and having high inductance; and
Exhibit guaranteed temperature characteristics over the range of -40℃ to 150℃ required for in-vehicle applications.
Shipment Timing and Future Development
Samples of the DFE2HCAH Series began shipping in October 2018. Samples of the DFE2MCAH Series are scheduled to ship in January 2019.
Murata Manufacturing is highly regarded for its commercialization of high-performance power inductors using metallic materials in response to the increasing demand in recent years for high-current, compact-sized PCs and smartphones. The Company is aiming to capture the top share of the power inductor market by developing products that combine high performance and high reliability not only for consumer use but also for in-vehicle systems such as ADAS, which are becoming increasingly popular.
For more information, visit Murata's website at www.murata.com