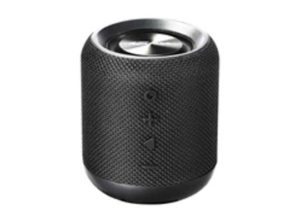 New Delhi, December 28, 2018:  Portronics has always been striving hard to give its customers the best of gadgets with updated technology. This year too, Portronics offered incredible, innovative products like SoundDrum, Bounce, Clamp, My Buddy Plus, UFO, Pure Sound Pro 3 etc without burning a hole in your pocket. SoundDrum is one such product which acclaimed much appreciations rechargeable Bluetooth 4.2 speaker with FM Radio and other connectivity options. It is compact in size and has a water-resistant and dust tight body. This makes it usable in any condition, even in your trekking. It has two powerful 5W speakers which provide unbelievably loud, crisp and clear sound. This wireless speaker has a powerful FM tuner with an inbuilt antenna so that you can enjoy your favourite radio programmes too.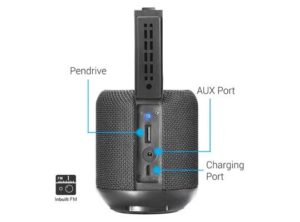 Salient features of Sound Drum
Bluetooth: SoundDrum offers a high Bluetooth range of almost 10M, Bluetooth version 4.2 offers 250% faster and more secure Bluetooth 4.1 version.
Sound Quality: It has powerful 10W In-built speakers with great amplifiers.
In-Built FM: Wireless FM with in-built antenna to provide you music on the go.
Water Resistant: It is protected against splashes and light rain.
Connectivity: "SoundDrum"- a blast of music sound from a compact powerhouse of sound. It's a re-chargeable Bluetooth 4.2 Speaker with FM and other multiple connectivity options.
In-Built Mic: With the built-in microphone, SoundDrum acts as a speakerphone so you can use it for hands-free mobile voice calls.
Pricing and Availability:
The new Portronics SoundDrum is available at a very reasonable price of INR 2399/-on leading online and offline stores. It is also available for corporate giftings, customized with Company's Logo imprinted.
For more information visit, http://bit.ly/PortronicsSoundDrum