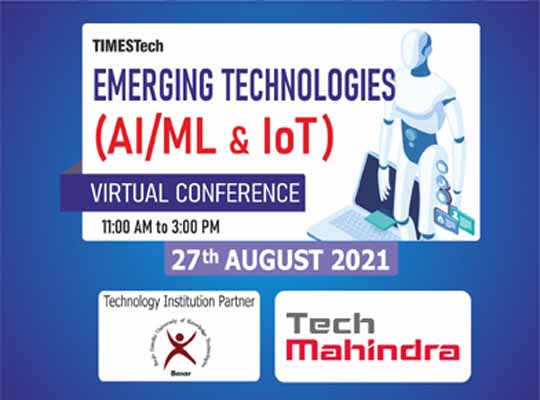 Technology is in an equestrian movement globally. TimesTech Print Media (TTPM) after its successful past virtual conference we're again set to bring a major dialogue on the emerging buzz. i.e. AI/ML & IoT.
Lauding the leaders and showcasing the power of tech think-tankers, TTPM is glad to announce one of the biggest virtual conference on Emerging Technologies (AI/ML & IoT) on 27th August 2021.
Discussing to pan across many facets including:
Importance of leveraging digital technologies like Artificial Intelligence, Machine Learning, and IoT.
Transforming the nation by adopting emerging technologies.
How emerging technologies can extend a strong dialogue empowering communities across the nation.
Don't miss out where Government Leaders, Enterprise Think tankers, Public-Private Entities comes together discussing on the potential of Emerging Technologies.
Dates To Remember: Emerging Technologies Virtual Conference on AI/ML & IoT on 27th August 2021
Why to Attend: Avery knowledgeable & insightful webinar showcasing Future Technology, Future Skills, Digital India, Defense, Smart Governance as their key theme.
Ashok Kumar, Director & Head of Marketing, TimesTech Print Media Says "CIOs and CTOs surveyed have sped up adopting some technologies due to the pandemic. More than half (55%) of respondents have accelerated adoption of cloud computing, 52% have accelerated 5G adoption and 51% have accelerated AI and ML. The adoption of IoT (42%), augmented and virtual reality (35%) and video conferencing (35%) technologies have also been accelerated due to the global pandemic."
"More organizations are pursuing edge AI-based initiatives to turn IoT's real-time production and process monitoring data into results faster. Enterprises adopting IIoT and IoT are dealing with the challenges of moving the massive amount of integrated data to a datacenter or centralized cloud platform for analysis and derive recommendations using AI and ML models. The combination of higher costs for expanded datacenter or cloud storage, bandwidth limitations, and increased privacy requirements are making edge AI-based implementations one of the most common strategies for overcoming IoT's growth challenges." -Said Jitendra K Sagar, Director, TimesTech Print Media.
TimesTech Print Media is the leading electronics technology publication in India. TimesTech Buzz Magazine covers a wide spectrum of electronics and allied industries. TimesTech has extended the reach to a wide audience of professionals and purchase heads. You get this immense reach through our TimesTech.in. We also conduct meaningful events & conferences. Times Tech is into publishing white papers, Case studies.