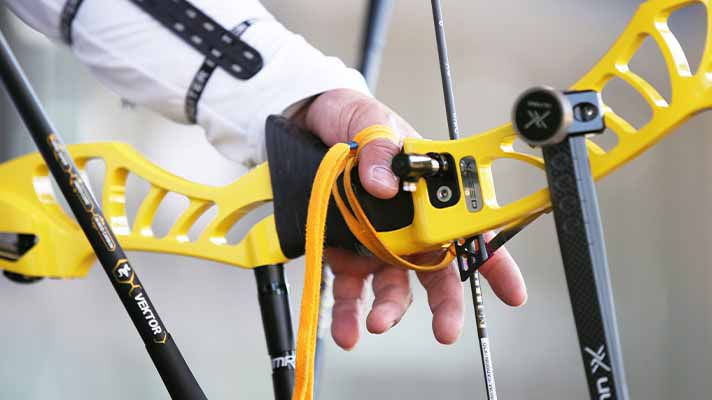 The Korean archery team has continued its dominance at the 2020 Tokyo Olympic games, aided by 3D printed grips from automotive manufacturer Hyundai Motor Group.
The team won gold in the men's, women's, and mixed team categories at this year's games, taking the total medals won by Korea's archers to 103 since 1984. Hyundai has been providing technical support to the Korean Archery Association for more than three decades, and since the previous Olympic Games in Rio has been leveraging technologies such as artificial intelligence (AI), biometric information, big data, and 3D printing.
In addition to providing optimized 3D printed grips for the archers, Hyundai has also used 3D scanning for non-destructive testing techniques for the team's bows.
The 3D printed grips attached to the bow vary greatly from player to player, regarding the desired shape and material. Photo via Yoon-Sik Kim / Hyundai Motor Group.
Optimizing performance with 3D printing and scanning
In the lead-up to the Tokyo 2020 Games, Hyundai has provided technical support to the Korean archery team by qualifying their bows and arrows and delivering optimized equipment for each player.
Hyundai's advanced 3D CT scanning equipment was used to develop a new model of non-destructive testing to analyze the team's bows. The technology measures whether there is any damage inside the bow as it is repeatedly pulled, by creating a 3D model image. As the bow is rotated 360°, the 3D scanner takes tens of thousands of photos to provide a comprehensive insight into the bow's performance.
Hyundai has also improved on the 3D printed grips it has been providing for the team since Rio 2016. The 3D printed grips are customized to the shape of each athlete's hand, and are now available in a greater variety of materials according to athletes' preferences.
Previously only available in synthetic resin materials, the grips can now be provided in heat-resistant resin which can be rapidly customized, and PA12 from multinational printing firm HP that is durable but takes longer to manufacture. The grips are also available in a newly developed material, aluminide, an aluminum and polyamide combination, and solid wood and urethane to deliver a better grip. According to Hyundai, archers Jin-Hyuk Oh and Woo-Jin Kim were particularly impressed with the 3D printed grips. After testing by several athletes, the grips were deemed to have excellent usability and were used as the main grip by the archery team during the Tokyo Games.
3D printing in Tokyo 2020
In addition to archery, 3D printed equipment has featured in a number of different events at this year's Olympic games. An increasing number of athletes have leveraged the technology to gain competitive advantages regarding aerodynamics, weight, and time savings.
One discipline in particular where 3D printing has been deployed is track cycling. The Italian national cycling team has used a Calibry 3D scanner from Russian handheld 3D scanner developer Thor3D to streamline its riders aerodynamics, and sports performance brand Vorteq has used an Artec 3D scanner to create custom-fitted aerodynamic skinsuits for cyclists from five different Olympic teams.
The Great Britain Cycling Team is also riding on a new track bike designed by global engineering firm Renishaw, Lotus Engineering, and Hope Technology, which features lightweight 3D printed end-use parts. Elsewhere, several athletes are expected to be wearing Adidas' 3D printing-optimized running shoe, the Futurecraft STRUNG, which features an upgraded 3D printed 4DFWD midsole, and 3D printed grips have also been seen fitted to the pistol of multiple world shooting champion Céline Goberville.
ARTEC LEO 3D SCANNING HELPS VORTEQ CREATE "WORLD'S FASTEST" CYCLING SKINSUITS FOR OLYMPIC ATHLETES
Sports performance brand Vorteq has turned to Luxembourg-based 3D scanner manufacturer Artec 3D to create custom-fitted aerodynamic skinsuits for cyclists.
Using a combination of Artec's Leo 3D scanner, wind tunnels and engineering, Vorteq has designed what it claims to be one of the "world's fastest" cycling skinsuits. The skinsuits are currently being worn by five different Olympic athletes at this year's Tokyo Olympics, and are designed to be lightweight, breathable, and significantly reduce drag.
"Our mission is to help serious athletes, many of whom are already at the top of their game or near, find those many 'tiny' gains that when you add them all together, can really give an athlete the kind of edge that helps them surge over the top and on to victory," said Sam Quilter, Metrology Engineer at Vorteq. "In contrast to our previous scanners, Leo gives us that flexibility to just pick up and go virtually anywhere in the world to do scanning, without requiring extra hardware, just the Leo itself. "THIS KIND OF FREEDOM IS TREMENDOUS WHEN YOU'RE GOING OFFSITE TO RANDOM LOCATIONS THAT AREN'T EXACTLY LABORATORIES IN REGARDS TO THEIR CONDITIONS."
Arctec 3D scanning
A serial shortlister in the 3D Printing Industry Awards – for which nominations are still open for this year's event – Artec 3D's product line includes its Eva, Space Spider, Leo and Ray scanners, used for a variety of different purposes.
Artec's scanners have previously been used for the reverse engineering of components for Marinebedrijf Koninklijke Marine, the material and asset maintenance company of the Royal Netherlands Navy, and to digitally preserve a 26-foot-long stegosaurus in the Denver Museum of Nature & Science by Triebold Paleontology. The firm's scanners also have additionally been leveraged in the automotive sector for vehicle restoration, and to create full body 3D scans of dolphins, sharks, and large turtles to create customized tracking tags offering information on migration patterns and the effects of ocean temperatures.
3D scanning for aerodynamics
In the world of high-performance cycling, speed is everything, with mere fractions of a second often separating success and failure. On the track, cyclists battle wind resistance and drag with each turn of the pedals, and with reportedly up to 90 percent of a cyclist's energy output being spent to overcome air resistance, reducing this drag is key.
Vorteq is making use of the Silverstone Sports Engineering Hub (SSEH)'s sports-dedicated and fabric wind tunnels and the latest 3D scanning technology to create custom skinsuits for cyclists that reduce this air resistance, but that are also comfortable, lightweight, and breathable.
Artec 3D's Artec Leo handheld scanner is a crucial element in the design of the skinsuits, and can be used to digitally capture a rider's exact anatomy in less than six minutes. The scanner has a built-in touchscreen and 44 frames per second capture rate, capable of scanning medium-sized objects, including people, in minutes.
"The rider comes into the wind tunnel with their bike, mounts it in place on the platform, hops on, and in just five to six minutes with Leo, I capture the rider in two positions in precise, high-resolution color 3D," said Quilter. "Basically this means that in ten minutes I can be totally done with that rider and they can go elsewhere. I've got everything I need to design an anatomically-accurate, fast-as-a-bullet Vorteq skinsuit. No chance of a rescan needed. Not once."
When making its skinsuits, Vorteq works directly from the Artec Leo's scans, which give the exact physical data of the athlete in order to eliminate inaccuracies and imprecise measurements. The scans are then subjected to a post-processing workflow in Artec's Studio software, where engineers can double-check the data and remove any rare inaccuracies or unwanted data capture, such as wrinkles. "From the time an athlete walks in the door and we start scanning with Leo, then using Artec Studio to post-process the scans, followed by 3D modeling work in Geomagic Wrap, and finally exporting the 3D model for use in making a skinsuit, we are looking at about 2 hours total, which absolutely wasn't possible in the past, not even close," continued Quilter. "And as far as the total production time for a skinsuit that's ready to race, currently we're at 2 days, but that gap is narrowing, and we're shooting for a 24-hour turnaround time, which we're sure to hit before too long."
Using the Artec Leo, Vorteq is also able to 3D print anatomically-precise mannequins of athletes which can be used to create skinsuits for them without having to try them on. The mannequin allows Vorteq to create a custom skinsuit for an athlete, test multiple fabrics and patterns in its wind tunnels, and craft the skinsuit in the hours that follow before delivering it to the athlete's door. This process currently takes less than two days, although the firm is hoping to accelerate this to just a 24-hour turnaround from 3D scan to completion in the future.
"A full-sized mannequin lets us do wind tunnel tests on fabrics in isolation on just an arm, for example, to see how various fabrics and patterns affect drag reduction," Quilter explained. "That's where the marginal gains really add up. Because with a live rider in the wind tunnel, there's going to be the wiggle factor to deal with, where the rider is moving around, even ever so slightly, and that's going to affect results. With a live rider, you can never have the exact measurement possible with a perfectly still mannequin, where the only factor that's changed is the fabric that's been put on." Previously, Vorteq has worked exclusively with Olympic teams and other elite athletes, but as of the beginning of 2020, the firm's custom skinsuits have been available to cyclists of all levels of experience, enabling them to achieve optimal performance.
How 3D printing is bolstering Olympic performance
Multiple Olympians have previously turned to 3D printing for their personalized gear in order to gain time and weight savings, among other benefits. For instance, Shelly-Ann Fraser-Pryce's 3D printed running shoes were on display at the last Olympic Games in Rio de Janeiro, and the latest 3D printed 4DFWD midsole from adidas and 3D printer manufacturer Carbon is currently being worn by several athletes at this year's games in Tokyo.
Previously, the French Cycling Federation has deployed customized handlebars to yield aerodynamic efficiency gains using 3D printing technology, and global engineering firm Renishaw has partnered with Lotus Engineering and Hope Technology to design a new track bike for the Great Britain Cycling team. Most recently, the Italian national cycling team revealed it has used a Calibry 3D scanner from Russian handheld 3D scanner developer Thor3D to improve its aerodynamics in the lead-up to the Tokyo Olympics.