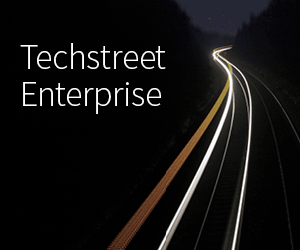 PHILADELPHIA, March 13, 2019 – Techstreet, one of the top aggregators of technical standards content worldwide, and IPC – Association Connecting Electronics Industries, a leading Standards Developing Organization (SDO), have formed a partnership to offer electronics manufacturing standards through the Techstreet Enterprise subscription service.
For more than 60 years, designers, board manufacturers, assembly companies, suppliers, and original equipment manufacturers have depended on IPC content to create high quality, reliable products. Through the partnership with IPC, the Techstreet division of Clarivate Analytics will continue to expand its content, making it one of the fastest-growing standards management web platforms available.
"For many years, Techstreet has been a trusted distributor of IPC's standards, guidelines and handbooks. I'm pleased to announce that Techstreet now offers access to Techstreet Enterprise to IPC members," said John Mitchell, IPC president and CEO. "From anywhere in the world, IPC members can streamline access to IPC standards via Techstreet's cloud-based standards library."
"We are pleased to partner with IPC to provide crucial content to the printed circuit board and electronics assembly industries via our Techstreet Enterprise subscription service," added Todd Fegan, Vice President, Techstreet. "Companies need access to a broad set of content, with intuitive access tools, an issue that is challenging for publishers to solve on their own.  Through this partnership, IPC solves this pervasive problem via our accessible and sophisticated standards management platform."
IPC standards are accepted worldwide as the key manufacturing standards for the printed board and electronics manufacturing industries and they are associated with nearly every stage of the electronic product development cycle. Today, IPC's collection of industry standards and guidelines exceeds 300 active standards and is used by more than 5,000 member-company sites.