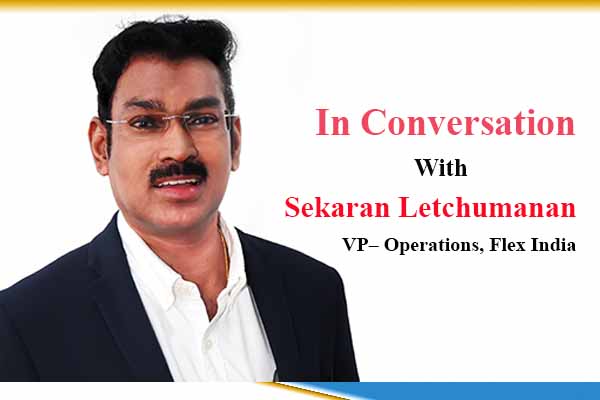 The manufacturing process and the related industries are transforming through the integration of digital technologies with physical industrial assets. This transformation is powered by big data and internet-enabled industrial assets to generate, use and utilise actionable data and information. TimesTech interviewed Sekaran Letchumanan, Vice President – Operations, Flex India to know about predictive maintenance, circular economy, industry 4.0 along with the Flex role in it.
Read the full interview here:
TimesTech: How is cloud computing helping the manufacturing process?
Sekaran: For manufacturers, cloud-based solutions can be used to track productivity, from anywhere while making sure that the suppliers and customers are aware of the status simultaneously. Additionally, operational data is gathered to assess key performance areas such as line utilization and machine utilization.
Predictive models can be generated using automated insights from each production line to decrease unplanned downtime and optimize future production plans. This improves productivity and profits. Cloud computing enables you to extract, analyze and save data that may affect the production line. 
Manufacturing firms can still retain complete access to the critical system when they transfer their information technology and manufacturing operations systems to the cloud. This is possible even during an unexpected crisis, irrespective of their location. In addition, remote visibility into activities can enable tracking of other important manufacturing sites globally.
For example, during the COVID-19 pandemic, to optimize the manufacturing of the diabetes product, Flex used discrete event simulation (DES) to create a digital twin of the factory floor. DES models the operation of a real-world system as a sequence of discrete events. It allows us to safely and accurately model, simulate and analyze the necessary relevant assembly, testing and shipping processes. DES enabled us to simulate processes without expending equipment or materials, iterating hundreds of thousands of "what-if" scenarios. When the tests were completed, our business and engineering staff worked with our simulation experts to review the output for further optimization.
Building a technology framework that combines hardware and software monitors to track the status of key machines and provide information back into the Manufacturing Execution System (MES), is very important to success. To drive fundamental efficiencies, the system automates scheduling, work in progress (WIP) tracking, order fulfillment, material backflush, and other MES features. This operations' data is then sent to the cloud and assessed to decide the key performance indicators (KPIs).
TimesTech: What is predictive maintenance? Why would this be important in electronics manufacturing?
Sekaran: Downtime is one of manufacturing's most pressing challenges, negatively impacting revenue by 10 to 20 percent. Industry 4.0 virtually eliminates downtime through predictive maintenance. The advanced technologies of industry 4.0 automate the collection and analysis of machine data, enabling predictive maintenance that anticipates and corrects potential issues and failures before they occur.
Predictive maintenance is a technique that analyses operational data from machines to provide insights to detect irregularities in an operation and possible defects in equipment so that any unexpected failures can be prevented. It comes with multiple benefits, among them is the reduction of costs. Predictive maintenance provides an opportunity for manufacturers to plan maintenance around their production scale.
For example, in milling machines, spindles tend to break, leading to expensive repairs. But with the help of predictive maintenance, ultrasonic sensors collect data on each spindle, which is analyzed for any pattern that suggests a fragile spindle. From there, an alert flags the issue for scheduled maintenance.
Therefore, doing away with downtime means new levels of quality and efficiency that boost revenue, increase sustainability and innovation for manufacturers. The will also give manufacturers an added edge due to the ability to be more agile in the face of market changes.
TimesTech: How are IoT and AI helping manage supply chains with Industry 4.0?
Sekaran: Emerging technologies such as Augmented Reality, Big Data, Virtual Reality, Automation, Cybersecurity, and Cloud have helped in bridging the gap between the supplier, manufacturer, and end customers. Due to the increase of digitized processes and the growth of data and analytics, supply chains are one of the key sectors that have been positively impacted by the Industry 4.0 revolution.
Industry 4.0 includes a global network of machines in smart factories that can exchange information and controls with each other. It improves the efficiency of the supply chain by bringing the Internet Of Things (IoT) into the manufacturing ecosystem and allows for a cyber-physical system of operations.
Flex's cutting-edge manufacturing attempts are driving headways in Industry 4.0 with higher productivity, quality, and sustainability to the manufacturing system.
There are multiple benefits to additive manufacturing. It is not just limited to the design phase where prototypes and concept models can be made to visualize a product. Bringing in 3D printing during production enables an effortless customization of products and decreases the production cost. The fabrication of parts on demand reduces lead times and minimizes the need for a large inventory. All of this together helps in building a simpler and less expensive supply chain.
TimesTech: Discarded electronics contain valuable and harmful waste dumped mainly in developing countries where recyclers do not know how to handle them safely. Keeping this aspect in mind, how is the circular economy working in electronics?
Sekaran: The circular economy rethinks and disrupts the traditional linear supply chain model of getting products to market.
Flex is a strong partner of choice for customers who seek circular economy solutions that empower a transformation to a closed-loop, regenerative economy – and to a more sustainable world. Our services help expand the lifespan of products, reduce waste, refurbish or get re-manufactured.
We support a circular approach from product design and materials selection through distribution, after-sales service across the product lifestyle and ultimately to recovery. Backed by global manufacturing and services capabilities, we bring circularity from design concept to reality.
Through our circular economy solutions which contains:
Sustainability analytics
Design for circularity
Product as a service
Product lifecycle management, we further partner with customers—from design innovation and advanced manufacturing to aftermarket services and end-of-life—to minimize environmental impact across the product lifecycle.  We view our circular economy solutions as a way to provide additional value to our customers as well as create new opportunities for Flex.
Sustainability is essential to making our vision of becoming the most trusted global technology, supply chain and manufacturing solutions partner, a reality. It is critical to earn and retain trust from our employees, customers, shareholders, suppliers, and surrounding communities.
We are equally committed to helping our customers make progress toward their sustainability aspirations. Our strategy and execution of design and manufacturing in modern supply chains assist clients with their circular economy principles and business models every day. In addition, businesses are being held to a much higher standard for how and where their products are sourced and produced, and increasingly, how they are disposed.
TimesTech: Automation is very capital intensive and limited to a few industries in India. How do you see the growth of automation in India in the near future and what is Flex's strategy for growth in India?
Sekaran: Overall, the human element is still a very big part of most manufacturing. Technology should be used to support and improve human decision-making. When it comes to co-bots and people working together, it should not be viewed as a competition between humans and technology. Numerous reports and studies on automation and AI point to better results when humans work with machines, than when either one works alone.
Robots are great with tasks that require strength, stamina, repetition and danger but are dedicated to one specific set of tasks at a time. AI is good with patterns, complexity, accuracy, speed, sensing and bias removal.
But it is only when you layer these capabilities with the human ability to create, collaborate, think critically, actively listen, communicate, empathize, adapt, plan, manage, lead and work with others, that you have the flexibility to optimize the benefits of the technology.
Both parties, technology and humans, perform tasks they're best suited to and it's the reason why many of our lines today are joint efforts between humans and machines. Advanced manufacturing technologies, like simulation for example, can provide 3D models that highlight the ways humans and robots interact, what the future workplace could look like, and tap the know-how of human workers on how processes can be performed more efficiently together. A robot can never replace the years of experience and critical thinking of an employee.
India is now considered as one of the lucrative places for manufacturing and is a significant market for Flex not only because of the size of the market but also due to customer demand. Given the favourable ecosystem for manufacturing promoted by the Government of India, we see the strong potential here.
There are significant growth opportunities and a domestic market for consumer electronics, the industrial sector, power sector, renewable energy sector, the automotive sector, telecom, digital infrastructure, and medical electronics. With the spurt in manufacturing in these sectors augurs well for the growth of advanced manufacturing technologies including automation in the country.
India currently has the right building blocks for a robust global component ecosystem, adding design capabilities and plug and play facilities will be a big boost for the global companies to come in and set up, diversify and expand their businesses in India. Besides this, bringing in initiatives to build skilled labour will be another critically important factor for the future of manufacturing in India.