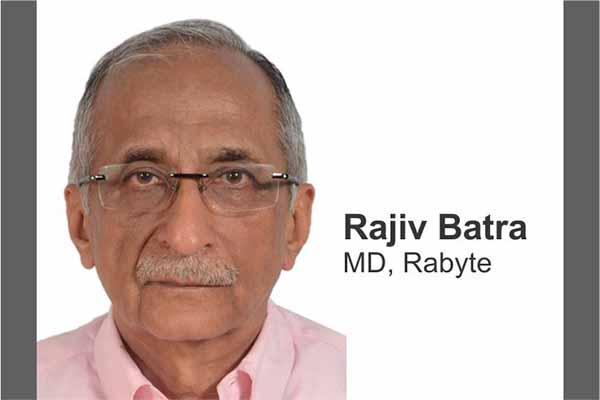 Recently, Rabyte Electronics and Actions Technology jointly announces that Actions Technology will expand its footprint to India and ASEAN market with Rabyte. Here we bring an exclusive interview of Rajiv Batra, MD of Rabyte Electronics as he explains the new collaboration and their ahead strategies. The veteran also states how Rabyte will assist Actions Technology in expanding its footprint to India and the ASEAN market.
Read full Interview here:
TimesTech: Who is Actions Technology?
Rajiv: Actions Technology is a public company listed on Shanghai Science and Technology Innovation Board(STAR) in China. The company's securities code is 688049. As one of the largest multimedia chip suppliers in the world, Actions Semiconductor, the predecessor of Actions Technology, has logged on the NASDAQ market in the United States. At present, Actions Technology has three product families, including Bluetooth audio SOC chip series, Portable audio and video SOC chip series and Intelligent voice interactive SOC chip series.
TimesTech: What are the core values of Actions Technology?
Rajiv: With 20+ years of design experience in the Semiconductor industry, Actions technology has accumulated a number of core technologies, including but not limited to independent IP core design and SoC integration technology (230+ IP on hand).
Actions Technology keep pursuing higher quality sound effect, lower power consumption, lower latency and better Bluetooth performance in Bluetooth Audio SoC.
TimesTech: Why Rabyte cooperate with Actions Technology and how did the two sides establish contact?
Rajiv: As an international distributor established in India and ASEAN, we have been looking for excellent products and partners all over the world always. We believe that some excellent IC companies are emerging in China in the consumer market. Benefit from our contacts in the industry, we had the opportunity to establish a direct dialogue with the management of Actions Technology. After a few months of contact, you know, because of the epidemic, we can only communicate through frequent emails and teleconference, however, we both believe we have found the right partner.
TimesTech: What is the key direction of bilateral cooperation in the future?
Rajiv: I think the cooperation will be divided into several stages. The first stage mainly focuses on audio customers in India and ASEAN, including Bluetooth speakers and Bluetooth headsets. At the same time, Bluetooth transmission, as an accessory, should have a large market in India and ASEAN. In the second stage, we will provide some differentiated solutions based on our understanding of products and markets to explore new market opportunities in India and ASEAN and the areas covered by our channels.
TimesTech: What is the expectation of each other?
Rajiv: For us, we hope that after the listing of Actions technology on the China STAR market, we can maintain a keen insight into the industry, understand the pain points of customers, and constantly launch competitive products, so that as a partner, we can recommend the right product to our target customers in the target market and obtain benefits at the same time. As you know, our company has been established for nearly 40 years, and we have tens of thousands of existing customers. At the same time, we have 150+ employees, 10+ offices in India and ASEAN, which will play a very important role in the future customer penetration of Actions technology.