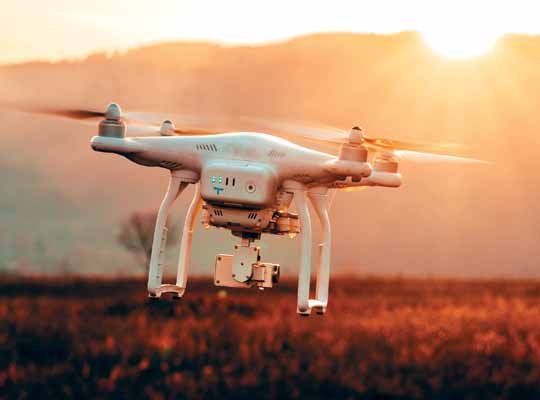 New Delhi – As per the recent decision of Ministry of Civil Aviation (MoCA) and Directorate General of Civil Aviation (DGCA), it has granted conditional exemption for Covid vaccine delivery via drone to the Government of Telangana. This move is welcomed by the Alternative Global India (AGI), India's largest drone consulting firm. Also present internationally, AGI has helped two consortiums to obtain trial permissions.
As per the notification, the drone usage permission has been granted for conducting experimental delivery of Covid-19 vaccines within Visual Line of Sight (VLOS) Range using drones. The permission exemption is valid for a period of one year or until further orders. These exemptions shall be valid only if all conditions and limitations as stated for the respective entities are strictly adhered to.
Further giving insights on the trial Mr. Ankit Kumar, Tech Investor & Serial Entrepreneur said, "This is the first of its kind of trials being conducted. Even during this second wave of Covid, MoCA and DGCA officials are kind enough to approve the trials. The trial would ideally validate drone delivery mechanism for Covid Vaccines. After the completion of the trial, this may be adopted by the state and centre to deliver Covid vaccines to multiple regional corridors on priority."
The team may be facing a lot of challenges while doing different types of flights but the whole idea to do this is to learn and create ways to eradicate those challenges. All safety issues have been carefully laid in advance which the pilots need to adhere to so there are no risks to people on the ground, property or aircraft in the sky."
Trials will also assist in assessing conditions such as population, degree of isolation, geography etc to identify regions that specifically require drone deliveries.
The grant of these permissions is intended to achieve the dual objectives of faster vaccine delivery & improved healthcare access by:
Ensuring primary healthcare delivery at the citizen's doorstep
Limiting human exposure to COVID congested or COVID prone areas through aerial delivery
Ensuring access to health care to the last mile, especially in remote areas
Possible integration into the middle mile of medical logistics for long range drones
Improving medical supply chain, especially with a third vaccine expected to be commissioned and millions of doses to be transported across India.
"The key elements that were hindrances in the sector in the past years are now in support of this development. The environment is optimistic, with the right set of people, favourable government regulations and aerial technological advancements, drone delivery will be a game changer very soon," said Mr. Ankit Kumar