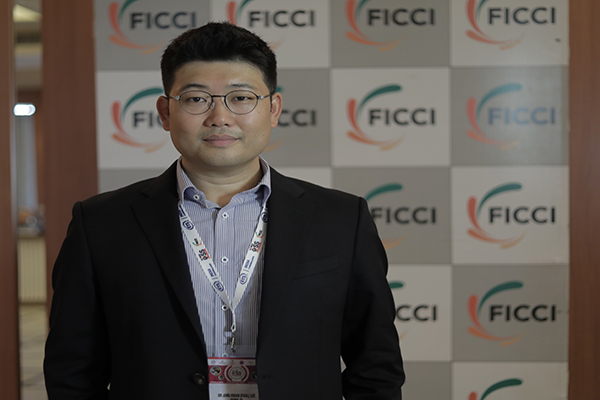 The Federation of Indian Chambers of Commerce and Industry (FICCI) successfully concluded the second day of its 14th edition of the Global Skills Summit, centred around the theme "Building Skills. Empowering Youth. Creating Future." The focal point of the day's discussions revolved around the 'Future of Work in AI,' with notable contributions from industry leaders.
The highlight of the event was a captivating address by Dr Jung Hwan (Paul) Lee, Founder & CEO of Mind AI, a prominent Korean company specialising in artificial intelligence. Dr Lee delivered an enlightening session on the 'Future of Work in AI' and unveiled insights into Korea's National Strategy for Artificial Intelligence. During his speech, he emphasised the profound impact of AI on our future, stating, "AI is not just about enhancing efficiency; it will completely reshape the foundations of businesses and organizations across various sectors."
Dr Lee also provided valuable statistics on the growth of the AI market, forecasting a remarkable 37.3% Compound Annual Growth Rate (CAGR) from 2023 to 2030. He further highlighted exponential growth in specific AI sectors, with a 40.4% CAGR in Global Natural Language Processing, 23.6% in Global Conversational AI, and 39.3% in Global Robotic Process Automation. Furthermore, Dr Lee shed light on Mind AI, describing it as both a new class of AI and an extensive ecosystem.
In the context of AI's increasing importance, Dr Lee emphasized that businesses must adapt within the next 4-5 years or risk being left behind. The implementation of AI necessitates a higher demand for a broader set of skills, including digital proficiency, analytical capabilities, and critical thinking. He stated, "General and elementary knowledge of AI is becoming essential, often at a basic level, such as the ability to use a computer or smartphone. Analytical skills are gaining prominence as automation of routine tasks allows workers to tackle more complex assignments, requiring specialized knowledge, comprehension, and the application of innovative ideas."
As part of Korea's National Strategy for Artificial Intelligence, Dr Lee outlined various policy initiatives. These include an AI convergence curriculum across different life cycles and job types, interchangeability between AI and other fields at the university level, AI basic literacy training in the military through M-MOOC, and collaboration between Coursera and K-MOOC to provide digital skill courses. Korea's commitment to nurturing AI talent and boosting youth employment rates was evident, with policies introduced over the past two decades, the development of National Competency Standards (NCS) for vocational high schools, and the establishment of Meister High Schools targeting employment rates exceeding 90% by 2022. Additionally, the youth employment quotas were raised from 3% to 5%.
Dr Lee concluded his session by introducing the innovative Mind AI, which transforms natural language inputs into internationally patented data structures referred to as "canonicals." This transformation enables the Mind AI engine to make connections, perform logical operations, and generate intelligent responses.
The FICCI's 14th Global Skills Summit continues to be a platform for insightful discussions on the ever-evolving landscape of skills and technology, driving India's workforce towards a future defined by innovation and adaptability.