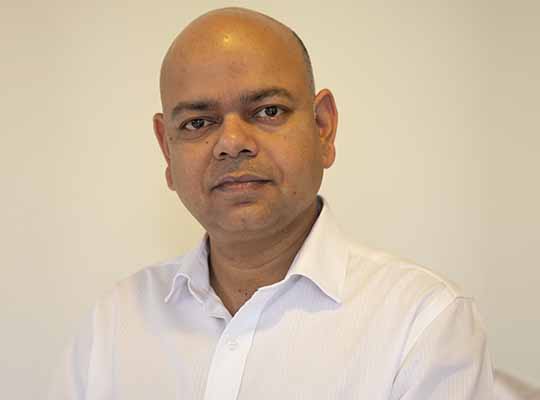 Getting alongside TechnoBind – the first Specialist Distributor in the Indian IT channels space, offering a hybrid distribution model placed synergistically between broad-based and niche distribution, to deliver high business value for its reseller partners.
In this exclusive interview, Amit Singh | General Manager, Security Business Unit | TechnoBind talks about how TechnoBind helps partners to implement solutions, which solve specific business pain points arising out of the rapidly changing facets of technology for businesses.
Lot more interesting insights from the veteran on the company's sole focus, strategies to help customer handle their Data and the associated challenges of Data Treatment. Edited Excerpts Below.
TimesTech: What are the key reasons for the rise in cybercrimes over the past few years?
Amit Singh: The advancement in the IT industry is constantly evolving, faster. New concepts, discoveries, and ground-breaking ideas are shaping our future and on the other hand the hacking community has become more sophisticated as technology. From the basic needs to the utmost luxuries, our lifestyle is now impacted by the internet. It has made life much easier that we use the internet to order food, shopping, sharing a moment with a friend, sending a picture over instant messaging, etc. As we are in a digital age, we are being connected with lots and lots of people and as we are getting connected vulnerabilities are also increasing day by day.
The reasons for the rise in cybercrimes are Financial Gain:
Hacking is the immediate way to earn money for the hackers and it is the primary motivation for most cybercrimes.
The Advancement of Hacking Tools
One of the reasons is also the growth of the digital world has increased business opportunities for numerous individuals; however, the hacking community has also become more complicated and complex than ever.
Egotistical:
Not every time hackers seek financial gain but recognition. Sometimes they want to prove that they have the ability and knowledge to defeat the high security protocols.
People Casually Giving Out More of Their Private Data
Last, but at least, this is one of the most important reason – people are getting very comfortable giving their information online
TimesTech: What are the key Cybersecurity challenges that you hear a lot from Indian Businesses?
Amit Singh: The key cybersecurity challenges that we hear from Indian businesses are around Cloud vulnerabilities, Phishing, Data breaches and infamous attacks like Ransomware.
TimesTech: As compared to other countries, how is India's security market different?
Amit Singh: As stated by National Association of Software and Services Companies (NASSCOM), India has the poorest organization in the field of cyber security. According to NASSCOM, the increasing incidents of cyber-attacks and data protection efforts globally would create 35 USD billion revenue opportunity and would provide employment for about millions of professionals by 2025.
The growth and requirements in this market has driven the nation by a rising number of government initiatives. Government's project such as make in India, start-up India, and digital India serve the growth purpose of the cyber security market in India.
India in today's world, has achieved a tremendous growth in tech savvy population, with mobile being the first digital medium. Also at the same time, there has been a substantial growth in IT spending in India and scaling up in the use of technologies such as internet, cloud computing, artificial intelligence, and block chain.
It is expected that these will rise further, transforming India into one of the largest cyber security-based markets across the world. According to the web portal research and market, the current size of cyber security is USD 3.8 billion. They estimate that the Indian cyber security market will grow at the CAGR of 15-10% during the year 2023.
TimesTech: Mobile Revolution is a weak point for IT security professionals, please comment.
Amit Singh: Mobile phones are the most used device, as well as the most easily available ones through which it becomes easier for everyone to assess important information. Using such devices has been an increase in cybercrime activities. Yet the use of mobiles has been increasing which provides fields for the attackers to achieve what they want to gain out of the crime. It becomes easier to get information from mobile networks because it has the weakest links. Hence the potential to secure mobile attacks continues to expand and most corporate mobile security incidents are due to humans failing to follow basic security procedures.
TimesTech: Could brief about modern age Cybersecurity threats and what more do you expect to be coming in future.
Amit Singh: Ransomware and Malware- Ransomware are already on the track to hit $11.5B, which roughly translates to someone being a victim every 14 seconds. Using malware or software to deny access to computers or until ransom is paid is costlier than data breaches alone.
Endpoint attacks- Cloud and SaaS makes it easier for hackers- As companies are using "cloud" to store their resources, attack numbers will continue to grow in size, thus making it easier for intruders to past the security measure.
Phishing- Easiest and cheapest way to compromise targets. It remains to be the number one attacker.
Third Party and supply chain – occurs when a system gets infiltrated through an outside partner or provider that has access to your system and data. Software updates and security patches are critical protections yet adding to other vulnerabilities to being easily targeted.
Artificial Intelligence-Machine Learning Driven attacks- are approaches being used to fight cybercrimes. As these are readily available to the people, hackers are using them to enhance the sophistication of their attacks. With these tools' attacks can be multiplied and cyber-crimes would reach all new levels.
TimesTech: Which are your vendors contributing to the space of Cybersecurity?
Amit Singh: As a technology VAD, it is our responsibility to provide the best of breed technology to our customers, channel partner. To add in the space of cybersecurity, we are associated with the top credible brands like Microfocus, Thales, Beyond Trust, Sonicwall, ESET and Seclore.
TimesTech: Could you tell us about your growth and expansion plans?
Amit Singh: We are driving cybersecurity awareness and evangelization across the region with the help of our channel partners' network. We intend to expand both in terms of our solutions coverage by adding relevant security solutions to our offering as well as channel coverage in tier2 cities for we are witnessing a whole new threat landscape with more and more businesses moving online providing turf for bad actors of the cyberworld.