As Power over Ethernet (PoE) evolved, it's grown to become a global market that's projected to exceed $3 billion by 2025, more than triple of today and eight times that of 2015. Even these rosy estimates might be conservative as analysts have increased their projections every year. And, it is not hard to see why. The IEEE 802.3 PoE standard has finally achieved the ability to deliver about 90W over a single Category 5e (CAT 5e) cable. As more cities throughout the world become connected, PoE's capability of delivering about 90W over a single CAT 5e cable could not have come at a better time.
When PoE first appeared in 2003 as the IEEE 802.3af standard, it could handle only 13W at 350mA over a distance of 100m. That was impressive at the time as it could power some Voice over Internet Protocol (VoIP) systems, CCTV cameras, Radio Frequency Identification (RFID) readers, and other low-power systems. However, 13W was not enough to serve applications such as video-conferencing, Wi-Fi routers, or pan-tilt-zoom or heated cameras. The IEEE bumped up the DC power level to 25.5W at 600mA —except in non-standard variants—with the 802.3at standard in 2009. This increase in the DC power level enabled manufacturers such as Analog Devices to advance their PoE architecture. Analog Devices' proprietary Linear Technology Power over Ethernet (LTPoE)++ architecture (Figure 1) handles up to 90W, is backward-compatible back to 802.3af, and provides other features as well.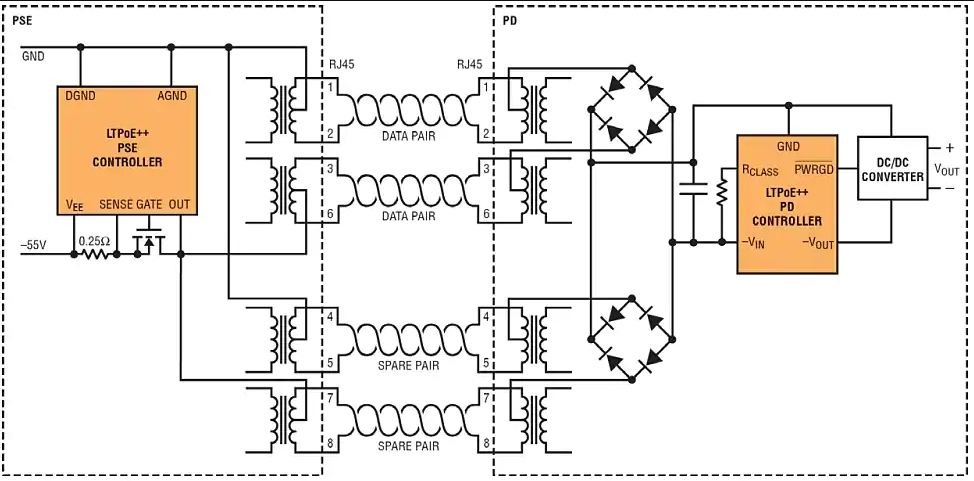 However, on September 27, 2018, IEEE announced the finalization of the PoE standard 802.3bt that increases maximum power to about 90W. The IEEE 802.3bt PoE standard signified a big leap forward because:
It significantly increases the power-handling ability.
It increased PoE's potential applications because almost all types of electronic devices have become more efficient over the years.
Now, for the first time, the vast majority of devices within all types of buildings can avail themselves of combining data transfer with DC power delivery via Ethernet. In smart cities, LED luminaires with characteristics that can be adjusted and monitored are increasingly replacing light sources such as sodium vapor. Additionally, with Ethernet easily accessible in many locations, PoE can supplement or replace the wireless solutions for lighting control that are being installed today.
Along with benefits to end users, 802.3bt-based applications present a major opportunity for manufacturers of controllers, ICs, and many other Ethernet components required to support the higher power levels. Analog Devices' LT4295 Powered Device (PD) Interface, for example, accommodates up to 71W with end-to-end efficiency greater than 94 percent. On the Power-Sourcing Equipment (PSE) side, the Texas Instruments (TI) TPS23880 (Figure 2) is a PSE controller for detecting powered devices with a 90W capability and includes programmable Standard Random Access Memory (SRAM), which allows it to be upgraded via Inter-Integrated Circuit (I2C).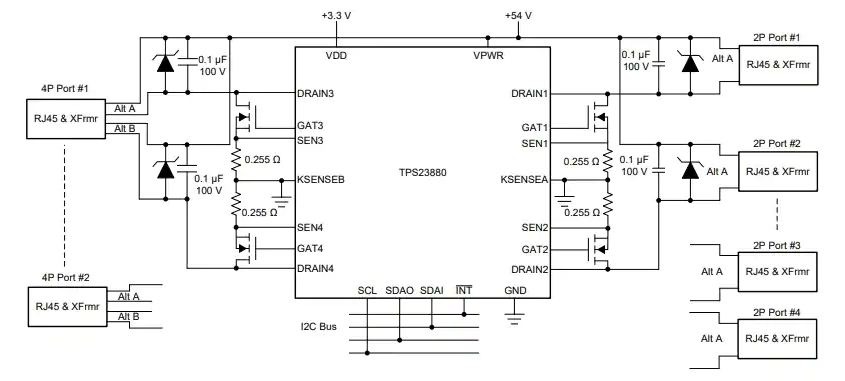 What's Next?
It will probably take years for the electronics manufacturers and end users to fully ingest 802.3bt, so further standard-based enhancements could be years away. Meanwhile, other alternative solutions are using PoE to serve small cells that often consume 150W of power as a stand-alone system. Other non-standard, proprietary approaches—that might or might not be usable within a standards-compliant environment—are also likely to appear that will further extend power handling.
Barry Manz is president of Manz Communications, Inc., a technical media relations agency he founded in 1987. He has since worked with more than 100 companies in the RF and microwave, defense, test and measurement, semiconductor, embedded systems, lightwave, and other markets. Barry writes articles for print and online trade publications, as well as white papers, application notes, symposium papers, technical references guides, and Web content. He is also a contributing editor for the Journal of Electronic Defense, editor of Military Microwave Digest, co-founder of MilCOTS Digest magazine, and was editor in chief of Microwaves & RF magazine.