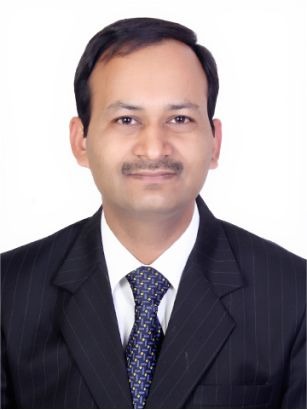 The automobile industry is entering a new paradigm with rapidly advancing technologies where vehicles of the future will incorporate mobile communications technologies and AI implemented as the CASE (Connected, Autonomous, Shared and Electric) revolution. Making CASE a reality will not only solve social issues, such as traffic congestion, energy consumption, and environmental pollution but will also lead to creation of new mobility services contributing to industrial and regional revitalization.
To bring self-driving vehicles and connected cars to market, automobile makers must accurately and reliably test the safety of mission-critical advanced technologies supporting CASE.
Anritsu has automotive measurement solutions for deploying CASE and improving safety in the fields of cybersecurity, Intelligent Transportation Systems (ITS), Vehicle-to-Everything (V2X), eCall/ERA-GLONASS, OTA measurement, eSIM measurement, automobile radar, Remote Keyless Entry (RKE), IEEE802.11p and more. If you are an automobile manufacturer (OEM), chip/TCU/IVS supplier, or test house, you can contact Anritsu to learn their solutions can improve your business efficiency.
Solutions for Automotive Testing
Anritsu has automotive measurement solutions for deploying CASE and improving safety in the fields of cybersecurity, Intelligent Transportation Systems (ITS), Vehicle-to-Everything (V2X), eCall/ERA-GLONASS, OTA measurement, eSIM measurement, automobile radar, Remote Keyless Entry (RKE), IEEE802.11p and more. If you are an automobile manufacturer (OEM), chip/TCU/IVS supplier, or test house, you can contact Anritsu to learn their solutions can improve your business efficiency.
This article covers Automotive Wireless Technologies from R&D to Production test scenarios & solutions from Anritsu.
According to Counterpoint Technology Market Research Ltd., the number of connected cars with built-in connectivity expected to ship between 2018 and 2022 will reach 125 million units. Connected technology brings new functions and performance to vehicles and forms a key base for delivering new services and business. For example, connected technology has a major impact on remote monitoring of vehicle status as well as on function updates using wireless communications (OTA updates) to provide new services. Additionally, roll-out of commercial 5G services will drastically strengthen connectivity.
On the other hand, incorporation of various wireless communications technologies, including 5G, increases the complexity of the communications environment as well as the likelihood of radio interference. Increasing the number of network-connected onboard systems also greatly increases the risk of hacking threats to safety. Automobile manufacturers are facing new cybersecurity problems, making support for both rapid threat response and specialist communications technologies more important than ever before.
As a leading supplier of 5G measurement solutions, Anritsu has a wide range of measurement solutions for OEM businesses and suppliers requiring onboard wireless measurements. Anritsu solutions for every stage from R&D to manufacturing meet the latest industry test standards to help raise test efficiency and accelerate time-to-market.
5G Connectivity
Development of advanced connected cars and self- driving vehicles requires a 5G network environment. Effective tests are required to confirm whether or not the connected car and self-driving vehicle RF/Protocol/Application layers are in compliance with the latest 3GPP standards.
Telematics Evaluation Solutions
Telematics system development engineers are experiencing increasing daily workloads in development and evaluation work due to the continuing evolution of wireless communications technologies.
Anritsu labor-saving solutions increase the efficiency of telematics system development and evaluation.
eCall/ERA-GLONASS
eCall is an EU automobile emergency response information system installed in all new vehicles sold within the EU since March 31 2018. Since it is a system designed to protect human life, assuring the performance of the overall eCall system is extremely important. IVS developers must test whether the IVS performance and functions satisfy the compliance requirements for 2G/3G/LTE network environments.
Russia is also introducing its own ERA-GLONASS emergency response system which is similar to eCall.
Test Telematics Multi-function IVS eCall Operation Tests of IVS with telematics functions as well as IVS with special functions are all supported. For example, when a traffic accident occurs during communication using LTE, the IVS using packet data communication immediately before the accident must issue the eCall over GSM or W-CDMA by switching the wireless communications network using the CS Fallback function. The eCall Tester system can simulate this network switching. Combining Anritsu's mobile network simulator MD8475A with the PSAP server function built into the eCall Tester MX703330E software offers a simple GUI for running complex cellular tests to help improve IVS quality and reliability.

eSIM OTA Solutions
The automobile market is focusing on an eSIM that does not require changing the SIM card. Since eSIM provision requires advanced technology, each country has defined national test requirements.
Cybersecurity Solutions
Although network connections increase the usefulness of the connected car, they also increase cyber security threats, in turn increasing the need for automobile security penetration testing.
Vehicle Acoustics Evaluation Solution for Wireless Communications Environment
The number of automobiles with built-in communications functions is increasing and communications, such as hands-free operation requiring the same voice quality as smartphone usage, is becoming commonplace. However, connections between peripheral equipment and IVS are becoming more complex, causing problems with communications latency and making evaluation of voice quality extremely important.
Combining Anritsu's Signalling Tester MD8475A/B with the ACQUA from HEAD acoustics GmbH, a leading company in audio evaluation, provides the perfect audio evaluation solution for configuring replay tests in the actual acoustics environment.
Signal Analyzer (Base Station Simulator) MD8475B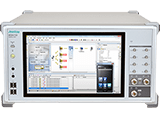 The MD8475B is an all-in-one base station simulator supporting LTE-A/LTE, etc., test environments. The easy-to-use SmartStudio GUI-based software is used to create test sequences for controlling self-driving vehicles using a GUI, cutting the time required for test environment settings. Using these functions simplifies tests of telematics control unit (TCU) and data communications modules to speed- up implementation. Supports eCall/ERA-GLONASS/ NG-eCall tests.
Evaluation of RF Characteristics using Optimized OTA Measurement
Assuring WLAN quality is becoming more important as automobile cabin WLAN devices become common and data traffic volumes increase to provide infotainment while driving, map data updates, etc.
As part of its quality inspection regime, the automobile industry is favoring evaluation of WLAN device RF characteristics in an Over The Air (OTA) environment closely mimicking actual usage.
With its wide dynamic-range performance, the Wireless Connectivity Test Set MT8862A not only supports evaluation of RF characteristics while the WLAN is connected, but is also the best solution for OTA tests where signals can be unstable.
Testing Automobile Cabin WLAN Characteristics
Evaluating the performance of standalone WLAN modules is inadequate for implementing stable communications using cabin WLAN products. As required by IEEE802.11b/g/a/n/ac (2.4 GHz, 5 GHz), the Wireless Connectivity Test Set MT8862A supports quantitative evaluation of TRx characteristics while the WLAN product is communicating in the actual usage environment.
Wireless Connectivity Test Set MT8862A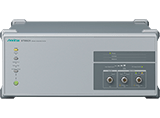 The MT8862A for measuring WLAN products provides quantitative wireless data on completed products and on products in the actual usage environment.
Measurement using same connection procedure as actual use
No DUT control
Connection to both IEEE802.11a/b/g/n/ac Access Points and stations
Measurement while security encryption function ON
Troubleshooting logs
Dynamic Maps Communications Evaluation Environment
Cellular and Wi-Fi networks are the typical communications methods for streaming dynamic maps. Since the MD8475B not only simulates a cellular network, it also can simulate various faults and changes in the communications conditions that may occur when updating dynamic maps by using with a Wi-Fi access point.
Bluetooth SIG RF Verification Test
Automobile cabin infotainment systems use Bluetooth technology for operations such as playing music and hands-free communications, especially via smartphone. This technology is standardized by the Bluetooth Special Interest Group (Bluetooth SIG) which also specifies the required test cases. The Bluetooth Test Set MT8852B supports all the Bluetooth SIG-certified RF tests and has a wide application range from R&D to production-line testing.
Supports Basic Rate/Enhanced Data Rate RF tests used by hands-free communications and infotainment systems
Supports Bluetooth Low Energy RF tests used by keyless entry systems, etc.
Supports tests of Adaptive Frequency Hopping (AFH) function for restricting impact of interference signals, such as WLAN, on Bluetooth channels
Bluetooth Test Set MT8852B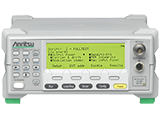 The MT8852B supports test procedures specified by the Bluetooth SIG RF Test Specifications to measure BR, EDR, Bluetooth Low Energy (BLE), Bluetooth Audio, etc., functions required for chipset and product R&D and manufacturing.
In addition to graphical display of test packets for R&D using bundled PC application software, measurement results can be evaluated automatically using Pass/Fail test limits for easy problem troubleshooting at the development test stage.