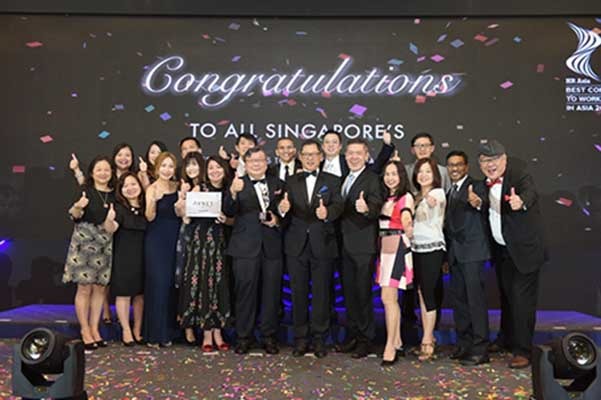 November 28, SINGAPORE : Avnet Asia Pte Ltd has been named one of the Best Companies to Work for in Asia – Singapore. This award marks the third accolade Avnet has received in the past six months for its exemplary workplace practices, having won the Great Place to Work Certification 2018 awarded by The Great Place to Work® Institute in India in September, and the HR Asia Awards in Taiwan in June.
The HR Asia Awards Singapore is organized by one of the most authoritative HR publications in the region.  The winners undergo a stringent selection process judged by independent industry experts, academics and journalists.
 "Avnet is thrilled to be recognized by HR Asia once again as one of the Best Companies to Work for in Asia. As we prepare our workforce for Industry 4.0, Avnet Asia Pacific is committed to providing a conducive and opportunity-laden workplace for its employees to thrive and contribute," commented Frederick Fu, president of Avnet Asia Pacific. "This award reinforces our belief that Singapore and the greater APAC region can achieve profitable growth through an environment that supports employees' aspirations and recognizes their contributions."
James Tan, senior vice president, human resources, at Avnet Asia Pacific, added, "There is a strong positive correlation between employee engagement and profitable financial performance. Our Avnet team in Singapore comprises highly motivated leaders with many talented and experienced employees. Over the years, we have deployed a myriad of multi-layered development and well-being programs to keep our workforce effectively engaged in our drive for business excellence. Receiving HR Asia Singapore's award is an external endorsement of Avnet's commitment in nurturing the continuous development and growth of our industry-leading workforce."
Avnet scored higher than the industry average in the "Heart, Mind, Soul" categories, which look into the company's worker engagement policies, its provision of a healthy workplace culture, and the offering of employee development opportunities, respectively. The rigorous assessment process proved Avnet's track record towards the well-being and development of its employees. Avnet provides a range of in-house programs, online learnings, and external programs for talent and management development. To recognize and reward talent who are going the extra mile, Avnet proffers the Reach Recognition program to foster greater collaboration, commitment, dedication, and service excellence. Avnet also has an employee-led initiative in the region that enables peers to share its holistic well-being approach through external outreach programs.
"The Best Companies to Work for in Asia award recognizes companies for their workplace and employee engagement practices," said William Ng, group publisher and editor-in-chief of HR Asia. "Avnet demonstrated their continued willingness to go the extra mile in fully engaging their employees while caring for their personal growth and well-being. We are pleased to recognize Avnet Asia as one of the best companies to work for in the region through this award."
HR Asia Awards 2018 expands Avnet's extensive list of achievements in Singapore, which includes Singapore HR Institute's award for Leading HR Practices in Compensation & Rewards Management, Leading HR Practices in Talent Management, Retention and Succession Planning, as well as the Excellence in C&B Strategy (Silver) awards from Human Resources.
For more information, please visit at : www.avnet.com.