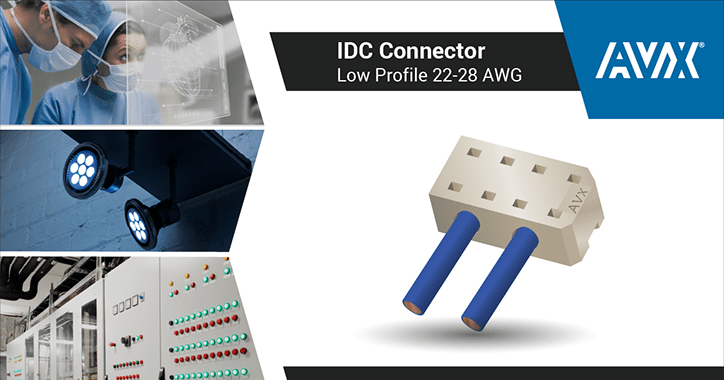 FOUNTAIN INN, S.C. (December 13, 2018) – AVX Corporation has added a new insulator to its 9176-800 Series low-profile insulation displacement connectors (IDCs) — the first and currently only industrial IDCs available in a 2.55mm profile — to accommodate an additional wire gauge and further expand application suitability. Now available in one to four positions in each of four wire gauges, the series' redundant, fatigue-resistant phosphor bronze contacts provide high-reliability, gas-tight, cold-welded connections for discrete 22, 24, 26, and 28AWG solid and stranded wires and are compatible with potting and overmolding encapsulation processes for environmental protection. In addition to connecting leaded components to PCBs in space-constrained, harsh-environment industrial, medical, and transportation applications — including smart metering, sensors, building controls, portable monitoring and measuring devices, point-of-sale equipment, handheld inventory management devices, security systems, patient monitoring equipment, and LED lighting — the series can also be used to connect PCBs together in a daisy chain configuration.
AVX's 9176-800 Series low-profile IDCs reduce the Z-axis height of the next-lowest-profile insulated IDC connectors, the 9176-400 Series, by 1mm and reduce the total overall volume of the Standard 00-9176 Series IDCs by more than 50% to help design engineers satisfy steadily increasing cross-market demands for smaller, lighter-weight electronic devices capable of delivering high-reliability performance in harsh environmental conditions including shock, vibration, and operating temperatures extending from -40°C to +125°C.
"Our newly extended 9176-800 Series low-profile IDCs have an industry-leading 2.55mm profile designed with today's high-density, space-constrained devices in mind and, with the addition of the new insulator option, provide robust, reliable power and signal solutions in an expanded range of industrial, medical, and transportation applications with challenging operating conditions," said Tom Anderson, connector product manager at AVX Interconnect. "AVX leads the market offering of 22–28AWG IDC solutions, and our IDC technology is backed by more than 10 years of proven performance in rugged industrial and transportation applications."
The 9176-800 Series low-profile IDC connectors feature flat, integral, glass-filled Nylon 46 caps that are compliant with UL94 V-0, designed for automated pick-and-place assembly, and enable simple, single-step termination. To further ensure error-free termination, the one-position versions, which are rated for 600V instead of the standard 300V, are also available in eight colors designed to match individual wires. Every connector in the series is rated for three-cycle durability and current ratings are reliant upon AWG; the 22AWG connectors are rated for 6A, the 24AWG connectors are rated for 5A, the 26AWG connectors are rated or 4A, and the 28AWG connectors are rated for 3A. Parts are packaged in tape and reel in quantities of 1,700 and those designed to accept 22–26AWG are UL approved. UL approval for 28AWG parts is currently underway and is expected in the near future.
For more information, Please visit www.avx.com.