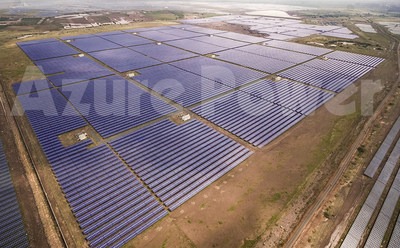 NEW DELHI, April 30, 2019 – Azure Power, announced that it has commissioned a 150 MW solar power plant in Bhadla solar park in Rajasthan. This section is the first phase of 200 MWs allocated to Azure Power by Solar Energy Corporation of India (SECI), a Government of India enterprise and a company with AA+ debt rating by ICRA, a Moody's Company. Azure Power will supply power to SECI at a tariff of INR 2.48 (~US 3.6 cents) per kWh for 25 years.
With this project commissioned, Azure Power now has ~1600 MWs of high-quality operational solar assets. This makes Azure Power's portfolio the highest rated large-scale solar operating portfolio in India with 68% of the company's portfolio with A to AAA domestic rated counter parties. The company also has the most diversified solar portfolio in India in highest radiation zones, spread across 24 states, including a leading solar rooftop portfolio of over 200 MWs, out of which ~81% of the projects are with sovereign counterparties.
Azure Power has a strong portfolio in Rajasthan with entities like National Thermal Power Corporation Limited (NTPC) and SECI with debt ratings of AAA and AA+ by ICRA respectively. In 2015, Azure Power developed the first-ever SECI solar power plant in the state of Rajasthan, which was also the largest solar power project under India's National Solar Mission at the time of its commissioning.
Speaking on this occasion, Mr. Inderpreet Wadhwa, Founder, Chairman and Chief Executive Officer, Azure Power said, "With this commissioning, we have one of the highest rated and diverse solar portfolios in India. This is a direct result of our strong project development, engineering, and execution capabilities. We are delighted to make this contribution towards the realization of our Hon'ble Prime Minister's commitment towards clean and green energy through solar power generation."
For more information, visit: www.azurepower.com