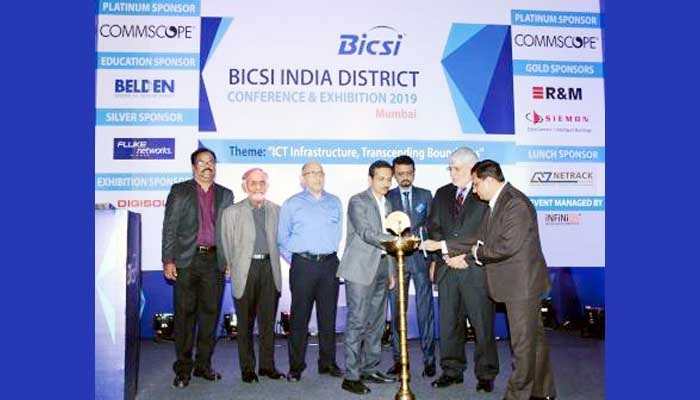 Bangalore – April 25, 2019 – BICSI, the premier association supporting advancements in Information and Communications Technology (ICT), concluded the BICSI India District Technology Conclave 2019. ICT experts converged at the conference to experience realistic insights into today's evolving network infrastructure and presented futuristic solutions for the communication network's most compelling challenges. The conclave attracted over 300 ICT professionals and showcased tech innovations, products & solutions across all levels of the infrastructure, while a unique blend of symposia and technical sessions presented use-case scenarios and diverse perspectives from eminent industry leaders.
"With escalating network speeds, surge in connected devices is inevitable in the coming days,  therefore, tech innovations and skill-sets to support and deploy advanced communication infrastructure & networks are vital," said Ninad Desai, District Chair, BICSI India. It is an exciting time for ICT professionals, as infrastructure capabilities continues to evolve and enterprises step – up to design, develop and optimize solutions to meet future network requirements, he added.
The conference presented exclusive experience for attendees and its content included: technology sessions, panel discussion, product demonstrations and expert opinions:
Paul Weintraub, RCDD, RTPM, ESS, TECH, CAE, Vice President of Global Development & Support, BICSI, in his inaugural address delivered exceptional thoughts on smart infrastructure & changing technology dynamics, while highlighting BICSI's strategic programs to empower ICT experts.
The technology conference opened with a key note address by Vikas Aggarwal, Partner, Ernst & Young, as he highlighted the role of ICT in digital empowerment, focusing on strategic technology trends that are driving disruptions.
Delivering the vote of thanks, Kasi Visweswaran, District vice chair, BICSI India, presented important updates about BICSI programmes and how BICSI is serving as a dynamic platform to nurture ICT skills and bringing together businesses, academia, government and industry to work together and drive innovation.
Ashok Srinivasan, RCDD, Technical Director, CommScope Solutions India Pvt Ltd, shared his views on smart cities, factors driving the smart city initiative, core infrastructure and ubiquitous connectivity to unlock the untapped advantages of mobility, safety and digital transformation.
Manish Agarwal, Sr. Sales Director – India & SAARC, Industrial & Enterprise Solution, Belden India Pvt Ltd, focussed on developments in video signal quality, cables and connectivity required to ensure best transmission of 4K Video Signals.
Matthias Gerber, Market Manager LAN Cabling, R&M India Pvt Ltd, elaborated on IEEE 802.3bt 4PPoE Standard and cabling solutions for remote power supply over the data network.
Valerie Maguire, BSEE, Director of Standards & Technology, Siemon Cabling Solutions Pvt Ltd, demonstrated key insights on cabling infrastructure design and use of Power over Ethernet (PoE) technology in lighting.
Christian Schillab, Marketing Engineer EMEA, Fluke Networks, illustrated on field testing and troubleshooting of PO LAN and how to ensure optimum fiber optic cabling performance.
The conference also observed a panel discussion on: scaling and management of modern networks while embracing innovation. Winners of 2019 BICSI cabling skills challenge & BICSI ICT IQ quiz were recognized and felicitated.
BICSI India pre-conference technical workshops were held on: design of structured cabling system for data centers, telecom bonding & grounding, audio-visual technology, industrial ICT infra security & telecom project management.
BICSI provides information, education and knowledge assessment for individuals and companies in the ICT industry serving professionals, including designers, installers and technicians. Through courses, conferences, publications and professional registration programs, BICSI staff and volunteers assist ICT professionals in delivering critical products and services, and offer opportunities for continual improvement and enhanced professional stature.
 For more information, pls visit: http://www.bicsi.org/india/