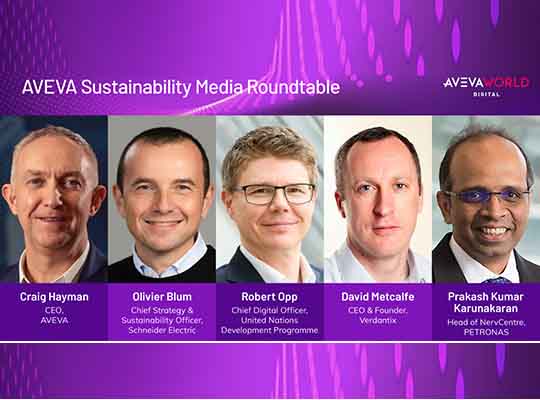 AVEVA, a global leader in engineering and industrial software, convened leaders from the United Nations Development Program (UNDP), Schneider Electric, PETRONAS and Verdantix in a virtual press panel session recently, to discuss how digitization is driving the sustainability business agenda for industrial organizations. Participants highlighted how in the past year, the world had faced a challenge that is unique in history, in its scale and scope, and industries have been adversely affected in many ways. The key takeaway from the session was that 2021 is set to be a year of resiliency and renewed rebuilding, and Industry 4.0 will enable employees and communities to optimize sustainable processes to reduce carbon footprints.
Industrial Organizations – Proactively Aligning to the UN's Sustainable Development Goals Session moderator Robert Opp, Chief Digital Officer at the UNDP, outlined the importance of organizations setting clear objectives for leveraging new technologies to align with the UN's Sustainable Development Goals (SDGs). The Sustainable Development Goals are 17 interlinked global goals designed to be a 'blueprint to achieve a better and more sustainable future for all'. The convergence of new technologies, such as Artificial Intelligence (AI), Cloud and Big Data & Analytics, is disrupting and creating opportunities across every industry. Opp highlighted how technological progress is key to finding lasting solutions to both economic and environmental challenges, from creating new employment opportunities to promoting energy efficiency.

"Promoting sustainable industries, and investing in scientific research and innovation, are all important ways to facilitate sustainable development," said Opp. "Over the last few years there has been a major shift toward sustainability, and our mission at the UNDP is actively championed by technology organizations like AVEVA, who recognize the urgency to prioritize sustainable practices and also
measure the multi-faceted benefits that reducing a company's carbon footprint and being more efficient through technology, affords."
Industrial Technology Providers – At the Forefront of the Race to Become More Sustainable AVEVA's software has been driving sustainable outcomes for customers for years. The company's goal is to provide customers with the real data they need to run their businesses efficiently, with the myriad of technological solutions it provides. Once the data is available, the process of being able to cohesively understand where the disconnects are and start doing something to remedy them begins.