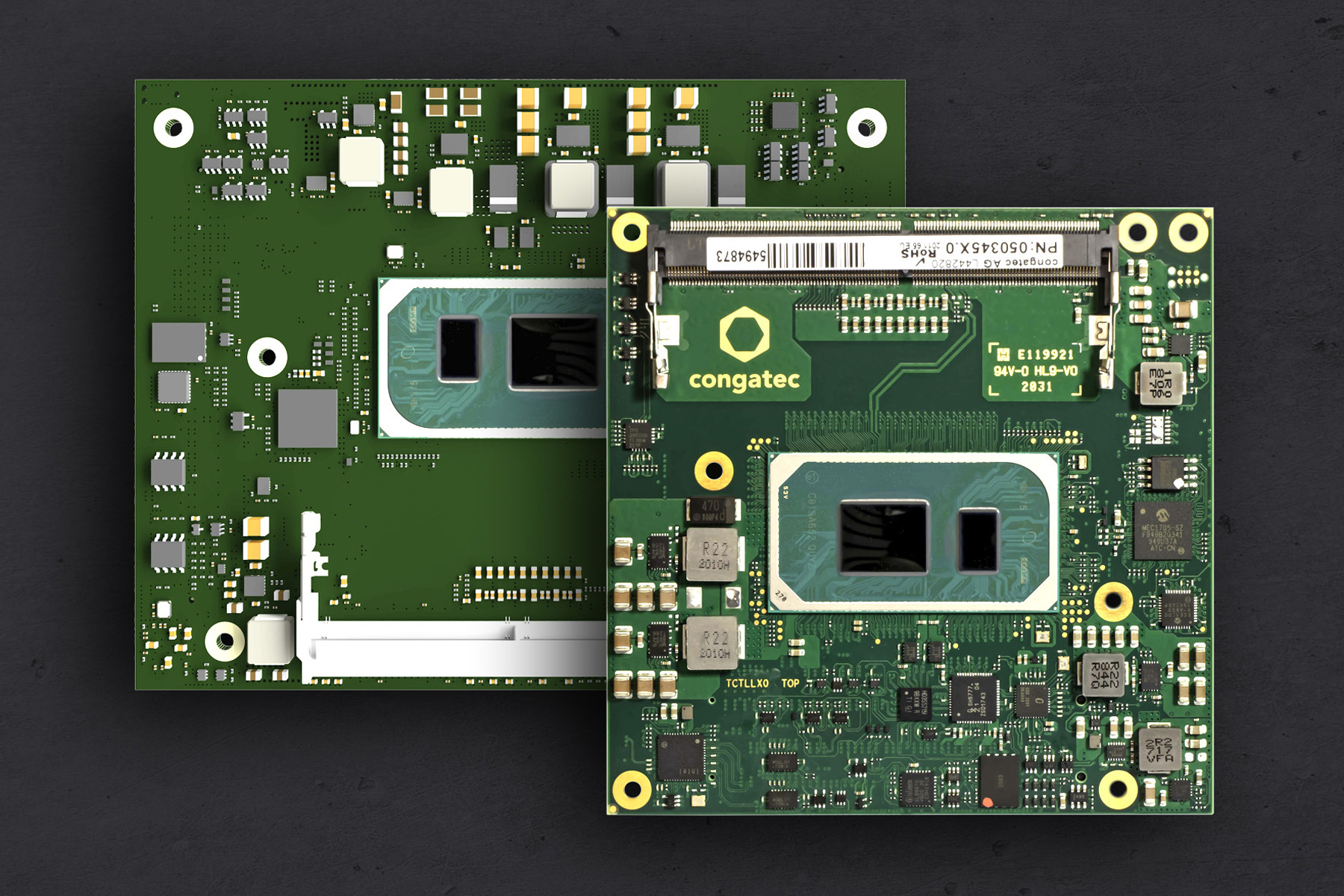 Taipei City, Taiwan, 24 September 2020 – congatec announces launch of 12 brand new Computer-on-Modules in parallel with today's Intel IOTG (Internet of Things Group) launch of the 11thGen Intel Core processors. Based on the new low-power high-density Tiger Lake SoCs the new modules offer significantly greater CPU performance and nearly 3x higher GPU performance (1) along with state-of-the-art PCIe Gen4 and USB4 support. The new congatec COM-HPC and COM Express Computer-on-Modules will accelerate many performance hungry fanless edge applications in harsh industrial and embedded environments. Typical new edge computing tasks include industrial and tactile IoT, machine vision and situational awareness, real-time control and collaborative robotics, as well as real-time edge analytics and artificial intelligence (AI) with inference workloads enabled to run across all four new CPU cores, or on up to 96 graphics execution units of the brand new Intel Iris Xe graphics.
"One of the most impressive features besides state-of-the-art PCIe Gen4 and USB4 support is the massively increased bandwidth of the new Intel Iris Xe graphics. The performance has nearly tripled compared to predecessor modules based on 8th Gen Intel Core processor technology. This opens up a multitude of new opportunities in the graphics intensive medical imaging and immersive digital signage sectors, as well as in the industrial machine vision and AI based public safety sectors where capturing and analyzing several video streams in real-time is critical for object recognition," says Gerhard Edi, CTO at congatec.
"For demanding IoT applications like collaborative robotics, autonomous vehicles, AI, or contactless retail markets, congatec's 11th Gen Intel Core processor based modules take advantage of the 'total compute' capabilities of the CPU and GPU. In combination with Intel Time Coordinated Computing technologies, extensive virtualization, and in-band error correction, these new platforms help minimize jitter and are ideal to meet the demands of critical real-time computing applications," underlines Jonathan Luse, Senior Director, Intel's Industrial Solutions Division
Complementing the COM-HPC and COM Express Computer-on-Modules that congatec announced in parallel to the earlier commercial launch of these new SoCs, the added support of the brand new Intel IOTG embedded range significantly broadens the spectrum of possibilities for OEMs. Support currently includes the following processor variants on both COM-HPC Size A as well as COM Express Compact Type 6 Computer-on-Modules:
Processor
Cores/
Threads
Frequency at 28/15/12W TDP, (Max Turbo) [GHz]
Cache [MB]
Graphics Execution Units
Ext. Temperature range
Intel Core i7-1185G7E
4/8
2.8/1.8/1.2 (4.4)
12
96
–
Intel Core i7-1185GRE
4/8
2.8/1.8/1.2 (4.4)
12
96
yes
Intel Core i5-1145G7E
4/8
2.6/1.5/1.1 (4.1)
8
80
–
Intel Core i5-1145GRE
4/8
2.6/1.5/1.1 (4.1)
8
80
yes
Intel Core i3-1115G4E
2/4
3.0/2.2/1.7 (3.9)
6
48
–
Intel Core i3-1115GRE
2/4
3.0/2.2/1.7 (3.9)
6
48
yes
The benefit of choice
For the first time, design engineers now have the choice to go either with COM Express or COM-HPC. Each provides unique benefits. To help engineers make the best choice, congatec provides engineering support and is creating a COM Express vs COM-HPC design decision guide. This is available for download on the product pages of the conga‑HPC/cTLU COM-HPC Client module and the conga-TC570 COM Express Compact module.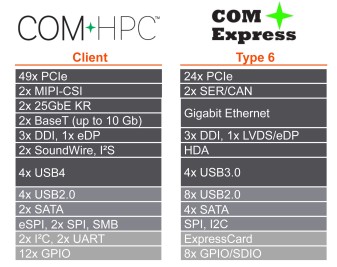 The feature set in detail
The conga-HPC/cTLU COM-HPC Client Size A module, as well as the conga-TC570 COM Express Compact module will become available with new scalable 11th Gen Intel Core processors. Both modules are the first to support PCIe x4 in Gen 4 performance to connect peripherals with massive bandwidth. In addition, designers can leverage 8x PCIe Gen 3.0 x1 lanes. Where the COM-HPC module offers latest 2x USB 4.0, 2x USB 3.2 Gen 2, and 8x USB 2.0, the COM Express module offers 4x USB 3.2 Gen 2 and 8x USB 2.0 in compliance to the PICMG specification. COM-HPC modules offer 2x 2.5 GbE for networking, whereas COM Express modules execute 1x GbE, with both supporting TSN. Sound is provided via I2S and SoundWire in the COM-HPC version, and HDA in the COM Express modules. Comprehensive board support packages are provided for all leading RTOS's, including hypervisor support from Real-Time Systems as well as Linux, Windows and Chrome.
Further information about congatec's Intel Tiger Lake UP3 launch can be found on the main landing page https://congatec.com/11th-gen-intel-core/
Further information on the new conga-HPC/cTLU COM-HPC Client module can be found at: www.congatec.com/en/products/com-hpc/conga-hpcctlu/
The conga-TC570 COM Express Compact module has its landing page here: www.congatec.com/en/products/com-express-type-6/conga-tc570/