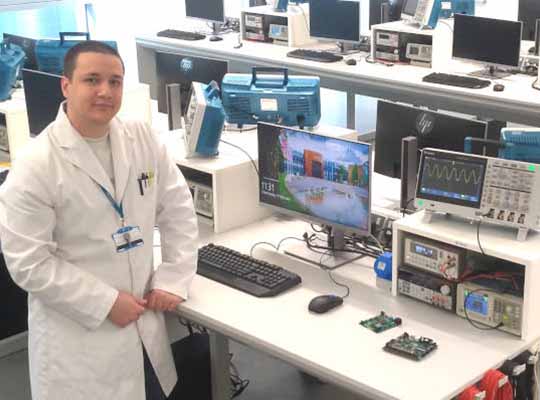 BRACKNELL, UK – Coventry University students will be able to enjoy a newly-built state-of the art Electrical and Electronic Engineering laboratory (in the Beatrice Shilling Building, named after the British female entrepreneur engineer and pioneer) upon their return to campus, featuring 53 fully-equipped workstations thanks to Tektronix, a world leader in electronic design, test and measurement equipment, in conjunction with SJ Electronics, one of the UK's leading distributors of educational test equipment.
Coventry University has a long tradition as an education provider. Their roots go as far back as Coventry College of Design in 1843. It was in 1970 that Coventry College of Art amalgamated with Lanchester College of Technology and Rugby College of Engineering Technology. Today, the university's Faculty of Engineering, Environment and Computing offers a wide range of courses, cutting-edge facilities and industry-focused learning aimed towards maximizing student's employability and career prospects following graduation. The new lab is designed to build on the university's high-quality research-led teaching and learning, enhancing the student experience.
Tektronix and SJ Electronics have provided 53 seated workstations, across three laboratories, which will enable first and second year students to perform an extensive range of practical electronics and physics experiments. Each workstation includes the following solutions:
Tektronix TekScope PC Analysis software
TBS2074B, 70 MHz digital storage oscilloscope
AFG1022, 25 MHz Arbitrary/Function Generator
Keithley 2110, 5.5 digit digital multimeter (DMM)
"We are very excited at the opportunity to equip the main teaching laboratories in one of the UK's top electronic engineering universities with Tektronix and Keithley software and equipment", said Maria Heriz, Vice President, EMEA Commercial Operations at Tektronix.
"For us it is vital to provide solutions to support engineering education in the 'new normal world'. For this purpose, we are providing not only the instruments but also our new TekScope brings the power of the oscilloscope analysis environment to the PC. Users have the flexibility to perform analysis tasks including serial decode, power analysis, as well as timing, eye, and jitter analysis outside the lab. You can continue your session from your oscilloscope at any place and share the results. Reduces efforts to see screenshots when you need to dive deeper or while sharing. Reload the session on your 4/5/6 oscilloscope if you want to re-do the measurementTekScope™ Software solution, which brings the power of the oscilloscope analysis environment to the PC. Coventry University students will have the flexibility to perform analysis tasks in the lab and continue their work outside of the lab. This will prepare them for industry-based environments whilst enhancing collaboration and sharing with other students; key areas for facilitating a great learning experience."
Nik Tsanov, Development Officer (Electronics) for Coventry University, said: "The exciting range of software and equipment Tektronix, Keithley and SJ Electronics have provided us with represents our commitment to developing truly excellent teaching and learning spaces for our students and staff to take advantage of. "I have no doubt that collaborating with Tektronix to kit out our facilities with such high-quality equipment will help us take the faculty's offering to a whole new level."