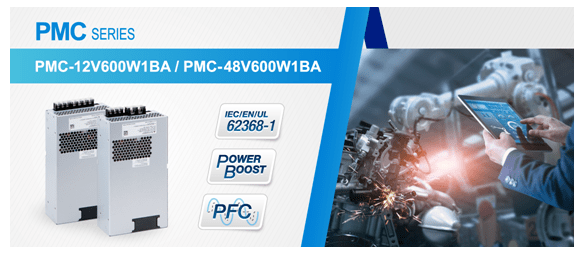 New Delhi May 13, 2019 – Delta Electronics is extending the popular 600W PMC series of panel mount power supply with output voltage 12V and 48V, namely, PMC-12V600W1BA and PMC-48V600W1BA. The products come with universal AC input at 85Vac to 264Vac and have built-in active PFC circuit. Both models also have feature Power Boost of 200% (peak load 12V 100A, 48V 25A) for 3 seconds, included the built-in fan speed control and fan lock protections.
The products are certified with IEC/EN/UL 62368-1 approval that will replace IEC/EN/UL 60950-1 for ITE which expires on December 20, 2020. EMI according to EN 55011 (Industrial, scientific and medical (ISM) radio-frequency equipment) and EMS according to EN 61000-6-2 (Immunity for industrial environments).
Highlights & Features
Universal AC input range
Built-in active PFC and high efficiency
Power Boost of 200% for 3 seconds and 150% for 5 seconds
SEMI F47 compliance at 120Vac
Meet Surge Immunity IEC 61000-4-5, Level 4 (CM: 4kV, DM: 2kV)
Built-in fan speed control and fan lock protection
Wide operating temperature range -20°C to 70°C
Overvoltage / Overcurrent / Over Temperature / Short Circuit Protections
Please contact your local sales representative for product availability.
For more information, visit : www.DeltaPSU.com