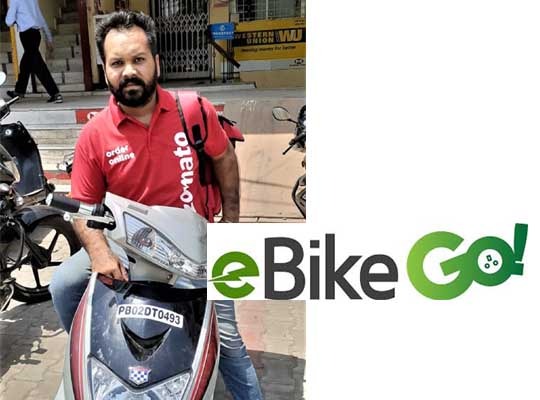 New Delhi, May 14, 2019 – Understanding and embracing the need for us to move towards a more environmentally conscious way of life, eBikeGo – India's largest electric two wheeler rental/delivery platform, has taken a plunge at being on your door-to-door service.
With an idea of bringing relief to the polluted world, eBikeGo has joined hands with Zomato, India's biggest online food delivery platform. While e-commerce and food delivery firms are rapidly switching to drones, eBikeGo initiated a mode to end delivery woes and also, saving the environment at the same time. The world is facing incredibly serious environmental changes, this revolutionary green venture aimed at providing an environmentally friendly mode of transportation in a much affordable level.
Meanwhile, this new green journey is not only expected to contribute to the environment but has also opened doors to a lot of unemployed who wish to join as the delivery executives with the online food application but are unable to for not being able to afford a motorcycle; or are harassed with hike in fuel price every now and then. "We are very glad to tie up with Zomato, India's biggest food delivery company, for converting their petrol two wheeler fleet to electric which in turn reduces the pollution which is caused and also by providing employment to many executives by providing an electric scooter for only Rs 100 a day and we are also planning to launch our operations in every city in which Zomato is operational by providing them with an eco friendly solution to deliver food," said by Dr. Irfan Khan, Founder, eBikeGO.
It is mention worthy that there is an aggressive geographical expansion of food delivery service globally. And, India is no exception. So, believing that food delivery on power-assisted bikes would help trim down environmental damage and create additional & affordable employment opportunities for many, and eBikeGo being into Electric two wheeler Rental & Delivery platform runs for around 90 kms after an electronic charge for about 2-3 hrs and makes the daily movement zippy with a speed of 55 km/hr. With its inception from Amritsar and within a very short span of time, eBikeGo today is successfully operating in cities like Delhi, Jaipur, Ludhiana and Agra, claiming to bring a fleet of one lakh bikes in 100 cities spread across the country, the company presently uses Okinawa Ridge plus electric scooters to operate in the country's capital. However, it plans to use electric scooters which will be manufactured in-house.
eBikeGo compared to other players in the conventional two-wheeler rental space, majority of the money is spent on petrol in addition to its daily rental. However, in case of the electric two-wheelers, the user has to pay only the rental amount of Rs 100 per day and get a fully charged scooter. With these services, eBikeGo is targeting travellers, students, working executives and more delivery chains. eBikeGo plans to position a minimum of 10,000 electric bikes in each metro city in India in the coming months.
Launched in 2017, eBikeGo, the brain child of Dr. Irfan Khan also bagged the best Franchisable concept of the Year 2018 in Franchisee India Awards 2018.