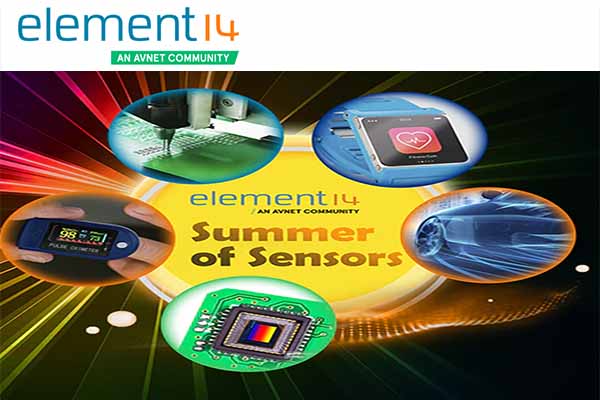 Bangalore, India – element14, an Avnet community, is providing educational enrichment and skill-building opportunities for engineers all summer long with its 'Summer of Sensors' program, a multi-supplier event where members of the element14 Community will receive the opportunity to enhance their sensor-specific knowledge and develop new skills.
"Today's sensing technologies are the building blocks of just about everything in our world, from industrial IoT to healthcare, machine learning and everything in-between," said Dianne Kibbey, Global Head of Community and Social Media for the element14 Community. "Engineers and designers need specific knowledge and development skills to successfully implement the latest sensors, so we're partnering with leaders in the sensor technology space and sharing their expert advice all summer long."
element14 will be offering a wide range of webinars, training courses, sensor quizzes, and even opportunities to experiment with sensors and test out the latest sensor products from leading suppliers. The events and training opportunities will be geared toward everyone, from makers who are just getting started to experienced engineers looking to keep their skills sharp. element14 Community members will also have the chance to win some of the latest sensors to include in their designs.
To ensure members of the element14 Community are able to get the most out of these sessions, element14 has partnered with leaders in the world of sensors and related technologies, including ST, Renesas, Amphenol, Vishay, Omega, Maxim Integrated, Molex, Monolithic Power Systems, XSens, Bridgetek, Fluso and more.
To cap off the program, element14 will host a live virtual panel on June 21 with some of the top sensors experts from Renesas, Amphenol, and Xsens to discuss new technologies and the future of sensing. This lively conversation will dive into current trends, where the market is going and what is next in sensing. There will also be time at the end for an audience Q&A.
The series continues with the launch of the "Summer of Sensors Design Challenge" on June 27,where engineers will be encouraged to showcase their prototype designs and compete for great prizes. element14's biggest design challenge series yet, the "Summer of Sensors Design Challenge," comprises four separate challenges, featuring four sensor development kits and four prize packages. Participants will each receive one of four potential free kits to help create a project for one of the challenges:
In the Air Tonight, sponsored by Renesas, where participants will work to design the best air quality applications using the ZMOD4510-EVK gas sensor
TAG You're it, sponsored by ST Microelectronics, will ask challengers to find the best use of smart asset tracking using the STEVAL-SMARTTAG1
Exploration Station, sponsored by Vishay, rewards the best use of the SensorXplorer and sensor range
Healing Touch, sponsored by MikroE, looks for the best use of MikroE Biosensors and the Arduino Uno
Participants will have ten weeks to complete their designs where they will be able to blog about their build process, show their journey from components to creation, and be eligible for one of the several prizes, with total prize packages valued at $8,000.
Some of the additional programs, challenges, and opportunities will include:
A Spotlight on how Piezoresistive Absolute Pressure Sensors are used in smart industry 4.0 applications and another on tracking human motion with wearable sensors
An Essentials Course around key considerations when designing with an IO-Link sensor
A design challenge around experimenting with sensor fusion and another focused on experimenting with gesture sensors
A RoadTest product review opportunity for the Xsens GNSS/INS Development Kit
element14, a global engineering community of over 800K members, is part of element14, an Avnet company, which helps design engineers, maintenance and test engineers, makers, parents, and teachers develop the future generation of coders and products that apply technology to change our world for the better.
To learn more about the great opportunities available through element14 this summer, visit https://community.element14.com/SummerOfSensors