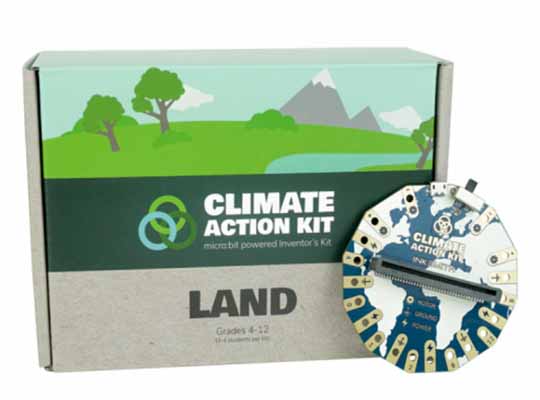 Bangalore: element14, an Avnet Company and global distributor of electronic components, products, and solutions, has signed a global distribution contract with InkSmith to grow its educational product range and drive cross-curriculum learning.
The Climate Action Kit's project-based learning experiences are formulated to teach students how to apply technology to solve real-world problems through the lens of the United Nations' Sustainable Development Goals (UN SDGs). Every project offers a unique hands-on opportunity for cross-curricular learning, with students encouraged to work collaboratively in groups or independently, in the classroom, or remotely. Early to senior-level students will evolve coding and design skills through a number of experiential learning challenges to design and prototype solutions using the BBC micro:bit.
Now Made in Canada, InkSmith's Climate Action Kit supports students' take on climate change concerns through challenge-based learning. The kit unveils students to a variety of climate issues related to SDG15: Life on Land. The projects allow students to discover topics such as deforestation and fertilization run-offs while inspiring them to design their own solutions, such as automated tree planters or automated watering systems for vertical or indoor farming. Each of the following curriculum-aligned projects encourages critical thinking and problem-solving while learning about environmental issues related to advanced agriculture, carbon farming, deforestation, insect farming, and plants and pollinators.
The Climate Action Kit, now available from element14, includes:
All motors, sensors, and accessories needed to handle a number of different Climate Action projects
Teaching resources and curriculum for five project-based lessons (Deforestation, Insect Farming, Carbon Farming Plants and Pollinators, and Advanced Agriculture)
COVID-ready online curriculum course packages formulated by InkSmith's in-house education specialists to be cooperative with remote, in-class, and hybrid learning environments.
One Climate Action Breakout Board to connect a BBC micro:bit
An accompanying Teacher's Guide with easy to follow instructions
The Climate Action Kit requires the use of a BBC micro:bit which is available separately.
Lee Turner, Global Head of Semiconductors and SBC at element14, says: "The Climate Action Kit is the ultimate tool for modern educators wanting to stimulate inquiry-based learning and inspire students to solve real world problems using technology. Technology is our greatest asset to ensure our young leaders of tomorrow have the skills and capability to overcome major global issues such as poverty, climate change and societal justice. Farnell's market leading distribution network will dramatically expand the global reach of InkSmith's immersive, hands-on learning experiences and ensure educators can provide creative cross curriculum learning opportunities to students at every level."
Jeremy Hedges, CEO and Founder at InkSmith, says: "Our global distribution partnership with Farnell means that educators around the world will have access to our Climate Action Kit and the valuable digital, critical thinking and design thinking learning opportunities that it enables. It's important to us that while we empower the next generation of makers, coders, and problem solvers that we do so as equitably as possible – regardless of socioeconomic and now geographic limitations. The UN Global Goals are a key driver behind why we do what we do, and this partnership helps further that mission".