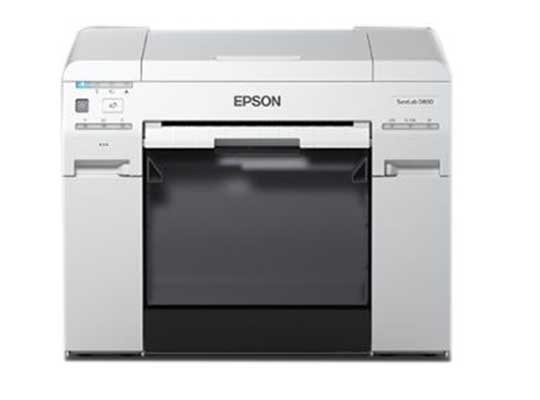 Bangalore, March 5, 2020: Epson announced the launch of Epson SL-D830, a compact, commercial photo printer that supports a wide range of printing formats. Epson SL-D830 has been developed for photo studios, professional event photographers and others who want to expand their printing business, with a wider range of services for their customers. It is ideal for small photo studios, minilabs, copy shops and self-service kiosks that intend to provide high-quality photo prints. It is also built keeping in mind businesses that would like to print high-quality print jobs, on demand, on a wide range of media and formats.
The Epson SL-D830's strength lies in its versatility with different kinds of media and its ability to print in different sizes seamlessly. It can produce a wide range of material including consumer and professional photo images, photo books, wedding albums, business cards, greeting cards, invitations, awards, menus, order forms, cards, and calendars. This provides a tremendous opportunity for conventional photo studios to expand their offering and their business. The printer supports glossy, lustre and paper-based matte and in roll widths that range from 89mm to 210mm and has a length of 50mm to 1000mm. This is further complemented by an impressive print speed of 360 (15 x 10cm) photos per hour (PPH) and high print quality, with a wide colour gamut, deep blacks and superior gloss level. Small in size, big on quality the SL-D830 takes little space of 460*430*354mm and due to its compact size, it easily fits in most of the congested spaces and even on a table top.
To ensure that SL-D30 brings in the next level productivity, design changes were incorporated in the predecessor model to enable improved efficiency. The cost-effectiveness of the printer is enhanced by its long service intervals and less maintenance requirements, which boosts productivity and ensures that customers are offered improved consistency and reliable service. This improved cost efficiency makes the SL-D830 the ideal choice as a photo printing solution.
In terms of the connectivity, with Epson's proprietary SureLab OrderController software, customesr can easily manage print jobs and correct minor image flaws. When paired with the SureLab LayoutManager (optional add-on), the printers capabilities can be utilized to the maximum. Epson OrderController also supports automated order input for the in-store kiosk.
According to Mr. Vasudevan L K, General Manager – LFP/IE, Epson India, ''After the success of SureLab SL-D700 and based on customer demands, we have launched SureLab SL-D830. This new compact and durable commercial printer is an addition to our SureLab range and is built for speed, flexibility and high-quality commercial photo printing, SureLab D830 is highly suitable for photo studios and labs. It can be used to produce not just conventional photos but photo books, wedding albums, business cards, greeting cards, invitations, awards, menus, order forms, cards, and calendars and much more. This makes it a great choice for ambitious studio owners looking to take their business to the next level.''
Key specifications:
| | |
| --- | --- |
| Specifications | SureLab SL-D830 |
| Print method | Epson Micro Piezo on-demand inkjet with variable sized droplet technology |
| Maximum Resolution | 1440*720 dpi |
| Maximum print speed | 360 sheets/ hour |
| Paper width | Roll paper: 89 mm to 210 mm |
| Print size | 89*127mm-203*1000m (3.5''*5'' – 8''*39'') |
| Supported media | Epson genuine media: Glossy, Lustre, Matte |
| Ink Type | Epson UltraChrome D6r-S |
| Ink Cartridges | Cyan, Magenta, Yellow, Black, Light Cyan, Light Magenta |
| Price (MRP) Including GST | Rs.219,953/- |
| Warranty | 1 year on-site warranty |
For more information please visit at: http://global.epson.com/