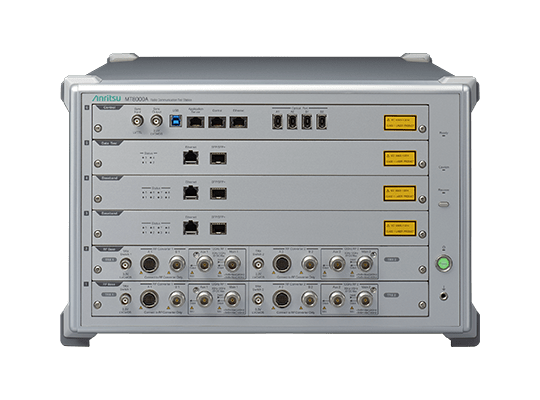 March 13, 2020- ETS-Lindgren and Anritsu Company continue their successful 5G test collaboration with the announcement of a dual band (FR1 and FR2) capable system utilizing ETS-Lindgren's EMQuest EMQ-100 Antenna Measurement Software and Anritsu's Radio Communication Test Station MT8000A. Several test scenarios on commercially available smart phones were completed on the system, including conducting power and sensitivity tests in an over-the-air (OTA) test environment to verify overall device performance.
James Young, Director of Business Development for ETS-Lindgren, stated, "This was an important milestone, as the test system characterized a commercially available 5G device without any special modes or connections. For test labs, most devices will be treated as a black box with no special access or knowledge of the device under test. The ability of the test system to establish a 5G connection in both FR1 and FR2 bands – stand alone or with an LTE anchor – and complete conformance and performance characterizations was a key achievement."
ETS-Lindgren is actively upgrading present FR1 OTA test systems for sub-6 GHz 5G New Radio (5G NR), as well as building new FR2 systems with quiet zones as large as 1.5 meters for millimeter wave (mmWave) bands. The seamless integration of this hardware and software solution results in an efficient turnkey package for 5G NR test applications.
Anritsu's Senior Business Development Manager Adnan Khan added, "Now, it is simply a matter of scale. Anritsu is adding conformance test cases weekly for GCF and PTCRB. As CTIA and 3GPP publish performance test cases, the breadth of the ETS-Lindgren and Anritsu products ensure the 5G investment can scale efficiently to maximize the equipment and chambers."
The combination of ETS-Lindgren and Anritsu provides accurate and flexible turnkey solutions targeting 5G user, consumer premise or base station equipment developers and manufacturers. These systems are favored by test labs and OEMs to characterize and validate the 5G OTA performance of their designs.
ETS-Lindgren's EMQuest EMQ-100 offers a wide range of fully parameterized test methods for measuring basic antenna performance metrics, as well as testing both radiated and conducted performance of various wireless devices. Flexible in its design, the EMQuest EMQ-100 can be used to analyze antennas in stand-alone applications, or to test an embedded antenna system and radio module against any of the industry standard OTA-radiated performance test requirements.
Anritsu's MT8000A test platform supports the latest 5G technologies, including wideband signal processing and beam forming required by 5G NR enhanced mobile broadband (eMBB). The MT8000A all-in-one platform supports sub-6 GHz (FR1) and mmWave band (FR2) signaling RF tests covering 400 MHz to 6 GHz, as well as the 28 GHz and 39 GHz 5G NR bands. The MT8000A supports both NSA (non-standalone) and SA (standalone) modes and is the first 5G NR test platform to support 5G NR channel models implemented via digital baseband fading. It can also be paired with the LTE-A Radio Communication Analyzer MT8821C to provide a natural upgrade path to 5G for existing LTE customers.
Click here for more information on ETS-Lindgren's wireless test solutions, including the industry leading AMS family of test chambers and EMQuest antenna measurement software. You'll find their solutions overview for 5G wireless testing here, including our new 5G upgrade package for existing OTA test systems, including those installed by ETS-Lindgren and other manufacturers. Watch the Wireless Test Solutions Video for an overview of their capabilities and accreditations. Let us assist you with your wireless test system requirements by contacting their online, or calling them at +1 (512) 531-6400.