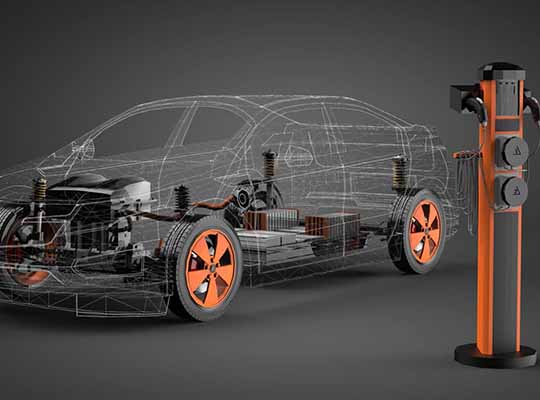 It's no-new news that battery-powered vehicles are the present future. Trends in the automotive industry are to innovate more and help the OEMs bring the future of automobiles on roads. Whereas on the other hand, affordability, cost, and overall cost of equipment is where the straggles lay for the auto makers. With government's major push towards green energy, vacating the garages of gasoline and rely on self-sustainability is pouring vision and envision to the Electric Vehicle makers and its future. Though, the integral part of this whole scenario lies in the hand of batteries. EV and HEV batteries shall play an instrumental role in the growth of next-gen vehicles. Due to high demand of fossil fuels on the international markets together with the aggravation of environment problems caused by an increased number of internal combustion engine vehicles, there is an increased interest in the research and development of batteries used in electric and hybrid vehicles.
The Scenario and the Need of EVs
23 % of the greenhouse gas from the atmosphere coming from this sector, being second in this classification after the industrial sector. Due to this reason, in 2015, "Paris declaration on ElectroMobility and Climate Change and Call to Action" has been adopted. This declaration has as a main objective reducing global warming with more than 2 degrees. This goal is achievable if electric vehicles represent 35 % from the total number of vehicles sold until 2030. In order to reach this target, a decrease in the acquisition price of the electric vehicles is mandatory until it reaches a level closer to that of the internal combustion engine vehicles. Nowadays, the most expensive part of an electric vehicle is the battery, which represents 25 … 50 % of the price of the electric vehicle, depending of the technology used.
Types of EV Batteries
Electric Vehicle that utilizes four different types of batteries: Lithium Ion (Li-Ion), Molten Salt (Na-NiCl2), Nickel Metal Hydride (Ni-MH) and Lithium Sulphur (Li-S), all of them having the same electric energy storage capacity. The novelty of this scientific work is the implementation of four different types of batteries for Electric Vehicles on the same model to evaluate the vehicle's autonomy and the efficiency of these battery types on a driving cycle, in real time, digitized by computer simulation.
Li-Ion Batteries: Li-Ion batteries are nowadays representing the most used technology in electric vehicles, both thanks to high energy density and increased power per mass battery unit, allowing the development of some types of batteries with reduced weight and dimensions at competitive prices. Trough studies carried out by Li-Ion batteries used in electric vehicle industry were studied, highlighting increased power (800 … 2000 W/kg), and specific energy (100 … 250 Wh/kg), in comparison with Ni-MH batteries. In accordance with studies, this technology represents the best "charge to weight" solution, fulfilling one of the most important conditions for a battery used in electric vehicle industry, which made an easily replacement of Ni-MH batteries by them. Another advantage is the lack of memory effect (to gradually lose the maximum energy capacity in case of repeatedly recharge, without being totally discharged), resulting an increased life cycle. The disadvantage of Li-Ion batteries is represented by high developed operational temperature, which could affect energetic performances, among with lifetime and safety in exploitation. This technology requires one management battery system in order to control and monitor internal cell temperature. Apart from the disadvantages caused by exploitation temperature, there are also problems related to high production costs, recycling capacity of batteries out of use and recharging infrastructure.
Ni-MH – At the beginning of 2000, Ni-MH batteries represented the most advanced technology used in hybrid and electric vehicles, being considered the first step to achieving the technology used today. In comparison with the batteries used in those days, namely Ni-Cd and Lead-Acid batteries, Ni-MH technology was meeting the requirements imposed to batteries which were developed in order to be used in automotive industry. The advantages were: high energy density and power, allowing an autonomy of over 300 km while using batteries with 70 Wh/kg specific energy. Moreover, these batteries can be used with success in propulsion systems equipped with electric engines of 320 V AC, or 180 V DC, showing an increased lifecycle (until 80 % Depth of Discharge DOD). But, if the whole battery system is taken into account, with the added mass of battery But, if the whole battery system is taken into account, with the added mass of battery.
Market Drivers and Country Adoption rate
The Electric Vehicle Battery market in the U.S. is estimated at US$8.3 Billion in the year 2020. China, the world`s second largest economy, is forecast to reach a projected market size of US$19.8 Billion by the year 2027 trailing a CAGR of 20.5% over the analysis period 2020 to 2027. Among the other noteworthy geographic markets are Japan and Canada, each forecast to grow at 11.5% and 14.2% respectively over the 2020-2027 period. Within Europe, Germany is forecast to grow at approximately 12.7% CAGR.
In the global Lithium ion Battery segment, USA, Canada, Japan, China and Europe will drive the 16.7% CAGR estimated for this segment. These regional markets accounting for a combined market size of US$10.5 Billion in the year 2020 will reach a projected size of US$30.8 Billion by the close of the analysis period. China will remain among the fastest growing in this cluster of regional markets. Led by countries such as Australia, India, and South Korea, the market in Asia-Pacific is forecast to reach US$13.5 Billion by the year 2027, while Latin America will expand at a 19.5% CAGR through the analysis period. We bring years of research experience to this 7th edition of our report. The 281-page report presents concise insights into how the pandemic has impacted production and the buy side for 2020 and 2021. A short-term phased recovery by key geography is also addressed.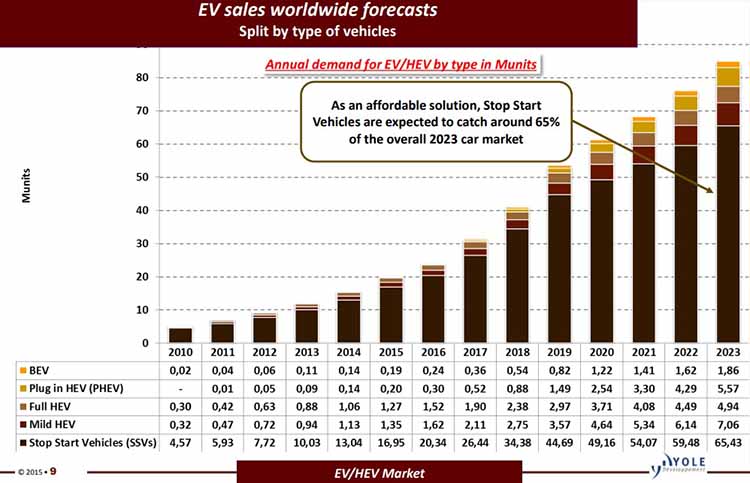 Why HEVs – Benefits and Future Forward
The global hybrid electric vehicle battery market is projected to expand in the coming years, owing to factors such as declining crude oil reserves and issues concerning deprivation of the environment. The governments of various major countries have made positive adoption hybrid vehicles that use the electric battery. Several national organizations have imposed rules and offer attractive discounts on the purchase of hybrid cars. Severe environmental regulations and policies in the EU (European Union) countries have encouraged broad acceptance of the battery-powered vehicle. The erratic crude oil prices are an added incentive that is expected to bolster customers to adapt such cells over the forecast period. Costly nature of hybrid electric vehicle batteries can be one of the significant challenges to the industry. Increasing concerns linked to declining oil and gas sources and debasing environmental situations are having a constructive impact on the requirement for power-driven electric vehicles. However, incentives and subsidies on the utilization of such a vehicle is a new factor propelling expansion for electric power drive.
Challenges for EV and HEV Market
Price of electrified vehicles is often prohibitive for users; with technology continuous improvement and volumes increase, electrified vehicles should quickly reach thermic ones in terms of price.
Battery cost and autonomy is still a big obstacle to market advancement. Many projects have been launched to increase battery capacity worldwide and so to decrease battery cost. Moreover, many progress have been done on power density to reduce battery volume. In the coming years we expect battery cost to drop strongly and autonomy to increase greatly for a reasonable price.
With regulations coming from Governments, charging solutions should quickly come to a standard and infrastructure should develop a lot.