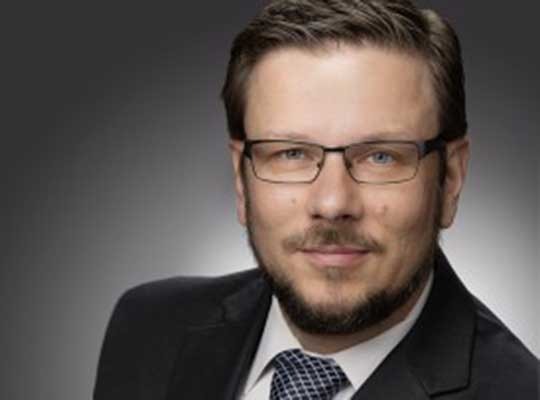 Munich, 10-Jan-2019 – On January 1, 2019, Dr. Falk Herrmann became the new CEO of Rohde & Schwarz Cybersecurity GmbH. In his new role, he will be shaping the path for the leading European IT security specialist's future growth. Prior to taking on this position, the internationally experienced manager was CTO of the Security global business unit of Bosch Sicherheitssysteme GmbH.
At the start of 2019, Dr. Falk Herrmann was appointed the new CEO of Rohde & Schwarz Cybersecurity GmbH. The mechanical engineer gained extensive international management experience during his 20-year career with the Bosch Group, especially in the area of security systems. In various managerial positions, Dr. Herrmann successfully implemented strategies for developing innovative product families in growth markets.
Within the Rohde & Schwarz group, Dr. Herrmann will report directly to Ralf Koenzen, Executive Vice President of the Networks and Cybersecurity Division. Ralf Koenzen commented: "We are very pleased that Dr. Herrmann has joined us as CEO of Rohde & Schwarz Cybersecurity. He will use his expertise to shape the future-oriented development of the product and solution portfolio for our customers."
As CEO, Dr. Herrmann wants to set the course for the company's continued success: "My goal is to position Rohde & Schwarz Cybersecurity for long-term market success based on innovative and trusted products in high-growth segments. Interfacing between a startup and the well-established Rohde & Schwarz corporate group offers interesting opportunities for shaping the future."
By founding Rohde & Schwarz Cybersecurity and acquiring high-tech companies, Rohde & Schwarz has positioned itself well in the market in recent years. The global market for solutions in the cybersecurity environment has a strong growth dynamic. The demand for secure networks and networked products presents a variety of opportunities for the entire Rohde & Schwarz portfolio beyond specialized cybersecurity solutions. The Network & Endpoint Security and Application & Cloud Security business units form the core of Rohde & Schwarz Cybersecurity activities. Together with its subsidiary LANCOM Systems, Rohde & Schwarz is advancing its strategy to become the largest European provider of network and cybersecurity solutions.
Following the departure of Ammar Alkassar at the end of 2017, Reik Hesselbarth, the co-managing director and CFO, continued to head the company. After handing over the reins to Dr. Herrmann, Hesselbarth will be leaving the company at his own request in the spring of 2019 in order to take on a new challenge. Ralf Koenzen stated: "We thank Reik Hesselbarth for his outstanding commitment in the past years and are sorry to see him leave. We wish him all the best and continued success in his future endeavors."