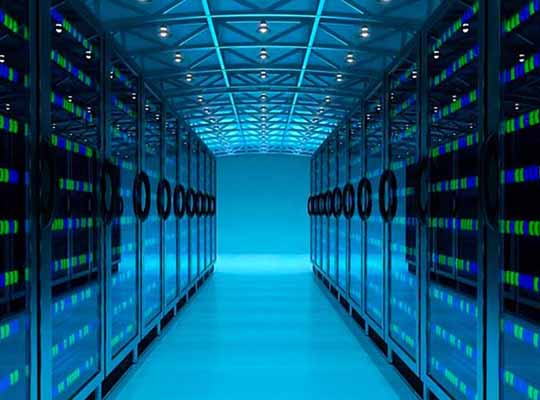 India endures tremendous potential to become the 'next destination' for data centers driven by policy initiatives, a growing customer base, and developing corporate demands for data storage. With advancing digital consumption patterns such as online gaming, online education, e-commerce, streaming, total internet hits, etc., With all the above-mentioned developments Data Center operators are presumed to witness an enormous demand for data center space.
As per recent reports jointly penned by real estate Services Company Anarock, and Mace, a London-based consultancy and construction company states that India will see an addition of at least 28 large data centers in the upcoming three years.
From 2016, the data requirements of consumers started growing which resulted in operators constructing hyper-scale data centers. Occupiers are now frequently using the hybrid cloud (colocation + private/public), HCI, and multi-cloud deployments.
In India, the market for data centers has witnessed a boost in the past two years as more businesses are shifting their IT infrastructure to the cloud, especially directed by expanding demand for app-based services and OTT platforms. Apart from the business sector, our country holds a population of 1.2 billion people with a unique digital identity, 637 million total internet subscribers, 9.1 GB data consumption per subscriber per month, 350 million smartphone devices as per TRAI that has increased the demand for data centers.
Meanwhile, the total Internet scores have risen by between 50% and 70% whereas the consumption rate of online gaming transactions has risen to a huge 97% and streaming jumped by at least 12%.
A recent report by International Data Corp. (IDC) says that by 2025, the average person will communicate with a smart device nearly 4,800 times a day which is thrice of where we stand today. Smarter devices will need more data to operate which means that data centers will need to keep speed to process, store, connect and analyze it all. This will increase the demand for data centers themselves, as well as the resources to run them.
Given the scenario of ongoing pandemic COVID-19 and Data Centers
Amid the current situation where everyone's life is at the risk, the data center sector is one of the best protected in the current downturn. Data centers are executing a significant role in keeping the country online, as the place where everything digital is stored and processed. All of the applications we are using to function effectively during Covid-19 are eventually powered by data centers, and therefore, the role of the data center is important for all aspects of life.
Technology and automation seem to contribute a vital possibility to make abrupt changes in terms of how data center operations emerge as we move forward in the following 3-5 years. In India, Data centers will proceed to facilitate the digital world, which has been more critical than ever throughout this period.
Future of data centers in India
The demand for outsourced data center solutions has risen in India and users would demand flexible, scalable DC solutions that are both operationally and efficient.
CBRE foresees that global players will proceed to take interest in investing in the nation, with a focus on supporting leading operators or funding leading developers to foray into the DC segment. Moreover, facing the backdrop of the Covid-19 situation in India, corporates can turn towards investing in the cloud segment as the business moves online and both employees and employers are preferring the work-from-home alternative. Also, cities such as Kolkata, Pune, Gurgaon, Kochi, and Jaipur, are expected to be amongst the first ones to observe the edge DCs in the following few years on the back of their ability to service-specific geographic zones.
Government's role in boosting the surge of DCs in India
Different policies such as the National E-commerce Policy and Personal Data Protection Bill will mandate Indian consumers' data to remain within the country, which will result in boosting the demand for data centers. Moreover, nationwide initiatives such as 'Make in India', 'Digital India', and Smart City Mission will result in expanding DC demand.
The expansion of e-commerce in India will moreover boost the DC segment as the sector needs more cooperation in managing its growing database. The new demand driver in the list will be the Smart City initiative, through which the government is concentrating on shaping e-governance nationwide.
The COVID-19 situation will further drive the next wave of growth in the sector and most importantly, the proposal to give DCs the coveted 'Infrastructure status' will place them high on the global investor radar.
Data center security encloses the operation and preparation that keep a data center secure from threats, attacks, and unauthorized access. Aspects of data center security involves physical security, requiring site planning to limit physical break-ins, and network security, where security engineers establish firewalls and anti-malware programs to prevent breaches.
Any business that depends on a data center for all or even part of its practices should have multiple physical and network security measures in place that secure the data contained in the data center from loss, malicious manipulation, and theft.