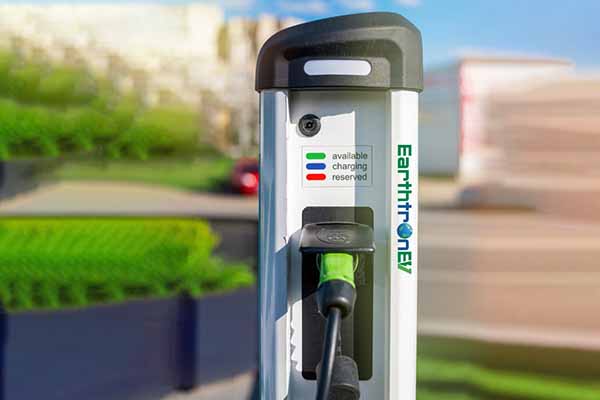 Electric vehicles are becoming increasingly popular as a replacement for polluting internal combustion-based engines. But the question is whether electric vehicles are really green and if so whether electric heavy-duty vehicles are possible. We interacted with Mr. Ashish Deswal, Founder of Earthtron EV to get these questions and his thoughts on what his company has to offer.
TimesTech: Whether electric heavy-duty vehicles like Bulldozers, Trucks, etc. possible in near future? If so, how the technology and related infrastructure is taking shape?
Ashish: There are already some electric heavy-duty vehicles on the Indian roads, with the first one being unveiled in 2019. However, the penetration of the EV sector in heavy-duty vehicles has been comparatively low, mostly due to the lack of financial incentives, the sector largely being unorganized and insufficient policy push. While the government has been promoting the growth of the electric vehicle sector by providing lucrative incentives to electric two-wheelers, three-wheelers, private and commercial four-wheelers and buses through the Faster Adoption and Manufacturing of Electric Vehicles (FAME) scheme, there is yet no provision for heavy-duty vehicles like trucks, bulldozers, etc. To electrify the heavy-duty vehicles India will require schemes FAME to encourage original equipment manufacturers to spend more on the research and development.
Considering the technical and financial risks associated with the manufacturing of electric heavy-duty vehicles, there is a need to identify innovative business models and public-private partnerships that will make electric trucks/bulldozers affordably available in the Indian market. For India to meet its Paris agreement targets, battery-electric and hydrogen fuel cells can offer a perfect alternative to replace heavy-duty vehicles powered by conventional sources of energy like diesel and petrol. The hydrogen fuel cell technology is in the early phase of development and will require extensive infrastructure to be effective, hence battery electric vehicles should be kept on the prior for the time being.
TimesTech: Around 60% of the energy generated in India from coal and renewable energy has its challenges. Do you think independence from fossil fuels is possible?
Ashish: Though conventional power sources like fossil fuels will stay relevant for at least two decades to come, India is aggressively moving towards sustainable development. The country has already set an ambitious target of electrification of 70 percent of all commercial cars, 30 percent of private cars, 40 percent of buses and 80 percent of two and three-wheelers by 2030. Even the penetration of electric vehicles on the Indian roads has doubled in the last six months. In February 2022, the sale of the electric two-wheelers has surged to a staggering 32,449 units from just 6,083 units same time last year – around five times an increase in a year. This is a clear indication that India is steadily advancing towards a cleaner and greener future. Though the complete energy transition will be a gradual shift, it is certainly available if the set targets are met.
TimesTech: How EV companies are coping with the chip shortage? How indigenous companies working in the semiconductor sectors are helping the EV sector?
Ashish: While there is an increasing demand and supply of electric vehicles in India, the country is dealing with challenges like a shortage of semiconductors – which are vital for the industry. The limited supply of integrated circuits has led to a chip crisis not only in India but across the globe. In its endeavor to establish India as the global hub of chip manufacturing, the government has rolled out an incentive scheme worth Rs 76,000 crore in 2019 to attract international semiconductor and display manufacturers. India has been mostly dependent on imports for accessing semiconductors since setting up a fabrication plant is expensive and the entire process is software-heavy, which will take a long time to result in profitability. However, there is a growing number of talented engineers in India getting skilled in integrated chip design.
TimesTech: How charging stations would push the EV demand in India
Ashish: With the increasing demand for electric vehicles in the country, the requirement for a robust charging infrastructure has become imperative. Presently India has less than 2000 public charging stations with a concentration in a few states. However, However, India is likely to add around 48,000 additional electric vehicle chargers over the next few months. The National Highway Authority of India (NHAI) has set a target of setting up EV charging stations in every 40 to 60 km of national highways and covering 40,000 km of the highway by 2023. This will be a major boost for the EV sector in India as the lack of enough charging stations is the key challenge the industry is dealing with.
TimesTech: Kindly highlight the upcoming Projects at Delhi-Agra, Delhi-Chandigarh, and Delhi-Jaipur highways
Ashish: The upcoming Stations at Delhi-Agra, Delhi-Jaipur and Delhi-Chandigarh are major steps towards our commitment to interconnect cities and provide anxiety-free travel for EV owners traveling Intercity. It's our first step towards our goal of interconnecting all major tier1 and tier2 cities by 2026
TimesTech: Introducing a franchise model in the EV industry?
Ashish: The importance of the Franchise model in the EV industry is topmost important for deep penetration of the EV charging network and Earthtron EV is aggressive looking for franchisees. Though the initial stations are company-owned the Franchise model is our go-to strategy for further expansion plans.
TimesTech: What are your views on the future of the electromobility industry?
Ashish: There has been a massive boom in the electric vehicle sector, especially in the sales of electric two-wheeler vehicles. The sale of electric vehicles has almost doubled in the last six months. In February 2022, the sale of the electric two-wheelers has surged to a staggering 32,449 units from just 6,083 units same time last year – around five times an increase in a year. The electric vehicle ecosystem has been picking up the pace to meet the global standards by addressing key challenges like high up-front technology costs, implementation of policies, manufacturing and supply, charging infrastructure and consumer behavior. Central and state governments, OEMs, NFBCs, private banks, fleet operators, and start-ups and fintech are the key players to unlock the real potential for the penetration of electric vehicles in the country. The country has been making steady progress in the growth of the EV ecosystem, which has also encouraged the state and central governments to reform EV policies, and incentivizing domestic manufacturing of EVs, batteries and charging infrastructure.