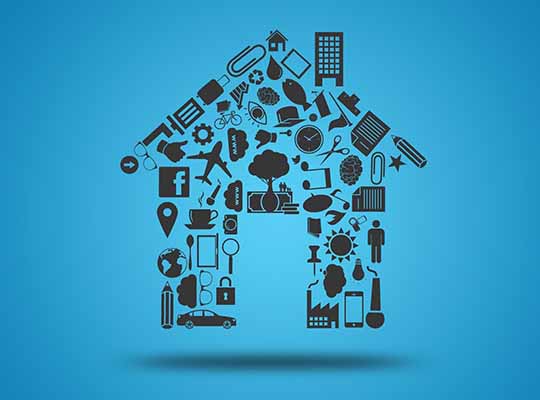 Amidst the apprehensions regarding the unprecedented COVID-19 pandemic, technology has once again proved its worth across different industries. Even more so for the real estate industry in India.
In the past decade, the real estate sector underwent a major shift as the digitization process was gradually embraced and started gaining widespread acceptance. Yet, some were reluctant to the idea of full-scale adoption of technologies in their operations. But the lockdown measures acted as the major catalyst in accelerating the digital leap by all the stakeholders like commercial and residential builders as well as property buyers.
Digital platforms have changed the way real estate processes are perceived as daunting, complex and time-consuming to a more comfortable, streamlined and easy. And one of the highlights is that all real estate processes from start to finish can now be done in the comfort of the home.
Following are some of the major trends seen that further reinforces the power of digital platforms in transforming real estate in India.
Virtual Reality
In the past, a buyer interested in a real estate property could only see the images of the space online. Today, digital platforms and technology have enabled the buyer to take virtual tours of homes and commercial spaces before making the buying decision. The VR technology combined with 3D visualizing tools helps in visualizing how the property may look and feel in the real world.
Real estate builders are spearheading the use of such technologies in the market to appeal to a wider audience. Additionally, Virtual Property Shows and Expos are being held online, where it showcases a wide selection of homes, villas and residential apartments. It enables a worldwide audience to learn about properties and helps builders to capture leads. vFairs is a well-known platform for conducting real estate virtual events successfully.
Furthermore, virtual digital platforms are used to conduct Online Home Fest, where developers offer multiple schemes and property options to choose from. Buyers have the opportunity to book their apartment online without hassles. Saket Group is one of the leaders in the real estate industry using such platforms to boost sales. Take a look at their booking engine here:www.codenameupgrade.com/booknow/.
Convenience for Builders & Customers
Builders, at any given time, have multiple ongoing and finished projects at different locations. The traditional way of marketing and communication platforms limits the conversations around multiple properties. On the other hand, digital platforms allow engaging buyers interested in different projects and properties pretty easily.
Amidst the pandemic, buyers also find the contactless form of experiencing spaces and digital communication suitable for the initial buying stage. Moreover, it saves a precious amount of time for all the parties involved and helps to avoid stepping out of the house. Also, the project listings on a website make it so easy for buyers to view, analyze and decide on interested properties.
Social Media
Social media platforms have opened up wide networking opportunities for real estate developers. Social sites are a great platform to reach the maximum audience, boost engagement, create project and brand awareness and grow business. Experts observe that quality leads can be generated via digital social platforms using the latest digital technologies and analytics tools online.
Buyers also get up to date information about the latest projects from real estate builders. This, in turn, helps buyers in making better and fast decisions.
Video Conferencing Tool
Video conferencing is one of the popular digital tools that has transformed builder-buyer communication and their respective engagements. The communication between developers, channel partners, marketer and buyers is possible keeping the social distancing norms. Moreover, a host of video conferencing tools have made it easy to reduce paper use, showcase product offerings and boost property bookings. Also, a vast number of webinars are conducted to tap onto potential buyers. It gives buyers the chance to scrutinize, ask questions and clear doubts in such sessions as well.
Transparency
The digital platforms have brought enormous transparency to all real estate dealings. First, it has nearly made the role of real estate brokers redundant, thus reducing additional expenses. Secondly, digitization has made elements like legal and finance easy and risk-free. Finally, the digital platforms allow buyers to raise all concerns, complaints, problems and queries, and developers to provide solutions online.
Transparency related to real estate projects and properties has increased due to digital platforms. The news, updates, reviews and community experiences help in making the right purchase decision. As all these factors are in the public domain through digital mediums, real estate transparency has received a boost, and augurs well for the future.
In summary, it suffices to say that digital platforms have made the digital shift easy. Consequently, there is a significant rise observed in the customer's need to close real estate deals digitally. Experts believe that real estate in India is set to experience a new growth trajectory in the coming years due to digitization processes and digital platforms. Realatte is a dedicated real estate digital marketing agency delivering powerful digital solutions and high-performance campaigns to help real estate companies achieve unparalleled growth. The offerings include complete digital marketing services, website design and development, real estate technology solutions & marketing automation.
For more details, visit www.realatte.com.