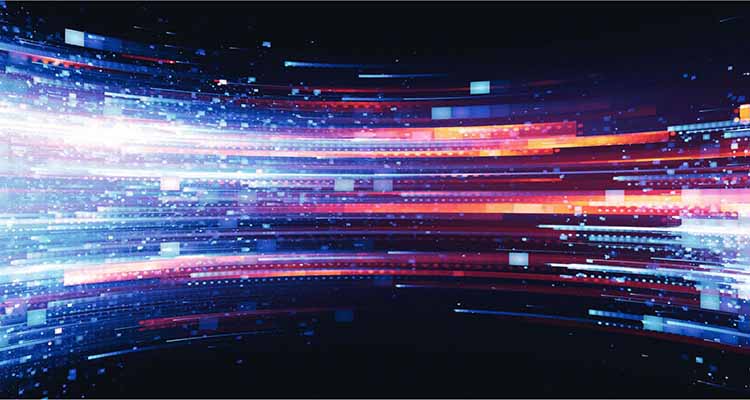 I am regarded as a guy who is prepared for any situation. In the evening, every time I leave my home, I drop into my front right pocket a small portable (length: 100mm; ⌀:20mm) light-emitting diode (LED) flashlight. I carry it with me, so I am always prepared to use it in case I find myself in a situation absent any surrounding light sources (Figure 1). It has proven its worth on more than one occasion.
LED technology has come a long way from its very beginning. Indoor, outdoor, and street lighting is transitioning from traditional lighting sources to LEDs. LED lighting offers power savings, efficiency gains, and comprehensive and coordinated control options. LED lighting is enabling the move to smart lighting. Smart lighting plays a crucial role in smart cities and intelligent buildings as the Internet of Things (IoT) and the Industrial Internet of Things (IIoT) continue to develop.
These applications require a range of connectors and interconnect products to facilitate their operation. Amphenol Corporation has a long history and legacy of being a world leader in the design, manufacturing, and marketing of electrical, electronic, and fiber-optic connectors, interconnect systems, and coaxial and flat-ribbon cables. Their Amphenol Information, Communication & Commercial (Amphenol ICC or AICC) division is a global leader supporting commercial and industrial markets. They provide a wide assortment of lighting solutions for indoor, outdoor, and street lighting.
Zigzag and Zhaga
A zigzag is a pattern made up of small corners at variable angles (Figure 2). In one sense, it shows a back-and-forth pattern of change.
Like zigzag, Zhaga is a fun two-syllable z-word, but one you might not have heard before. Launched in 2010, Zhaga is an open, global lighting-industry consortium with a mission to standardize the interfaces of components of LED luminaires. In simplistic terms, Zhaga hopes to create a standard in which smart LED lighting standards will not be prone to zigzagging all over the place. Amphenol is a member of the Zhaga Consortium. In so doing, they are advancing innovation in LED lighting by supporting new connector design ideas based on established standards.
Indoor
One of Amphenol's lighting solutions has been selected by the consortium as the standard for Zhaga Book 20. Amphenol Commercial FLM Zhaga Book 20 Dali Interface Connectors are compliant with the Zhaga Book 20. Zhaga Book 20 specifies two-position connectors identified as Luminaire Extension Module Receptacles (LEX-MR) and Luminaire Plugs (LEX-LP), used for DALI-2 (Digital Addressable Lighting Interface) applications. DALI-2 is a smart interface protocol between indoor luminaires and sensors and communication modules. These connectors are ideal for interior lighting, Power-over-Ethernet (PoE) capable, and support Bluetooth and Zigbee connectivity (Figure 3).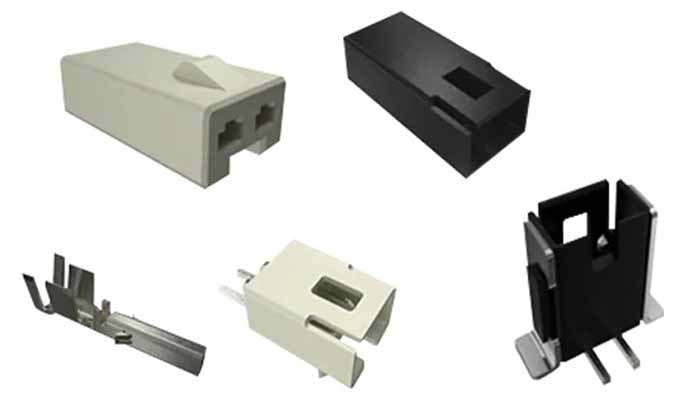 Outdoor
While Book 20 deals with indoor requirements, Book 18 deals with the outdoors. Amphenol Commercial FLS Zhaga Book 18 Receptacles, Bases & Domes products are compliant with Zhaga Book 18. Amphenol's FLS Receptacle is designed with four contacts for power, DALI, and digital I/O, and mounts on a luminaire. The mating FLS Base /Extension Module and Dome form the housing for a photocell/sensor module assembly. The receptacle is compatible with and mates to all photocells built with an Amphenol Book 18 Base/Extension Module, which is available in both 40mm and 80mm diameters and any certified Zhaga Book 18 extension module. A Zhaga Book 18 protective cap is also available for receptacles that do not have a photocell connected to them. Typical applications are roadway and smart city lighting. Sensor modules manufactured with the Amphenol Zhaga Book 18 Base and Dome provide dimming control, wireless connectivity, a variety of sensing options, and other functions (Figure 4).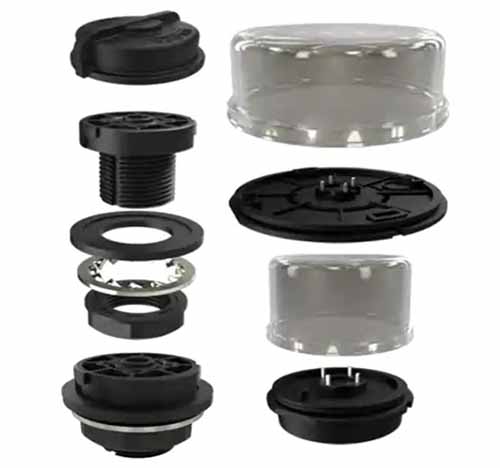 Other standards besides Zhaga warrant attention when designing smart LED lighting solutions. In the US, one of these standards is the American National Standards Institute (ANSI)/National Electrical Manufacturers Association (NEMA) C136 Series – Standards for Roadway and Area Lighting Equipment. Similar standards outside of the United States might apply to your region. Amphenol Commercial FLA Dimming Receptacles are engineered to comply with ANSI C136-41. Compliance with this standard entails that they are designed with power and dimming/signal contacts to connect the dimmable photocell and the luminaire for commercial and utility lighting. The locking-type receptacles are compliant with ANSI C136-10. These are also used for lighting applications inside Intelligent Buildings. FLA Dimming Receptacle comes with UL94V-0 high-temperature resistant housing and is rated up to 15A per power contact (Figure 5).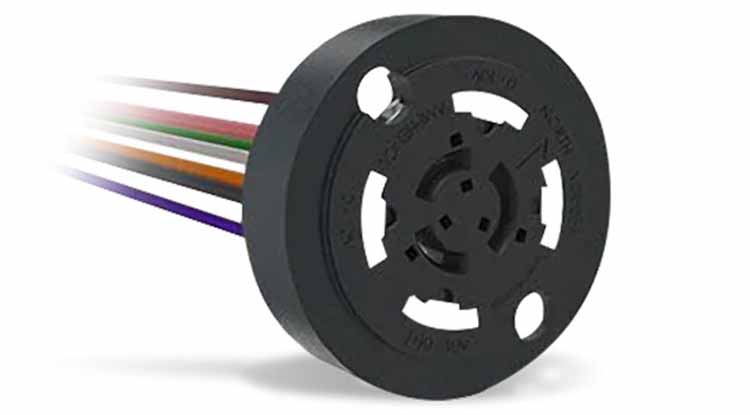 When outdoors, one must also protect against harsh weather with IP67 sealing. Amphenol Commercial FLH Mini-Sealed 2.5mm Pitch Connectors are sealed, waterproof wire-to-wire connectors that provide IP67 sealing in mated conditions. Its waterproof characteristics make it ideal for applications in harsh environments (Figure 6). These connectors are employed in lighting and IIoT applications. The compact design of the FLH series is suitable for space-saving applications.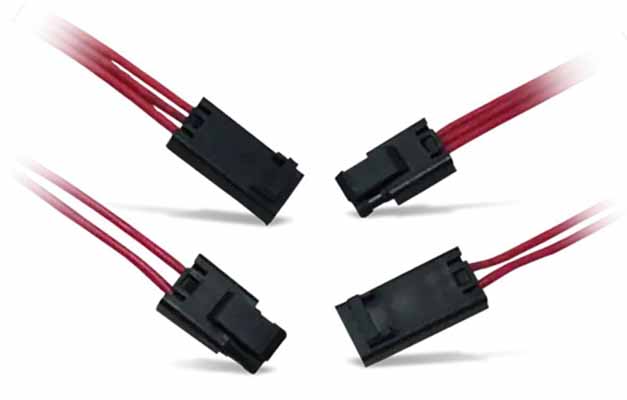 Conclusion
Never one to be left in the dark, I welcome the improvements in transit, lighting, parking, security, and infrastructure that smart, connected LED lighting brings to our cities. In addition, I am also fully onboard with integrated technologies that help cities reduce energy, waste, and costs, and further advance sustainability goals. Hopefully, I shed some light on a few smart solutions from Amphenol to help lay the foundation for developing smart cities lighting solutions.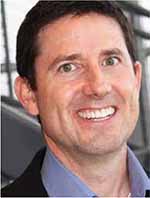 About the Author:
Paul Golata joined Mouser Electronics in 2011. As a Senior Technology Specialist, Paul contributes to Mouser's success through driving strategic leadership, tactical execution, and the overall product-line and marketing directions for advanced technology related products. He provides design engineers with the latest information and trends in electrical engineering by delivering unique and valuable technical content that facilitates and enhances Mouser Electronics as the preferred distributor of choice.
Before joining Mouser Electronics, Paul served in various manufacturing, marketing, and sales related roles for Hughes Aircraft Company, Melles Griot, Piper Jaffray, Balzers Optics, JDSU, and Arrow Electronics. He holds a BSEET from the DeVry Institute of Technology (Chicago, IL); an MBA from Pepperdine University (Malibu, CA); an MDiv w/BL from Southwestern Baptist Theological Seminary (Fort Worth, TX); and a PhD from Southwestern Baptist Theological Seminary (Fort Worth, TX).