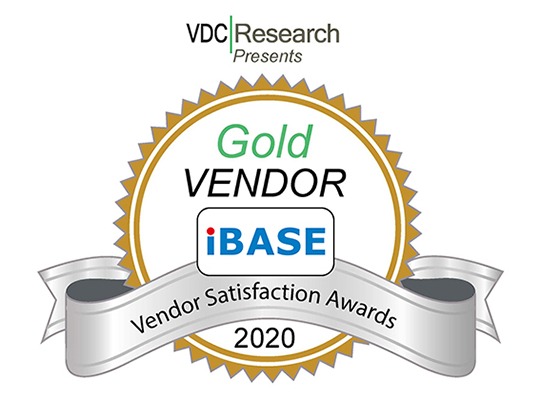 Taipei, Taiwan, July 6, 2020 – IBASE Technology has been named as a 2020 winner of VDC Research's Gold Award for IoT & Embedded Technology Vendor Satisfaction in the Boards & Modules category. VDC is recognizing the top vendors of merchant embedded processors, boards/modules, and integrated systems/servers with the 2020 "Platinum and Gold" vendor satisfaction awards. These providers are leading the business world through the dynamic technical challenges of today with technological advancement and creative new products.
The awards draw from vendor satisfaction ratings from VDC's global IoT and Edge Engineering & Development Survey. Respondents include more than 700 project/product management and sourcing decision makers such as CTOs, engineering and product managers, hardware engineers, and software developers from OEMs, systems integrators, engineering services companies, and other organizations. Respondents rated only those vendors from which they had purchased merchant computing hardware in their most recent project.

"We are proud to be awarded with a Gold Award winner. It's an honor and recognition to IBASE's sustained and dedicated customer-oriented focus," said C. S. Lin, CSO of IBASE Technology. "We will keep meeting customer demands and offering high-quality products and services that combine reliability and design." Click for more details with this award.
For more information, please visit www.ibase.com.tw.