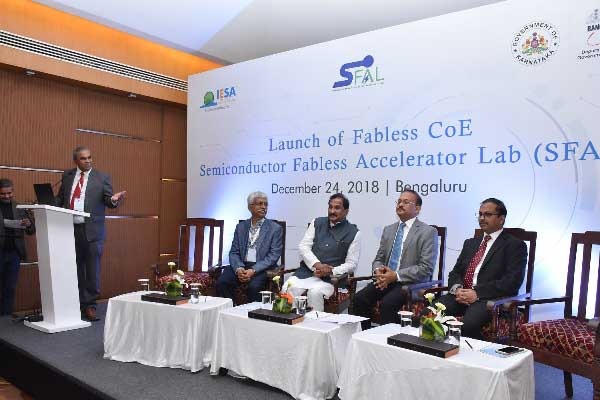 27 December, 2018: India Electronics and Semiconductor Association (IESA), the premier trade body representing the Indian electronic system design and manufacturing (ESDM) space, launched the Fabless Centre of Excellence – the Semiconductor Fabless Accelerator Lab (SFAL).
SFAL will be a first-of-its-kind initiative in the semiconductor space. It will create a strong infrastructural support structure to incubate early-stage startups and accelerate the existing fabless SMEs to the next level by providing access to funds, market and mentors. The focus of this accelerator will be to incubate at least 20 early stage fabless start-ups in next 3 years, 50 in the next 5 years. Through SFAL, IESA expects to generate more employment in the ESDM sector and encourage creation of more domestic IP and serve as a catalyst to accelerate the fabless startup ecosystem.
Shri KJ George, Minister for Large & Medium Scale Industries, IT, BT and S&T, Government of Karnataka, said "The Government of Karnataka has already made an investment of INR 21.5 crores and the total spends is expected to touch INR 56 crores in the next 5years. Our vision is to make Karnataka the hub around which the next breed of Indian fabless startups can thrive and accentuate the existing fabless companies into the next realm of growth. Along with IESA, we are certain to propel the ESDM sector and support innovative domestic companies."
"Bengaluru has become home to innovation, invention and entrepreneurship. We are seeing a huge uptake towards ESDM and how it is contributing to creating millions of employment opportunities. In collaboration with IESA, the launch of SFAL, will mark our efforts to cultivate this ecosystem, create a favourable market to inculcate the fabless ecosystem, and encourage manufacturing not only in Karnataka but across the Country." said Sh. Gaurav Gupta, IAS, Principal Secretary, IT, BT and S&T, Government of Karnataka.
The expected outcomes of SFAL are:
Accelerate existing fabless SMEs – Support existing fabless SMEs to help them design and prototype at least 2-3 products of out of the accelerator in 2 years.
Stimulate fabless start-up ecosystem – incubate at least 20 early stage fabless start-ups in next 3 years, 50 in the next 5 years.
Enable domestic chips for local market – Enable fabless start-ups to design chips for products like Energy meters, LED lighting, Smartcards, Rural broadband, IoT solutions etc.
Domestic IP creation – Help the local ecosystem to produce indigenous semiconductor IPs.
Employment creation – Projected job creation of about 800 high skilled engineers and more into allied areas.
"IESA has a vision to make India as the global hub of electronics system design and manufacturing by 2025. In this direction, we conducted a research and realized quite early that design led manufacturing is the right solution for promoting the growth of electronics industry in India. IESA has promoted several incubation centers and center of excellences across in India and mainly in Karnataka state, with the help Karnataka Government. SFAL is one such initiative from IESA, which is supported by Karnataka Government, for promoting ecosystem to encourage innovation and manufacturing in the ESDM industry. The Government of Karnataka is continuously putting in place policies and building a framework to inculcate a fabless ecosystem and encourage manufacturing in the State. The IESA is excited to partner with the Government to make India a design-led electronics manufacturing hub in the coming years." said Mr. Anil Kumar Muniswamy, Chairman, IESA.
The IESA report at Vision Summit 2018 established that the Indian semiconductor component market is estimated to see a huge market growth of 32.35 billion by 2025, growing at a CAGR of 10.1 from 2018 to 2025.