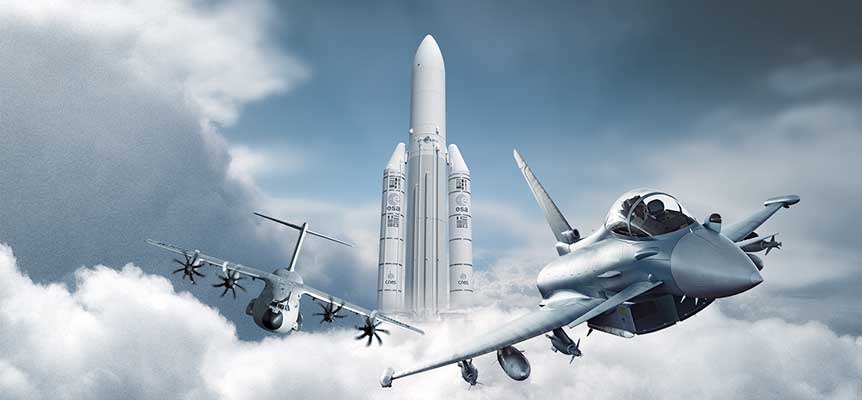 In 2018, the global aerospace and defense (A&D) industry recuperated and experienced a solid year as passenger travel demand strengthened and global military expenditure continued to rise. In 2019, the A&D growth is led by growing commercial aircraft production and strong defense spending. In the commercial aerospace sector, aircraft order backlog remains at an all-time high2 as demand for next-generation, fuel-efficient aircraft continues to surge with the rise in oil prices.


India has the third-largest armed forces in the world, and its defence budget is about 1.90% of its GDP. India is one of the largest importers of conventional defence equipment and spends about 40% of its total defence budget on capital acquisitions. About 70% of its defence requirements are met through imports. HAL has played a major role in the Defence aviation of India through design, manufacture and overhaul of fighters, trainers, helicopters, transport aircraft, engines, avionics and system equipment. HAL is now ranked 34th in the list of world's top 100 defence companies. HAL is a major partner for the Space programmes of Indian Space Research Organization (ISRO) and manufactures structures and assemblies for the launch vehicles and satellites at its dedicated Aerospace Division in Bangalore.
The civil aviation sector in India is growing rapidly. It has recorded annual growth of over 41% in passenger traffic during in the last two years. In fact, it has contributed significantly to the growth of international civil aviation sector. The rapid growth of civil aviation has put extreme pressure on the existing civil aviation infrastructure.
There are a number of government and industry initiatives, new research facilities and startups being established driving innovation in new aviation electronics technologies being developed in India.
As an example, in January 2018 the Telecom Regulatory Authority of India officially announced its formal recommendation for the development of a hybrid satellite and air to ground network that can support in-flight internet and mobile phone calling in the near future. One of the requirements for any in-flight satellite or air to ground connectivity service provider applying to provide such a network in India is that there is a guaranteed local presence in provisioning in-flight connectivity in Indian airspace through what TRAI describes as a unified licensee.
Recent Defence Cooperation
India and France determined to further strengthen the cooperation between their armed forces and in this connection are working towards increased interoperability as well as pursuing deliberations to develop joint forces cooperation. They welcomed the signing of an agreement regarding the Provision of Reciprocal Logistics Support.
Defence industrial cooperation has been one of the mainstays of the strategic partnership between India and France. Both PM Modi and the French President commended the progress made in the implementation of agreements signed previously, particularly the delivery of the first Rafale fighter jet earlier this year.
The two leaders reaffirmed their commitment to further strengthen cooperation in defence industry field and extended their support to existing and upcoming partnerships between the defence companies of the two countries in the spirit of "Make in India" and for the mutual benefit of both countries.
The two sides noted with satisfaction that Indian MSMEs are increasingly becoming part of global supply chains of French Defence and Aerospace OEMs and reaffirmed to give further impetus to this trend. They also welcomed the ongoing collaboration between aerospace and defence industrial associations of both countries, SIDM for India and GIFAS for France.
Advanced Challenges
Although traditional threats (land, maritime, and air-based) continue to emerge, technological advancements and digitization have also led to cyber-related threats. To be prepared for the future, military strategies worldwide are evolving, and nations are aiming at integrating digital tools and technologies to manage both traditional and digital-age threats. This has resulted in a bigger focus on many cybersecurity programs, which are expected to play a vital role in the near term.
Free trade Vital For the A&D Industry?
Defense companies that primarily sell to foreign governments and rely on relationships could be more adversely affected. With retaliatory tariffs being imposed, some A&D companies could consider moving their manufacturing to avoid tariffs for products manufactured and exported from their home countries, disrupting supply chains and delaying deliveries. A&D companies operating in this environment of uncertainty will do well by nurturing long-term stable partnerships across the industrial base and managing their global supply chain relationships, reports Deloitte study.
M&A For New Growth Opportunities
Hence, the highly fragmented supplier base is likely to become more concentrated in the near term. We may also see some megadeals as bigger players focus on vertical integration. For instance, we saw a large aerospace supplier acquire an avionics and interiors manufacturer, and more recently, the merger of two major communications and electronics contractors—one of the biggest-ever mergers in the defense sector. Apart from this, large, prime contractors are expected to consider acquiring small to mid-sized companies to gain access to new technologies and markets. The industry is likely to experience increasing M&A activity even when valuations of A&D companies are high and near pre–financial crisis levels.
India, China Critical Drivers for Global A&D Industry
While India and China will likely drive growth in both commercial aerospace and defense sectors, Japan is expected to be a key market primarily for the defense sector. Defense expenditure in France is also likely to expand as the United States encourages NATO countries to increase military spending to 2 percent of GDP.10 In the Middle East, defense spending is expected to recover as oil prices stabilize at much higher levels compared to the 2015–17 period.
Defense Minister and India's Goals
Defence Minister Rajnath Singh on Friday urged defence players from the private sector to work towards boosting exports to friendly countries, saying the procedure to do so has been simplified. Addressing CEOs of top defence and aerospace firms at a roundtable on the theme 'Make in India in Defence Industry' here, Singh said they have a huge opportunity to contribute to domestic market in addition to exports. The minister said the government wants to encourage private industry investment in defence and strengthen defence public sector undertakings and Ordnance Factory Board. He also called for a multi-pronged approach to achieve the objectives of 'Make in India' initiative. "The defence minister urged the industry to work towards increasing exports to friendly countries. He said the export procedure has been simplified and the defence procurement procedure was revised in 2016 to encourage indigenous design, development and manufacture," a statement from the Defence Ministry said.
APAC Region
A large part of the increased traffic and spend in the commercial aerospace segment stems from greater traffic demands in the APAC region. This has led to an increase in demand for aeroplane deliveries. Boeing forecast the need for 42,730 new jets to accommodate the growing passenger traffic and upcoming aircraft retirements. APAC leads the way here, with 40% of the demand accounting for 16,930 deliveries – this makes for a service market of $3,365 billion. The A&D industry has been active in responding to this increased demand, and local talent in the APAC region now plays an essential role in the development of better aircraft and defence equipment. The maintenance, repair, and overhaul (MRO) market has grown in Asian countries owing to a labour-intensive market. Airbus predicted that MRO solutions would increase at a yearly rate of 4.5% in the region, as compared to 3.7% worldwide.
Impact of Digital Transformation
Clearly digitisation will have to play a significant part in helping to address this challenge, for example, technicians using virtual reality will be able to better visualise how components fit together – enabling them to 'step inside' an assembly or view it from multiple angles. And, of course, there are simple cost and time saving improvements, such as paper manuals becoming a thing of the past, and repair staff being able instantly to call-up relevant data on a handheld device. Standing at a meagre 4.1%, the A&D sector has one of the lowest innovation intensity percentages (the percentage of sales earmarked for R&D). With new technologies including robotics/autonomous systems, artificial intelligence, additive manufacturing and sensor technologies taking centre stage, the industry will see an increased push toward the adoption of digital innovation. However, the A&D digital innovation strategy will follow a disciplined approach where trusted partners will be sought to develop low-risk solutions that balance the inherent complexity of new technology adoption with the need to increase capability at the lowest possible costs. One of the significant challenges to innovation in the A&D sector is that the industry is not rewarded for internal R&D as much as more consumer-oriented markets.