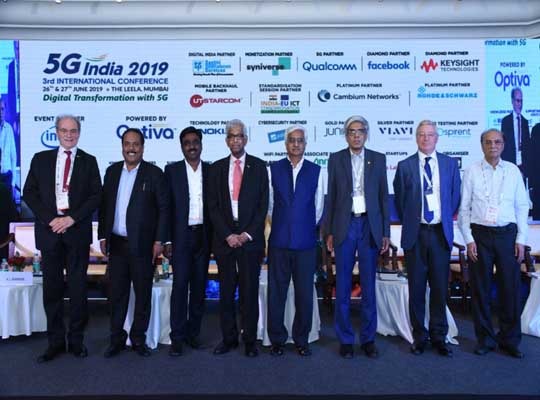 Mumbai – July 1, 2019 – The first day of the third edition of the 5G India 2019 International Conference and Exhibition closed on 26th June 2019 in Mumbai. This definite forum brought together the telecom industry leaders, top level officials, decision makers and telecommunications analysts to discuss under one umbrella. 5G, on the issues and opportunities related to the deployment of high-speed digital applications, and such technology can incorporate the country into 'New India'. The program was organized by BE Exposure Pvt. Ltd., who constantly strives to be the best organizer of IT telecom events in the country.
5G would be an important event of India's drive to create smart cities, smart agriculture and transform highways and transportation. Railways which are now demanding high speed quality communications for control and signalling of trains, as well as high capacity communications for passengers will also be a driver for the development of 5G technology.
After the inauguration of the 5G Exhibition by Prof. Bhaskar Ramamurthi, Chairman, TSDSI & Director, IIT Madras, followed the CXO Round Table, the main attraction of the event, which covered Key 5G Learnings from past 12 months – Global Trials including India, was chaired by Mr. Adrian Scarse, CTO, ETSI.  The bigwigs of the industry who are involved in every step of mobile broadband deployment from network strategy to service delivery and those who believe that India has the potential to emerge as a leader in 5G standardization, included the following speakers: Mr. Shyam Prabhakar Mardikar, Group CTO – Mobility, Reliance Jio; Mr.  Andreas Sommer, Team Leader & Senior Technical Advisor, India-EU Cooperation on ICT-Related Standardisation, Policy & Legislation;  Mr. Ravi Gandhi, Chief Regulatory Officer, Bharti Airtel; Ms. Danielle Royston, CEO, Optiva Inc; Mr. Tim Ti, CEO and Director, UTStarcom Inc.; Mr. Parag Kar, VP, Government Affairs, India & SA, Qualcomm; Mr. Pradeep Bhardwaj, Sr. Strategy Director & Head, Industry Standards, Syniverse; Ms. Pamela Kumar, Director General, TSDSI & Task Force Chair, Application & Use Case labs, 5GHLF; Mr. Ravi Shankar Rai, Managing Director, Savitri Group; Mr. Koo Eng Wei, Director of Technology – CTO Office at VIAVI Solutions; Mr. Amit Marwah, Head of Marketing & Corporate Affairs, Nokia India.
Mr. Vishant Vora, Director – Technology, Vodafone Idea Limited, while agreeing with Ms. Danielle Royston, CEO, Optiva Inc, on virtualisation said, "Virtualisation is fairly common now. In our case, i.e. Vodafone Idea, more than 50% of our packet core capacity is on the cloud."
The Theme for the second day of the mega event 5G 2019: The Catalyst to Digital Revolution in India, was introduced by Mr. T V Ramachandran, President, Broadband India Forum & Chairman, 5G India Conference Committee. In his opening statement Mr. Ramachandran averted, "I am elated to see such a noteworthy presence of the audience with one and all from the telecom industry. We are all awaiting the quick arrival of 5G as it will not only curb the speed issues but also will engage various industries and bind them together. This is just the beginning, as soon as 5G is in, we will work towards our next big goal of welcoming 6G to the country.
"We should not miss the bus', said Mr. Anshu Prakash, IAS, Additional Secretary (T) Department of Telecommunications Govt. of India while he was emphasizing, how significant is the entry of 5G in India. India has huge potential with great brains. Going forward 5G will be an important application as it clearly stands out to be the best solution for the socio-economic upliftment of the country."
Interesting topics were brought to the table by distinguished speakers like: Mr. Adrian Scrase, CTO, ETSI, Shri P K Purwar; CMD, MTNL, Mr. Sanjay Mashruwala; Managing Director, Reliance Jio, Mr. Balesh Sharma; CEO, Vodafone Idea Limited, Mr. Gopal Vittal; CEO, Bharti Airtel India; Mr. K S Rao, CEO, Sterlite Technologies;
The Special Guest of Honor, Prof. Bhaskar Ramamurthi, Chairman, TSDSI & Director, IIT Madras stated that, "Many roadblocks have been identified in the spectrum space with lot of trials in organised, structured manner. Today spectrum is in good shape.  The need of 5G has been known for quite a few years, now that everything is moving in a positive direction, we should expect the best to ring in and pull this on."
The post lunch sessions witnessed thought provoking topics like: How 5G can play crucial role in Agriculture, Healthcare, Smart Cities and other industries' growth in India?; The 5G Success in India: A Collaborative and Systems Approach to Innovation; How the 5G revolution will drive future innovations of IoT; How to design a strategy that will allow end-to-end security for critical services such as transport and logistics, health and social care, industry 4.0 and rural connectivity solutions
The Panellists highlighted the need for 5G on the back of a booming demand for data fueled by multiple emerging applications in IoT, big data, AI (artificial intelligence) and HD/4K/3D media. With users demanding connections anytime/anywhere, 24/7 and the worldwide monthly data traffic predicted to reach 50 petabytes in 2021 or over ten times the traffic in2018, it is only a 5G network which will be able to efficiently support the high throughput with low delay in communication and high reliability across a large number of heterogeneous connected devices.
In his valedictory address, Mr. Yaduvendra Mathur, IAS, Special Secretary, NITI Aayog, observed that, "the objective of the 5G India 2019 Conference was to spread awareness of the capability and benefits of 5G to any and all sectors be it education, agriculture, manufacturing or health to attain the goals of Digital India as per the vision and mission of the Government of India and we have been able to do justice to this objective."
The event concluded with a Vote of Thanks by Mr. Shashi Dharan, Managing Director, BE Expositions Pvt. Ltd.  who maintained that, "As an event organiser, I feel that the ecosystem is perfect for the rolling out of 5G as we have had the policymakers, the standardisation body, the entire telecom fraternity all geared up together to discuss and see the positive outcome of 5G soon by November 2019.
The telco's can now make best use of 5G for cross-industry applications & digital transformation and operators can manage the cost of unbridled traffic growth and exploit opportunities to capture sufficient revenues and generate a return on their 5G infrastructure investments.
For more information, visit : www.bharatexhibitions.com