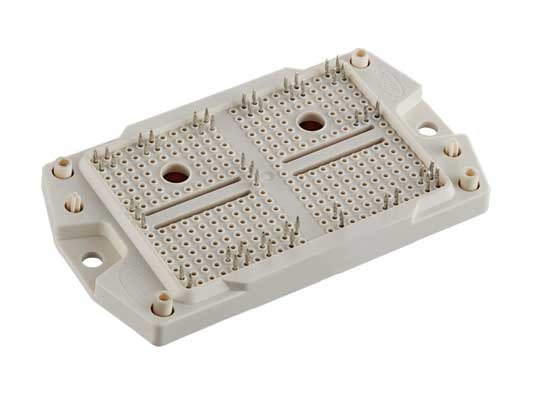 Munich, Germany – 15 April 2019 – Infineon Technologies has extended its Easy family to include a new package: Easy 3B. Together with the other Easy 1B and 2B packages, this comprises the broadest power module portfolio at 12 mm height without base plate. Easy 3B is the ideal platform to extend current inverter designs to achieve higher power without changing much on the mechanical side. At the same time, the new package inherits many of the advantages of the family portfolio such as the flexible pin-grid system, which is very important for customizing. The first module with the new package design is a 400 A, 3-level ANPC (advanced neutral point clamping) device aiming at 1500 V solar inverter applications. The Easy 3B package will be showcased at PCIM 2019.
In utility-scale solar installations, the 1500 V inverter is becoming more and more popular. Total worldwide shipments for this voltage class was 32.7 GW of AC power (output power of solar power plant) in 2018. The expected compound annual growth rate of this voltage class for the next five years is expected to be at 20,6 percent*. In order to address this growing market, this new product is equipped with the latest IGBT technology with a blocking voltage of 950 V. The footprint of the Easy 3B package is 110 mm x 62 mm making it 2,5 times larger than the Easy 2B. This module enables a highly efficient inverter design with a power-rating of up to 150 kW and an industry leading power-density of more than 500 W/Liter.
Infineon is planning to develop a full Easy 3B portfolio with TRENCHSTOP™ IGBT7 to address the industrial drives market. This will extend the current Easy module based drive portfolio to include higher current ratings. As this is also the ideal platform for emerging applications like EV chargers and energy storage systems, Infineon will develop products for these applications as well. Since charging and storage rely on high efficiency, the Easy 3B package will also be introduced with Infineon's CoolSiC™ MOSFETs utilizing the latest silicon carbide chip technology.
Availability
Easy 3B is ready for high-volume production. F3L400R10W3S7_B11 is available starting June 2019, samples can be ordered now. More information is available at www.infineon.com/easy.
Infineon at the PCIM 2019
At the PCIM 2019 tradeshow, Infineon is presenting innovative product-to-system solutions for applications that are set to power the world and shape the future. Infineon's demos are presented at booth #313 in hall 9 (Nuremberg, Germany, 7-9 May 2019). Information about the PCIM show highlights is available at www.infineon.com/pcim.