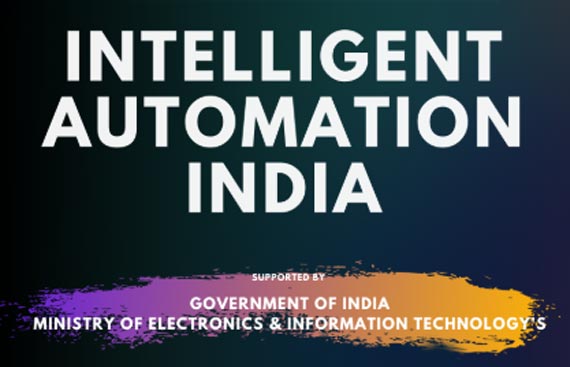 India's only exclusive automation conference for the industry leaders is all set to virtually gather the country's most influential C-Level executives, Senior Business leaders and automation experts to unlock automations untapped value.
Why is Automation a crucial discussion to retain a competitive edge?
Automation Technology has given business leaders the opportunity to make faster & more accurate decisions to discover new opportunities for their business growth. Many organizations in India are realizing the benefits of automation adoption, but how does one un-tap its full potential to reap maximum business growth?
India's Top 30 Emerging Tech Leaders, most influential C-Suites and Senior Business leaders across industries are getting together to discuss and explore the importance of harnessing automation technology at the "Intelligent Automation India" summit taking place virtually on 08-09 December 2020. The event will be hosted under the support of Govt of India – Ministry Of Electronics And Information Technology's – Digital India and MeitY SH.
Some of India's top emerging tech leaders involved are Amit Saxena – Dep CTO – State Bank of India, Deepak Sharma – President & CDO – Kotak Mahindra Bank, Natarajan Radhakrishnan – Global President & CIO – Hinduja Global Solutions (HGS), Dheeraj Sinha – Group-CIO and Director Digitalization – JSW Group, Nandkishor Dhomne – CIO & VP – IT – Manipal Group, Sneha Hiranandani – Global CIO – Cipla, Dipu KV – President – Bajaj Allianz, Gururaj Rao – CIO – Mahindra Finance, Pankajam Sridevi – Managing Director – Commonwealth Bank, Prashant Singh – CIO & Director – IT – Max Healthcare, Jitendra Agrawal – Executive Vice President – HDFC Life
Giridharan Jagadesh, Director of Bicon Network said "The adoption of automation is on the rise in India, and so are the challenges. Our event topics are carefully designed to offer real-world solutions to critical business problems. We've done extensive research to identify the most common and pressing challenges of automation adoption in India, and the aim of Intelligent Automation India is to effectively address those challenges."
Top industry front-runners and pioneers who are shaping the future of leading organisations in the region will explore the eclectic mix of automation technologies, from proof-of-concept, to early adoption, implementation, and advanced stages of their process improvement and digital transformation journeys. Making it an ideal platform for business leaders to connect, learn and discover new opportunities that can be automated.
Expect to witness first-hand information, in-depth case studies, thought-provoking insight and practical solutions on Next-Gen Automation solutions such as – Intelligent & Cognitive Automation, Hyper Automation, Robotic Process Automation (RPA), Artificial Intelligence (AI), Machine Learning (ML).
To register for free or for more information, visit: www.intelligentautomationindia.com