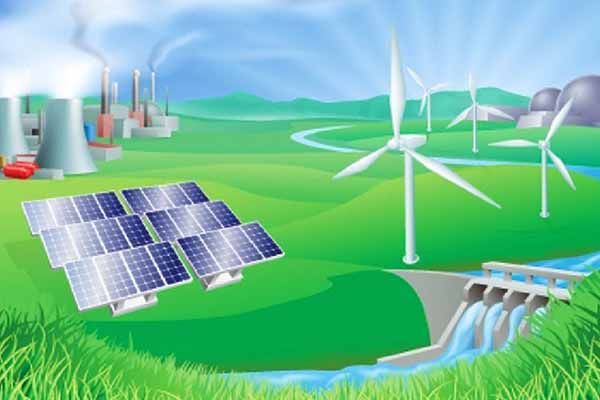 India's renewable energy business is the world's fourth most appealing renewable energy market. The government is committed to increasing the usage of renewable energy sources and is now working on a number of large-scale sustainable power projects as well as extensively promoting green energy. Furthermore, renewable energy has the potential to provide a large – scale employment at all levels, particularly in rural areas.
To achieve sustainable growth and avert catastrophic climate change, the government will make a rapid and global shift to renewable energy technology in this manner. Renewable energy sources are critical for ensuring long-term energy security with lower emissions.
However, how solar energy technologies interact with other energy technologies, such as wind and storage, will likely define their evolution in the future decades. The future of solar energy will be shaped by changes in the larger energy system, such as the growing electrification of buildings and vehicles, the advent of clean fuels, and new commitments to equity and a more circular, sustainable economy.
PIXON manifests into solar products and creating quality solutions for the customers. The organization is very exceptional with the best-in-class turnkey manufacturing facility of 400MW capacity. PIXON is backed by Marwadi Shares and Finance Limited (MSFL), which has a strong financial background of more than 3 decades. The combination of a young group led by seasoned players allows PIXON to be flexible for innovative activities and advanced developments. PIXON aspires to be the world's leading provider of efficient solar energy equipment and solutions. As a result, contribute to improving global climate sustainability.
The top-notch scope of solar modules is designed in India utilizing European innovation and technology. PIXON has a varied range of products and services for which they have different certifications and standards which ensures the organization's capabilities and effectiveness to complete the specific work assignments and obligations. PIXON provides turnkey Engineering, Procurement & Construction Services for the installation of solar projects. They have an in-house, well-trained, and dedicated EPC team for the execution of solar projects
PIXON Products:
PIXON products stand through their performance and quality. PIXON solar modules are robust and tested to withstand extremes of weather conditions. PIXON provides a wide range of modules under the following categories:
PIXON also offers highly efficient modules tested in our in-house PV Module Test Lab which are as follows:-
Mono-Crystalline Perc Modules.
Poly- Crystalline Modules.
Poly- Crystalline DCR Modules.
Poly- Crystalline Half-Cut Cell Modules.
Mono-Crystalline Perc Half-Cut Cell Modules.
PIXON has a turnkey manufacturing line of 1 GW for EVA Film. The PIXON's PID-free EVA films provide higher productivity and lower shrinkages.
The range of EVA Films includes:
PIX Fast Cure EVA Film
PIXON PIX Fast Cure EVA films ensure that the solar cells are protected and solar modules provide a better performance, even while facing the utmost harsh weather conditions.
PIX Ultra-Fast Cure EVA Film
PIXON's PID-free EVA films are suitable for all of types solar cells and back sheets with a lesser cycling time that speeds up your module production to provide increased yield.
PIXON provides turnkey Engineering, Procurement & Construction Services for the installation of solar projects. We have an in-house, well-trained, and dedicated EPC team for the execution of solar projects – from small solar projects to large-scale utility-based projects.
INFRASTRUCTURE HIGHLIGHTS:
PIXON's industrial entity is well spread and equipped with smart tech to enhance processes and security.
Backward Integration – High-quality raw material production for quality control
Ready for delivery & dispatch – Smart and spacious warehousing stacking 20+ MW of modules & raw materials
Minimum Human Intervention from glass loading to packing, decreasing the risk of microcracks in manual handling and extending module life and efficiency.
Controlled Environment Production Facility for Module and EVA films which result in good quality of the product.
Automation – First in India to have 400 MW of turnkey manufacturing line.
Quality – In-house advanced technology to provide certifications for quality tests.
We always invite new thoughts and creativity into our framework. Be it our innovation, work culture, or cycles; we comprehend the requirement for advancement to keep a constant process. Our team ensures our faith in development with advancements. The organization is likewise anticipating further developments in its supply chain across India through its upcoming production lines for aluminum strips, junction boxes, back sheets, and so forth.. We are also anticipating the arrangement of a NABL-certified quality research center for stability and certification purposes
Future of Solar Energy:
The future of renewable energy is forecasted to expand in the coming years which is led by solar energy. The capacity of solar energy would be almost double in comparison to the present. The predictions about renewable energy in the future are expected to increase, solar energy will also grow extensively. The experts predict that solar prices will be cheaper in the near future. Sustainable power can possibly re-empower India's economy by creating a large number of new employment opportunities, permitting the nation to accomplish energy freedom and lessen its import/export imbalances and push it forward as a "Green Nation."
Global climate change is becoming a concern. And as the world started adhering to the solar revolution, it became a great opportunity to introduce solar modules into the lives of people. PIXON manifests into solar products by delivering top-notch quality and tailored solutions. , PIXON has already set landmarks and is consistently delivering efficient solar energy solutions to attain new heights. PIXON would like to convey and bring change in the lives of people through the solar energy revolution.
Solar will become even more affordable in the future years as technology advances. Solar might very possibly become the most important source of energy for electricity production is a major area of the planet by 2030. This will also benefit the ecology and combat climate change.
Reduced carbon dioxide (CO2) emissions are at the heart of the world's fast-paced transition away from climate-damaging fossil fuels and toward clean, renewable energy sources. Solar photovoltaic (PV) power generation has been steadily increasing as part of this worldwide energy shift.
As the world adheres to the solar energy revolution, PIXON envisions:
To globally provide efficient solar energy products and solutions.
Contribute to and enhance Global Climate Sustainability.
Conclusion:-
The Indian government plans to create a "green city" in each state that is powered by renewable energy. Solar rooftop systems on all of the city's houses, solar parks on the outskirts, waste to energy facilities, and electric mobility-enabled public transportation systems will all be used to mainstream environmentally friendly power in the 'green city.'
In India, solar power has ushered in a new era of power accessibility. Solar power's capacity to be decentralised and extensively dispersed, according to the Ministry of New and Renewable Energy, has benefited millions of people in Indian communities by meeting their cooking, lighting, and other energy demands.
However, India faces numerous obstacles on its path to a sustainable energy future. The COVID-19 epidemic has harmed India's economy, as it has many other countries, making an investment in relatively "new" technologies improbable and significantly riskier. India has demonstrated that with perseverance and investment in sustainable technologies, significant progress can be achieved. India has risen to the top of the world in solar energy in a relatively short period of time.
Check out Pixonenergy here.
About the author:
Mrs. Vaidehi Thakkar is Content Manager at PIXON