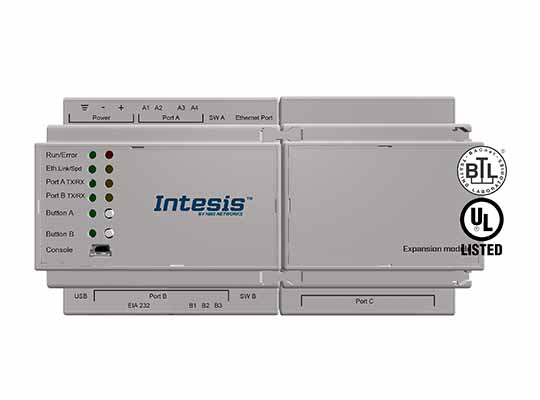 HMS Networks announces a new Intesis protocol translator that integrates between EtherNet/IP and BACnet IP/MSTP-based Building Management Systems. Thanks to its unique design, it is easy to bring data from a factory network to a BMS.
Factory floors and buildings – connected
Many of the processes in a factory are depending on proper monitoring and control of the building where the factory equipment is installed. For example, temperature, humidity, and air quality can be monitored and controlled to ensure beneficial manufacturing and working conditions. In the same way, lighting in the building can be aligned with working hours to reduce energy waste or to improve the management of emergency situations.
When trying to connect all these factory and building installations, system integrators often struggle as not all systems communicate using the same protocol. BACnet is mostly used in Building Automation applications like HVAC, lighting controls and access control, while EtherNet/IP is used in PLCs and networks within industrial automation.
Enabling communication with the new Intesis EtherNet/IP – BACnet gateway
With the new Intesis protocol translator from HMS Networks, system integrators can easily integrate any Ethernet/IP-based PLCs, such as Rockwell™ Allen-Bradley™ PLCs models, with any BACnet BMS. The gateway offers bi-directional communication between EtherNet/IP PLCs and BACnet controllers. With a capacity of up to 1200 data points, the gateway is a BACnet IP/MSTP server/slave on one side and an EtherNet/IP adapter on the other, featuring independent Ethernet ports. The gateway has been BTL-certified for BACnet and carries the UL mark in order to guarantee the highest communication and quality standards. It is also ODVA pre-certified thanks to its inbuilt Anybus® CompactCom™ module.
Easy configuration and integration process using Intesis MAPS
The free Intesis MAPS configuration tool for all Intesis protocol translators offers a very intuitive configuration process for system integrators. With MAPS, integrators are helped further in their projects by providing valuable EDE files for the BACnet integration, as well as EDS files and configuration reports for usage in EtherNet/IP PLC configuration tools like Rockwell´s Studio 5000 software.
Anybus CompactCom and Intesis BACnet solutions – by HMS Networks
Extending the new Intesis Factory-to-Building protocol translator family, the new EtherNet/IP – BACnet gateway is another example of HMS combining technologies for the benefit of users. In the gateway, Anybus CompactCom and Intesis communication technologies are used for industrial and building-oriented communication respectively, both proven and trusted by customers in millions of installations worldwide.
Learn more at www.intesis.com