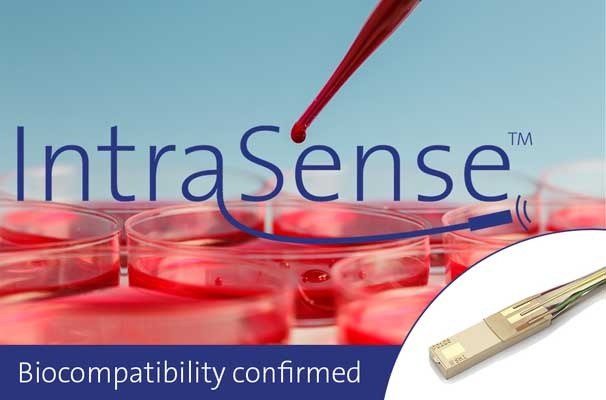 18 March 2019 – SMI (Silicon Microstructures, Inc.) is pleased to announce that biocompatibility of IntraSense has been confirmed at a major medical device manufacturer. Biocompatibility is a critical factor during the design of an invasive medical device and the compliance of IntraSense parts ensures an easy integration. The IntraSense product line will be the focus of SMI's exhibition at SIR2019, the annual meeting of the Society of Interventional Radiology. SMI is a subsidiary of Elmos Semiconductor AG.
Demonstrated Biocompatibility
The IntraSense line of pressure sensing solutions simplifies direct pressure monitoring throughout the anatomy and industry leading size of less than 1-French (1/3 mm) allows for easy system integration. It is designed to enable accurate in vivo pressure sensing in many minimally invasive devices, including catheters and endoscopes. To ensure easy system integration, the sensor can be directly exposed to different bodily fluids with no encapsulation required. IntraSense biocompatibility has now been confirmed through extensive testing.
"Independent testing by third parties is an important part of our product development," explains Dr. Justin Gaynor, Vice President, IntraSense Product Line. "Our customer confirmed that their device, in which IntraSense is exposed directly to the bloodstream, showed reactivity grades of zero for cytotoxicity, sensitization and intracutaneous reactivity. It was rated non-toxic, non-pyrogenic and non-hemolytic. Finally, it was found non-activating in thrombolytic and SC5b-9 tests. We are very pleased that these results will speed our customer's efforts as they develop a best-in-class catheter for their life-critical application."
Exhibit at Society of Interventional Radiology Meeting
SMI is excited to announce their participation at SIR2019 in Austin, Texas, March 24 through March 27. IntraSense will be of general interest to the interventional radiology community and equipment OEMs that supply them. With its minimal size, various environments capability and accurate measurements the IntraSense line of in vivo pressure sensors opens the door to advance existing Interventional Radiology procedures and enable new designs, to improve patient outcome. Booth visitors have the opportunity to learn more about the benefits of IntraSense, showcased on the new IntraSense application demonstrator. SMI looks forward to welcoming visitors at booth 300.
For more information visit the IntraSenseTM Product Page.