The Indian food industry is charted huge growth. Indian agriculture industry is today fostering the world food trade. Not just a value addition, but Indian agriculture industry is set to witness an Agri-Revolution.
With digital transformation complementing the Indian food processing industry, Indian agriculture industry is all set to adopt smarter ways of farming and increase productivity. Indian food and grocery market is the world's sixth largest, with retail contributing 70% of the sales. The Indian food processing industry accounts for 32% of the country's total food market, one of the largest industries in India and is ranked fifth in terms of production, consumption, export and expected growth. The ever-growing global population would touch around 9.6 billion by 2050. So, to feed this immense population, the agriculture industry needs to embrace IoT. The demand for more food has to meet overcoming challenges such as, rising climate change, extreme weather conditions and environmental impact that results from intensive farming practices.

IoT Smart Farming
IoT smart farming solutions is a system that is built for monitoring the crop field with the help of sensors (light, humidity, temperature, soil moisture, crop health, etc.) and automating the irrigation system. The farmers can monitor the field conditions from anywhere. They can also select between manual and automated options for taking necessary actions based on this data. For example, if the soil moisture level decreases, the farmer can deploy sensors to start the irrigation. Smart farming is highly efficient when compared with the conventional approach.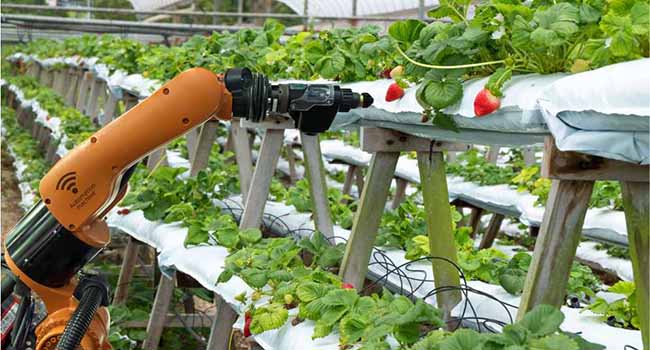 Smart Farming in India
The adoption of IoT devices in the agriculture industry will reach 75 million in 2020, growing 20% annually. At the same time, the global smart agriculture market size is expected to triple by 2025, reaching $15.3 billion (compared to being slightly over $5 billion back in 2016). Smart farming based on IoT technologies enables growers and farmers to reduce waste and enhance productivity ranging from the quantity of fertilizer utilized to the number of journeys the farm vehicles have made, and enabling efficient utilization of resources such as water, electricity, etc. Essential agricultural commodities export for the April-September period of 2020 increased by 43% to Rs. 53,626 crore (US$ 7.3 billion) over Rs. 37,397 crore (US$ 5.1 billion) in the same period last year.
What's the Market Size?
The food grain production in the 2019-20* crop year reached a record 295.67 million tonnes (MT). In 2020-21, Government of India is targeting food grain production of 298 MT. Production of horticulture crops in India was estimated at a record 320.48 million metric tonnes (MMT) in FY20 as per second advance estimates. India has the largest livestock population of around 535.78 million, which translates to around 31% of the world population. Milk production in the country is expected to increase to 208 MT in FY21 from 198 MT in FY20, registering a growth of 10% y-o-y. Sugar production in India reached 26.46 MT between October 2019 and May 2020 sugar season according to Indian Sugar Mills Association (ISMA). India is among the 15 leading exporters of agricultural products in the world. Agricultural export from India reached US$ 38.54 billion in FY19 and US$ 35.09 billion in FY20. The organic food segment in India is expected to grow at a CAGR of 10% during 2015-­25 and is estimated to reach Rs. 75,000 crore (US$ 10.73 billion) by 2025 from Rs. 2,700 crore (US$ 386.32 million) in 2015.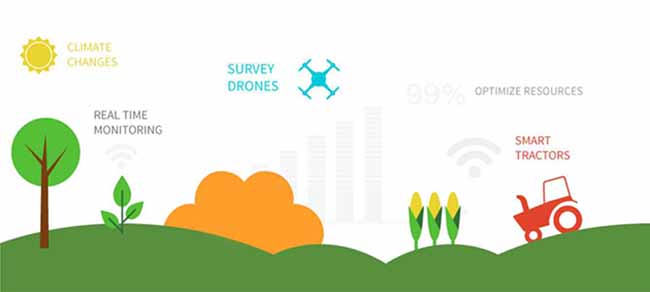 Some Major Investments and Developments in Agriculture are as Follows: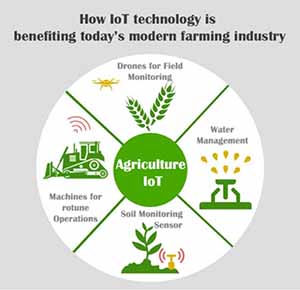 In March 2020, Fact, the oldest large­­­­­­­‑scale fertiliser manufacturer in the country, crossed one million production and sales mark.
Nestle India will invest Rs. 700 crore (US$ 100.16 million) in construction of its ninth factory in Gujarat.
In November­­­­­­ 2019, Haldiram entered into an agreement for Amazon's global selling program to E-tail its delicacies in the United States.
In November 2019, Coca-Cola launched 'Rani Float' fruit juices to step out of its trademark fizzy drinks.
Two diagnostic kits developed by Indian Council of Agricultural Research (ICAR) – Indian Veterinary Research Institute (IVRI) and the Japanese Encephalitis lgM ELISA were launched in October 2019.
Investment worth Rs. 8,500 crore (US$ 1.19 billion) have been announced in India for ethanol production.
Types of IoT Application in Agriculture
Precision Farming
In the recent years, precision agriculture has become one of the most famous applications of IoT empowering the agricultural sector. Given its benefits, a vast number of organizations have started using this technique around the world. Precision farming is a process or a practice that makes the farming procedure more accurate and controlled for raising livestock and growing of crops. The use of IT and items like sensors, autonomous vehicles, automated hardware, control systems, robotics, etc in this approach are key components.
The products and services offered by IoT systems include:
Soil moisture probes, VRI optimization, virtual optimizer PRO, and so on.
VRI (Variable Rate Irrigation) optimization maximizes the profitability on irrigated crop fields with soil variability, thereby improving yields and increasing water use efficiency.
Drones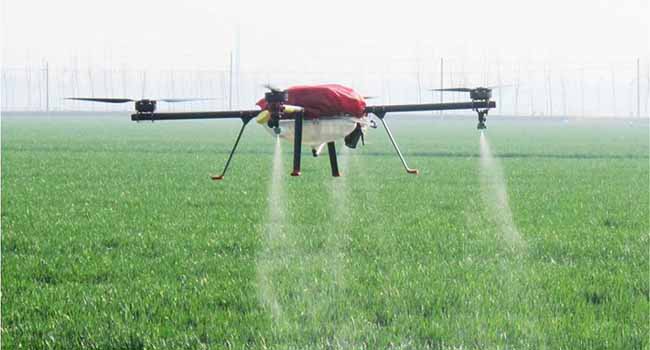 Today drones are been used various fields. Drones technology is getting flair thanks to constant innovation. Today not just military or police personnel are adopting the benefits of drone but the agriculture sector is prompting towards it a rapid pace. The incorporation of drones can bring immense benefits in the Indian agriculture sector. Specifically, ground-based and aerial-based drones are witnessing huge demand. These drones are helping in many ways such as: crop health assessment, irrigation, planting, and soil & field analysis.
Other benefits of drones in agriculture includes; ease of use, time-saving, crop health imaging, integrated GIS mapping, and the ability to increase yields. The drone technology will give a high-tech makeover to the agriculture industry by making use of strategy and planning based on real-time data collection and processing.
Monitoring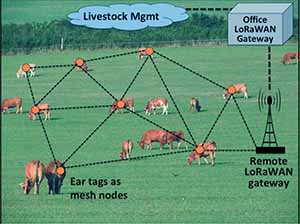 Data is critical may it be any field or sector. Alike farming and agriculture in India can unveil massive new opportunities with the help of Data. Data collection regarding the location, well-being and health of the cattle can be easily demystified with the help of data. Helping prevent disease and preventive management can also be easily done. The feasibility of ranchers to locate their cattle with the help of IoT based sensors helps in bringing down labor costs by a substantial amount.
Smart Greenhouses
Greenhouse farming is a technique that enhances the yield of crops, vegetables, fruits etc. Greenhouses control environmental parameters in two ways; either through manual intervention or a proportional control mechanism. However, since manual intervention has disadvantages such as production loss, energy loss, and labor cost, these methods are less effective. A smart greenhouse through IoT embedded systems not only monitors intelligently but also controls the climate. Thereby eliminating any need for human intervention. Different sensors that measure the environmental parameters according to the plant requirement are used for controlling the environment in a smart greenhouse. Then, a cloud server creates for remotely accessing the system when it connects using IoT.
Machine Navigation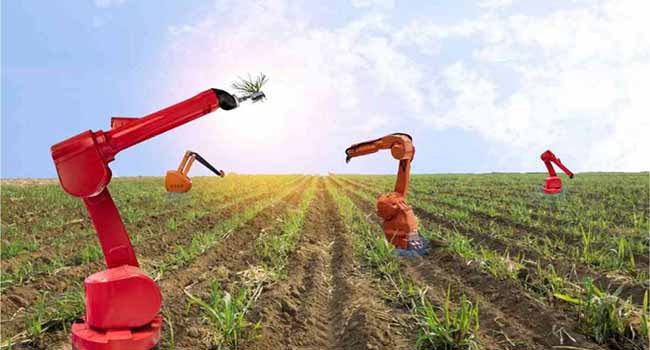 As remote controlled toy cars are enabled with a controller, tractors and heavy ploughing equipments can be run automatically from the comfort of home through GPS. These integrated automatic machines are highly accurate and self-adjust when they detect difference in terrains, simplifying the labor intensive tasks. Their movements as well as work progress can be easily checked on smartphones. With advancements in machine learning these tech driven motors are becoming smarter and independent with features such as automatic obstacle detection.
The applications of IoT in farming target conventional farming operations to meet the increasing demands and decrease production loses. IoT in agriculture uses robots, drones, remote sensors and computer imaging combined with continuously progressing machine learning and analytical tools for monitoring crops, surveying and mapping the fields and provide data to farmers for rational farm management plans to save both time and money.
References: IoT (Internet of Things) – The Basic Guide | Agriculture in India: Information About Indian Agriculture & Its Importance / In House Research Team Analysis