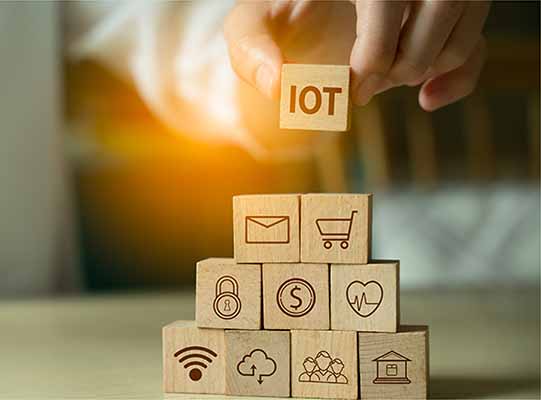 The Internet of Things (IoT) is making shockwaves across the manufacturing industry. Many businesses have built connectivity into products from cars to home appliances, but not all of these products are successful and achieve the results manufacturers want. To really benefit from the IoT revolution, producers need to be aware of the potential challenges they face and tackle them head on.
IoT Architecture Components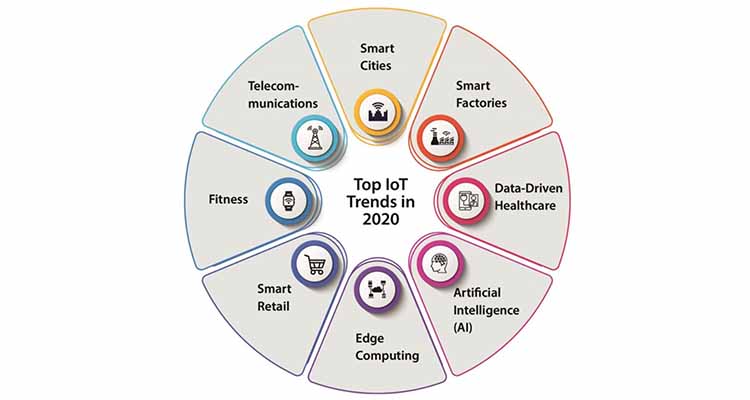 IoT device: IoT device can be wireless sensors, software, actuators and computer devices. They are fixed to a specific object that runs through internet.
IoT Gateway: IoT gateway is a device or a software program that serves as a connection point between cloud and multiple IoT devices.
Network: Network is the bridging element that connects an array of IoT gateways to the Cloud platform by traditional TCP/IP network.
Cloud: Cloud is a platform which takes massive volumes of data generated. They receive them via IoT gateways which in turn has tons of devices behind them.
Applications: The synthesized data for the end user to derive meaningful insights. The application typically provides a User Interface (UI) to the end user.
IoT policy & Government Initiatives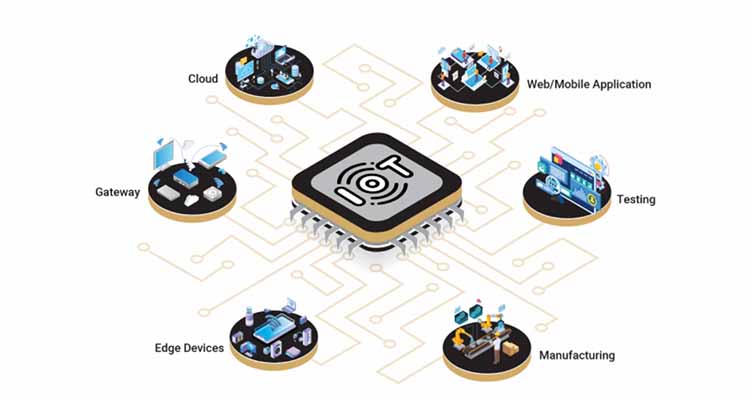 The government has laid down the policy to form an effective structure for appropriate governance of IoT activities and its implementations. Firstly, it lays down provisions for setting up an Advisory Committee, which will have the responsibility of formulating guidelines concerning the emerging areas of IoT. Secondly, a Governance Committee shall be formed for implementing effective governance policies and projects in India.
 Knowing the growing need of IoT based skills in the market, the Electronics Sector Skills Council of India (ESSCI), which is set up under the Ministry of Skill Development and Entrepreneurship (MSDE), skill the youth of the country specifically in the electronics domain. The council has been working with the subject matter experts across India to create Qualification Packs (QPs) in accordance with the rising demand of IoT based skills in the market. Therefore, if you are looking forward to making your career in this domain, you can simply take training from the registered training partners of ESSCI that are available pan India.
Understanding the perspective of both Electronics Hardware and Embedded Software, the council has prepared two job-oriented courses (QP's) in which the candidates can take training and get the job easily in the IoT domain.
The Market Outlook:
An assessment of the recent market trends in the IoT sector shows that there is both awareness and the desire of the consumers to be connected and have smart and intelligent systems. Additionally, with the government's constant underlying efforts to improve infrastructure supporting IoT, this industry is expected to grow at an exponential pace in the coming decade.

The IoT market is divided into BFS, retail, government, healthcare, manufacturing, agriculture, sustainable energy, IT& telecom and transportation. Lastly, in terms of geography, the market is categorized into North America, Europe, Asia Pacific, the Middle East & Africa, and Latin America.
According to a report, the global internet of things market was valued at US$190 billion in 2018 and is projected to reach US$1,102.6 billion by 2026, growing at a CAGR of 24.7 percent in the forecast period.
Advanced principal technologies and a proliferation of devices have helped fuel the growth of IoT technologies. In fact, investments in IoT technology are projected to grow at 13.6 percent per year through 2022. Further growth in the coming years will be possible thanks to new sensors, more computing power, and reliable mobile connectivity.
Finally, the IoT market will grow because existing IT devices will need to be linked to the IoT. Growth in traditional connected IT devices is admittedly moderate—about 2 percent per year. However, the installed base of more than five billion smart phones, two billion personal computers, and one billion tablets indicate a massive market for device integration.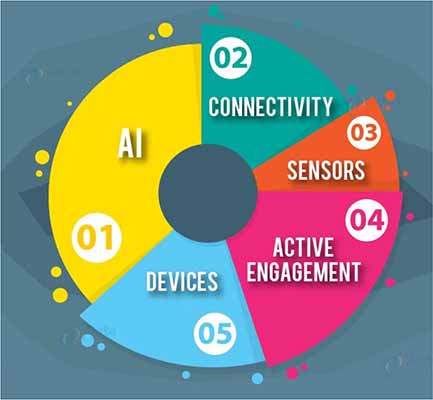 The Future: The future of IoT is virtually unlimited due to advances in technology and consumers desire to integrate devices such as smart phones with household machines. A Networking and connectivity protocol has made it possible to connect people and machines on all platforms. Also, there is so much data travelling from device to device. Security is another key concern will need to be addressed to keep up with demands. From an individual's perspective IoT offers excellent career opportunities which need to be harnessed. However, it requires you to have the necessary skill which is going to be the key differentiator.