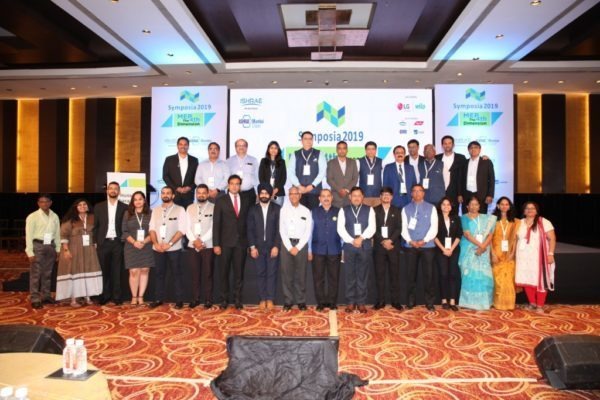 Mumbai, June 21st, 2019 : ISHRAE Mumbai Chapter organized its Annual National Program on Mechanical Electrical Plumbing 'Symposia 2019' on June 21st, 2019 at Hotel Sahara Star  Mumbai, which brought together Consultants, Interior Designers,  Engineers &  Projects Managers, Builders,  Architects and Facility Managers.
Key dignitaries present at the inaugural were Mr. Mihir Sanghavi, President, ISHRAE Mumbai Chapter; Mr. Yogesh Thakkar, Vice President, ISHRAE HQ; Mr. Pankaj Sareen, National Secretary, ISHRAE HQ; Mr. Manan Vora, National Program Chair, ISHRAE HQ  Mr. R N Joshi, President Elect, ISHRAE Mumbai Chapter; Mr. Amod Dikshit, President, ASHRAE Mumbai Chapter Mr. Shubham Mishra, CEO, Brio Energy;  Mr. Amit Mittal, Technical Director IME, First Solar; Mr. Amal Jaiswal, Siemens India Ltd.; Mr. Aditya Prabhu, Secutech Automation; Mr. Sandeep Talaulicar, Managing Director, Jakson Hotels; Mr. Surendra Bohra, Vice President – Technical, Galaxy Energy Solutions LLP; Mr. Dnyanesh Bhave, Principal MEP Consultant; Mr. Sunil Khatwani, Vice President – Sales, LG; Mr. Gaurav Shorey, PSI Energy Pvt. Ltd among other industry players.
Symposia 2019 brought together over 700+ delegates from the industry and decision makers from all the End Users (Corporate, Industries, Banks, IDC's), PMC's, System Integrators, Consultants (AC,s Electrical, UPS), Telecom Service Providers, IT Infra (Structure Cabling, Rack Manufacturers), Monitoring System Providers, Safety Solution Providers all under one roof. Prestigious associations such as AWESOME, FSAI, IAEMP, IFMA, IGBC, RATA, IPA extended their support to the conference.
The conference also provided a platform for discussion of contemporary topics like Case study on Dubai International Airport, Harvesting Solar Energy, Micro Turbine & Tri-generation, Integration of MEP Design in Architecture- An Architects Overview, Water Curtain Drenching/ Zoning Systems, Nano-Fluid Technology for Energy Saving, IoT used in MEP (Mechanical, Electrical and Plumbing), Sneak view of Air – Bearing Centrifugal Chiller
Symposia 2019 attracted industry leaders and key exhibitors including our Gold partners LG, Wilo etc and our Sliver partners are Pidilite, Bry-Air, DRI etc.
ISHRAE is an association of 28000 members of HVAC&R engineers across India with the presence in 41 cities. It also has 10,000 student members. The main goal of ISHRAE is disseminating the knowledge of HVAC & R through training and courses. Symposia is one such national event.  Other such events are ISHRAE Certified Professional courses in HVAC &R industry. Current National President is Mr. Vikram Murthy. ISHRAE Mumbai chapter president is Mr. Mihir Sanghavi, Convener of Symposia is Mr. Sandeep Mehendiratta, and Co-convener is Mr. R.N. Joshi.
Mr. Mihir Sanghavi, President, ISHRAE Mumbai Chapter "ISHRAE is pan India association with membership strength of 28000 members in 42 cities across India. Symposia are flagship program of ISHRAE Mumbai Chapter with this year's theme on innovative trends in MEP giving it a 4th dimension. It's bouquet of amazing speakers and topics and will benefit the industry and members in general. Around 700+ delegates will attend the event over two days."
Mr. Vikram Murthy, National President, ISHRAE HQ "Symposia is the flagship event of ISHRAE Mumbai Chapter. Each year it gets bigger and better, providing insightful presentations on Building Engineering Systems and superior networking opportunities between delegates and invited speakers. This year under the dynamic leadership of President Mihir Sanghavi , ISHRAE Mumbai shall deliver a 2 daylong seminar on "MEP , the 4th dimension" MEP is an evolved extension of HVAC practice , integrating key Building Engineering Systems to perform energy efficiently; with multiple advantages for the building developer, the commissioning agency and the building operator or occupants. By presenting Case Studies, insights into renewable energy and superior technologies, the Seminar will provide good takeaways for all. SYMPOSIA 2019, presented by ISHRAE Mumbai will deliver a strong message of "Caring for the Environment, Efficiently and Responsibly"
Mr. Amod Dikshit, Incoming President, ASHRAE Mumbai Chapter, "Symposia is flagship event of ISHRAE and ASHRAE Mumbai chapter and one of the most anticipated event of the year. This year theme is on MEP and looking forward to two great days of learning. As always, Symposia brings in the latest technologies and trends followed across the globe to India with the motive to save energy and water. This is the best platform to imbibe great trends and values in Design Engineers and challenge manufacturers to take a step forward to design systems for their clients in achieving the goal."
Mr. Richie Mittal, National President Elect, ISHRAE HQ "ISHRAE has more than 42 chapters/Sub chapters, spread across India with a total active membership of over 28000, which includes students. I take this opportunity to congratulate Mr. Mihir Sanghavi, President, ISHRAE Mumbai Chapter and his team for working towards the main mission and objective of ISHRAE, which is the dissemination of technical knowledge to all stakeholders. Hosting the 8th edition of Symposia, would be one of the key milestones towards achieving this mission, being held over two days, with technical topics covering all aspects of energy efficiency in HVAC&R, including MEP."
Mr. Sandeep Mendiratta, Convenor of National Program of ISHRAE "Symposia 2019 hosted and organised by the ISHRAE Mumbai Chapter welcomes you all in joining us on a technical journey, spread across 2 days with priceless inputs from Industry stalwarts on the 4th Dimension of MEP services, which would raise the standards of our design by using futuristic products with latest technologies. This would make our projects at par with the best that the European countries have to offer. This event is being organised every year with different themes, which is calibrated to the needs of the industry and shared with all our members. With this edition of the event,  we have doubled the knowledge sharing opportunities and networking platforms for our partners members, and invite other supporting Associations to join our movement of enhancing industry standards which is not only related to HVAC, but also integrates complete MEP services."