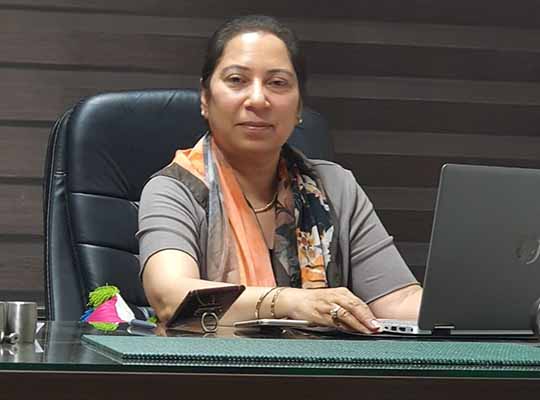 Ms Gunjan Malhotra, Director, Komaki Electric Vehicle Division talks about how Komaki is focusing on energies to develop strong dealership network pan India. In the conversation with Paayel, she also talked about Trends of electric vehicles in India.
Times Tech Buzz: Shed some light on the Trends of electric vehicles in India. How do you think Komaki is playing a major role in it?
Gunjan Malhotra: Electric vehicles have been around for quite a while now but they've never been as popular as they are now. The reason is that the technology is evolving at a breakneck speed and many of the issues that were dissuading people from buying EVs are now being addressed. For instance, the range was a major concern among people looking to buy EVs.
However, the manufacturers have sorted this problem to a great extent. At Komaki, we've got a fleet of vehicles that offer an incredible range. Our Komaki SE Hi-Speed Scooter offers a range of up to 120 km and consumes only 1.5 units for a full charge. Compared to its conventional fuel-based counterparts, the economical edge it has is monumental. We're also working on launching models with batteries that offer a range of up to 220 km at full charge, which will certainly be a game-changer.
Times Tech Buzz: What is your take on Market shares electric vehicles especially for the two-wheelers industry?
Gunjan Malhotra: According to India Electric Scooter and Motorcycle Market Research Report, the Indian electric scooter and motorcycle market would reach a sales volume of more than 1.08 million by the end of 2025, exhibiting a robust CAGR of 57.9% between 2020 and 2025. The statistics reflect how quickly the electric vehicle market is growing in India – especially the 2-wheeler segment. The government has also incentivized buying EVs by launching several supportive policies. Compound this with the rising crude oil prices and growing eco-consciousness, it's undeniable that electric vehicles – especially 2-wheelers are the future of transportation in India.
Times Tech Buzz: What is the Future of E- Vehicles in your opinion? How this will help in the growth of the economy?
Gunjan Malhotra: The electric vehicle segment is definitely the future. The two-wheeler segment has been dominated by a handful of players for more than 20 years. Now, however, many new companies are entering the segment, which has increased the competition and led to an improvement in the efficiency and quality of the vehicles. It has played a significant role in boosting the demand of EVs. The electric vehicle segment is one of the fastest-growing sectors and will definitely contribute to economic growth in the country.
Times Tech Buzz: Tell us about the plan of the Komaki?
Gunjan Malhotra: For the time being, we're focusing our energies on developing a strong dealership network pan-India. By doing so, we will make ourselves accessible to every customer who wants to own an electric two-wheeler or three-wheeler. We also want to offer something to every customer segment – from family scooters to women-friendly scooters to scooters for specially-abled people to sportbikes. We already have 14 different models in our fleet that are catered to different types of customers and plan to add many more in the future. We are also starting the export of our vehicles and plan to venture into the manufacturing of 4-wheeler electric vehicles and further expand our reach.
Times Tech Buzz: Where you see Komaki in the long run?
Gunjan Malhotra: We have started this organization with the mission to become the largest supplier of E-vehicles in the country, delivering the highest quality products and after-sales services. A few years down the line, we see ourselves catering to all sorts of customers in the EV arena with our wide range of models – including 2-wheelers, 3-wheelers, and 4-wheelers. Hopefully, our efforts will come to fruition and we'll be able to contribute to the dream of a clean and green India.