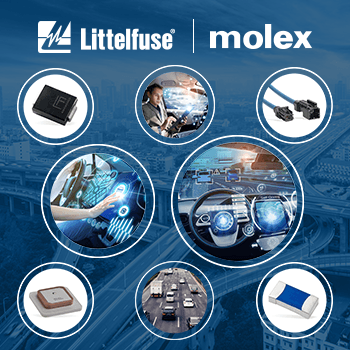 September 20, 2019 – Mouser Electronics is pleased to offer customers a new page dedicated to the extensive lineup of connected mobility solutions from Littelfuse and Molex. Meeting the challenges of automotive design means integrating exceptional connection systems, electronics, software, and circuit protection. Molex and Littelfuse have created innovative solutions that are laser-focused on delivering high performance in small package sizes that fit within sophisticated dashboard displays.
The Littelfuse and Molex connected mobility solutions page, available on the Mouser Electronics website, features a curated selection of products from both suppliers targeted specifically for automotive infotainment, navigation, and communications systems. The solution page includes block diagrams to assist in making the proper product choices for automotive design. Each block diagram is paired with suggested products for the application.
Molex interconnect solutions and control modules support multiple high-speed media protocols and industry-leading network bandwidths. Featured Molex products include the Mini50 sealed connection system, HSAutoLink II interconnect system, and high-accuracy stacked patch GNSS antennas. Littelfuse delivers comprehensive protection solutions to withstand overcurrents, electrostatic discharge (ESD) and surges — with products including 501A AECQ high-current fast-acting fuses, TPSMD 3000W SMT automotive TVS diodes, multilayer varistors, and AXGD XTREME-GUARD automotive ESD suppressors.
For more information, visit : eng.info.mouser.com/littelfuse-molex