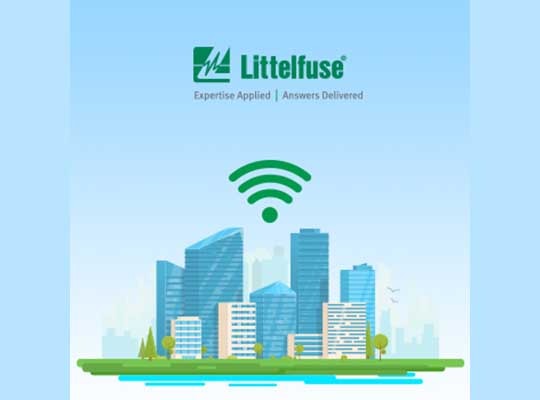 July 22, 2020 – Mouser Electronics, the authorized global distributor with the newest semiconductors and electronic components, is pleased to offer customers a comprehensive selection of building automation solutions from Littelfuse. The intelligent technologies from Littelfuse enable the development of a wide range of Internet of Things (IoT) devices, supporting key applications such as sensors, security, and energy efficiency.
Littelfuse building automation solutions available from Mouser include products such as smart locks, thermostats, meters, and outlets. The smart lock and access control components help to maintain the high security standards required for smart buildings, allowing designers to develop burglar-resistant electronic locking devices. Littelfuse's smart lock and access control components meet GA 374, GA 701-2007, and UL 1034 standards for burglary-resistant electric locks. Smart thermostat components allow building designers to improve energy efficiency and monitor energy usage, complementing safety and security features in intelligent buildings. Littelfuse's smart metering components apply IoT functionality to gas and water meters, allowing designers to create safer and more efficient metering solutions.

Littelfuse's range of intelligent outlets includes both outlets and light dimmers able to be controlled using apps or virtual assistance. The intelligent products replace traditional outlets, allowing building designers to automate control of the devices plugged into the outlets.
To learn more about Littelfuse building automation solutions and to find an informative white paper and video, visit https://www.mouser.com/new/littelfuse/littelfuse-building-automation/.
As an authorized distributor, Mouser Electronics is focused on the rapid introduction of new products and technologies, giving customers an edge and helping speed time to market. Over 800 semiconductor and electronic component manufacturers count on Mouser to help them introduce their products into the global marketplace. Mouser's customers can expect 100% certified, genuine products that are fully traceable from each manufacturer.
For more information, visit www.mouser.com.