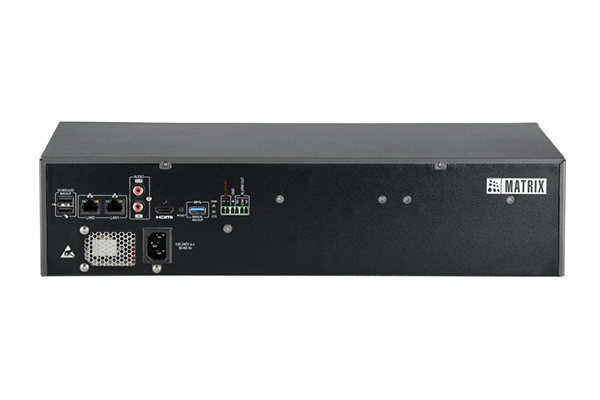 Matrix NVRs are packed with high end processors to deliver all the functionalities like high resolution recording, playback, simultaneous local and remote monitoring along with storing for higher number of days. Furthermore, these latest NVRs are also backed with an intelligent software to detect threats and send instant notifications for real-time security.
All in all, these comprehensive, flexible, reliable, integrated NVRs provide a proficient, persistent and a preventive security solution suitable for enterprises and multi-location offices.
Features:
Video Channels: 32 IP Channels
Inbuilt Storage Slot: 4 SATA Ports (10TB each)
Raid Support: RAID-0, RAID-1, RAID-5, RAID-10
Compression Technique: H.265 with 512Mbps Throughput
Cascading: Monitor Cameras Connected with up to 20 NVRs without a Server
Instant Notification: Call Responsible Person in Case of an Event and Sent SMS/Email with Snapshots in Real Time.
Integration: Database Level Integration with Matrix Access Control, Fire Alarm and other Third Party Sensors
For more information, please visit us at: https://www.matrixvideosurveillance.com/