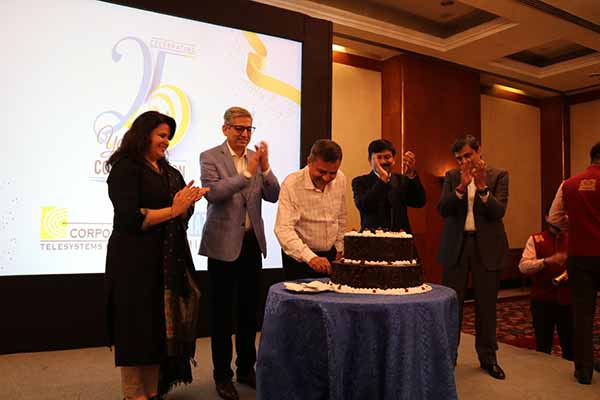 Matrix, a leading manufacturer of Telecom and Security solutions, has organized a Product Expo – Matrix Partner Connect along with its channel partner CTPL in New Delhi on 29th July 2022. The event is organized with an objective to demonstrate innovative solutions encompassing the entire range of Video Surveillance, Access Control, Time-Attendance, and Telecom.
In this event, Matrix displayed its range of IP Video Surveillance solutions that include enterprise-level VMS, NVRs, and IP Cameras with a range up to 8 MP. The entire solution is focused on solving the three major pain areas of customers namely bandwidth and storage cost, difficulty in centralized management, and monitoring & reactive security. Matrix has introduced its newest range of TURRET cameras to provide its customers with a diverse portfolio of IP Cameras for comprehensive security solutions. Turret Cameras or flat-faced dome cameras have a ball and socket design that gives them the flexibility to move on their axis once mounted. Easy axis adjustment after installation, no IR reflection, and fewer chances of fingerprints make it a popular choice for corporates. Matrix Product Expo also showcased 2MP/ 5MP TURRET Cameras.
Besides this, Matrix brought forth its' 8MP Project Series Cameras – specifically suiting large enterprises and project environments. Project Series 8MP Cameras come with UL Certification, a global standard for safety, and NEMA Certification for protection against environmental hazards. They provide high-resolution images for better clarity and better protection.
High-End surveillance cameras demand robust video recording solutions with high storage capacity and adequate redundancies to ensure that corporates get 24x7x365 days of surveillance with no downtime. Matrix's new range of ENVRs is an answer to the same they can support up to 128 channels and have a storage capacity of up to 144 TB. The visitors will have a chance to experience the same at the event.
Under the Access Control Domain, Matrix presented COSEC PANEL200P – Site Controller to overlook the working of an entire building. It works in two different architectures. In network architecture, COSEC PANEL200P acts as a bridge between the controllers and the server. In Standalone Architecture, it works independently without requiring any server. It can manage 255 COSEC door controllers and 25,000 users from its UI. Door controller- COSEC ARC DC200P, a unique IP-based access control terminal having multiple benefits over the conventional access control terminal, also will be presented. Being PoE based, it eliminates complex wiring and local power requirements. Its din rail and wall mount option give the flexibility to mount even where the space is a constraint.
Under the Time-Attendance segment, Matrix showcased its Aadhaar Enabled Biometric Device – VEGA FAXQ. It's the only Linux-based device available in the Indian market with card and finger authentication. The device comes with multiple connectivity options like Wi-Fi, PoE, and Ethernet. This Aadhaar based authentication device is purposely designed to mark government employees' attendance and is currently the only embedded device available in the Indian market. Matrix will present a door controller, COSEC ARGO FACE which identifies users with accuracy, speed, reliability, and massive capacity. AI-based deep learning technology makes it highly adaptable. Matrix will be showcasing its range of enterprise-grade Time-Attendance and Access Control solutions at the event.
From the Telecom domain, Matrix showcases 'Matrix ANANT UCS' – open server-based telephony systems that help cut overheads like the wiring cost. This system is scalable, robust, and efficient in providing seamless connectivity on a single platform and employees can connect using mobiles, desk phones, laptops, and tablets.
Alongside, Matrix also presented, MATRIX ETERNITY NENX – a unified communication platform for SOHO and SMB companies. With a USP of 50 IP users, LDAP client support, and Multi-level IVR amongst others, it provides benefits to small and medium organizations aiming to migrate to IP Telephony. Alongside this, Matrix SETU VTEP will also be showcased. SETU VTEP multiport gateway aims to target small and medium businesses and assists them in transitioning from the Traditional PBX to Voice IP. It supports PRI protocol and adopts standard T1/E1 trunk interface and provides a smooth transition by enabling direct routing of calls between the fixed line ISDN and the cost-effective IP networks for capitalizing on low-cost VoIP telephony.
SPARSH VP210 is a new member of the family of SIP Phones that redefines the telephony experience and quality of business communications. With its Standard SIP Protocol, this sturdy desk phone is compatible with any third-party IP system. This helps it protect an organization's existing investment while modernizing front-end telecom architecture. SPARSH VP510 sets the benchmark for quality performance with elegant design and crystal-clear voice. Boasting about business class features like Direct Station Selection (DSS) keys, Headset Connectivity, and High-Quality Full Duplex Speakerphone among others.
Anil Mehra, Senior VP- Sales & Marketing states, "Our Product Expo – Matrix Partner Connect looks toward bringing all the System Integrators and Business prospects together under one roof. One of our major aims is to reach out to key service providers and system integrators and share our successful case studies worldwide and explain how our enterprise-grade solutions cater to various verticals."