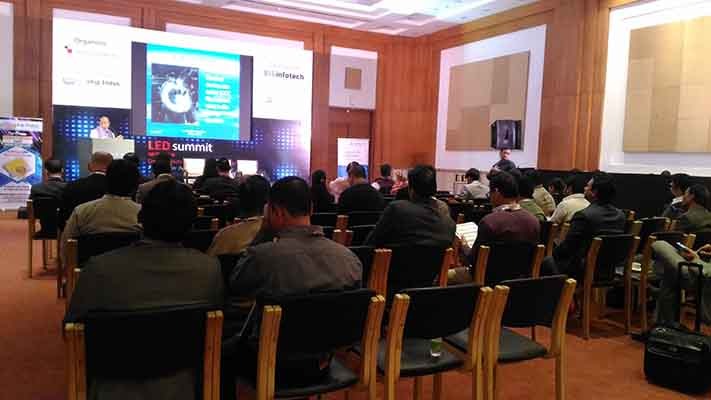 Delhi, 11, December, 2018 – During 19th edition of LED Expo 2018 New Delhi, BISinfotech with Messe Frankfurt beguiled the LED Summit- 2018 on 7th December, 2018.
The day-long summit bouted 6 major sessions mulling on today's and future of LEDs leading extensive technical sessions from 11 major speakers.
The one day prime event seated more than 70 odd prominent delegates from diverse part of industries discussing on the future of LEDs, trends on Certification, Advance of LEDs, Impact of IoT, Artificial Intelligence (AI) and Smart Lighting. Eminent technical sessions also brought key design trends and manufacturer presentations supporting the LED industry in India.
Inaugurated by Raj Kumar Rakhra, Additional General Manager at Energy Efficiency Services Limited, A JV of PSUs under Ministry of Power, Govt. Of India, the veteran embodied on Govt. successful initiative, 'Ujala' and how it is changing the power demand of India. Mr. Rakhra also noted plans of Government integrating 10 Lakh smart meters in Haryana. He congratulated BISinfotech and Messe Frankfurt for conducting the LED Summit and said these notions will embark a new generation for lighting in India.
Saurabh Srivastava, Manager, Lighting Business For Tüv Rheinland India, a premier Session Partner of the Event, elaborated on Indian Testing, Inspection and Certification status, future forecast, growth opportunity, key market and its role to embolden the Indian LED industry. The stalwart shared presentations on Testing, Inspection and Certification development in India.
Elite Sponsor, Vijay Kumar Gupta, CEO, KWALITY PHOTONICS PVT. LTD, illustrated on their new brand LEDchip Indus, India's Fully Automatic Global scale LED semiconductor Plant. Mr. Gupta slated on the strategies of the augmentation of LED – LEDchip Indus & Kwality polyWa.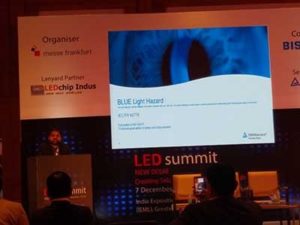 A Gold Medallist in Electronic Engineering and a honcho in the research area of LED and Semiconductor field, talked extensively about the Advances in LEDs, LEDs or Solid-State Lighting (SSL) market. Mr. Gupta enlightened the delegates on the 'Complexity of Color Measurements', 'Standard Deviation Colour Matching', 'Evolution of LED Packages', 'LED Efficiency' etc.
Lauded by massive applause, Mr. Gupta concluded on being very bullish about the current scenario of the Indian LED industry and envisions new milestones in coming time for his company and the industry at large.
On the other hand, Prominent Speakers from Philips, Fulham, Frost & Sullivan, Helvar, Cree, UL and Khatod brought the jam-pack interesting sessions for the delegates.
The premier LED-Summit of BISinfotech attracted attendees from diverse areas such as startups, design engineers and developers, lighting experts, educators, original equipment manufacturers, electronic manufacturing services, and technology experts.
Strong Networking Sessions over High-Tea and Lunch further stated the LED industry from being a product-specific market to a service-driven industry.