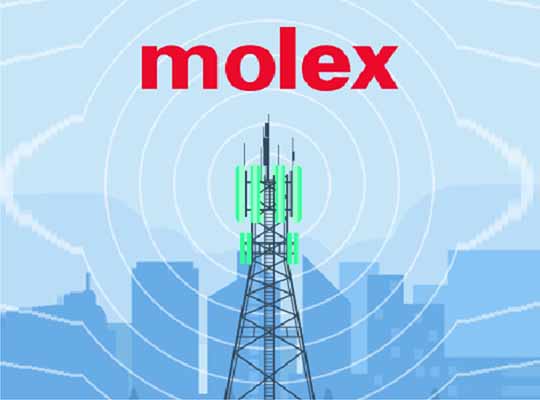 Mouser Electronics, Inc., the industry's leading New Product Introduction (NPI) distributor with the widest selection of semiconductors and electronic components, and Molex, a global electronics leader and connectivity innovator, have collaborated to create a new resource site devoted to next-generation antennas and their many applications for 5G, the Internet of Things (IoT), wireless connectivity, and automotive design. Designers and engineers can access the site by visiting https://molex.mouser.com/antennas.
As engineers work to design the IoT devices of the future, antennas play a vital role in delivering the required connectivity. The new antenna content stream from Mouser and Molex offers a valuable resource that combines the technical insights, emerging strategies, and products needed to create new connectivity and IoT solutions. The resource site features more than fifteen technical articles, podcasts, flipbooks, and videos, each providing useful insights into topics including planning for RF applications, designing 5G networks, and powering industrial IoT. In "3 Considerations for Designing IoT Devices of the Future," Stephen Drinan, Director of Micro Connectivity at Molex, offers insights into anticipating and meeting the changing demands of connected devices and other applications.
Mouser offers a comprehensive range of Molex products, including antennas, RF wireless devices, and other connectivity tools. Molex's Multi-Hub 5-in-1 antenna incorporates two 5G, two Wi-Fi, and one GPS functionalities with an IP67 rating, ideal for commercial vehicle and telecommunications applications. GNSS antennas from Molex are available in active patch and flexible variants, offering a 2 W power rating and 50 Ω input impedance. The antennas are ideal for a range of industrial and vehicular applications, including drones, navigation devices, emergency response systems, and maritime port technology systems.
As a global authorized distributor, Mouser offers the world's widest selection of the newest semiconductors and electronic components — in stock and ready to ship. Mouser's customers can expect 100% certified, genuine products that are fully traceable from each of its manufacturer partners. To help speed customers' designs, Mouser's website hosts an extensive library of technical resources, including a Technical Resource Center, along with product data sheets, supplier-specific reference designs, application notes, technical design information, engineering tools and other helpful information.
Engineers can stay abreast of today's exciting product, technology and application news through Mouser's complimentary e-newsletter. Mouser's email news and reference subscriptions are customizable to the unique and changing project needs of customers and subscribers. No other distributor gives engineers this much customization and control over the information they receive. Learn about emerging technologies, product trends and more by signing up today at https://sub.info.mouser.com/subscriber.